Jayme Closs did NOT tell the FBI Jake Patterson killed her parents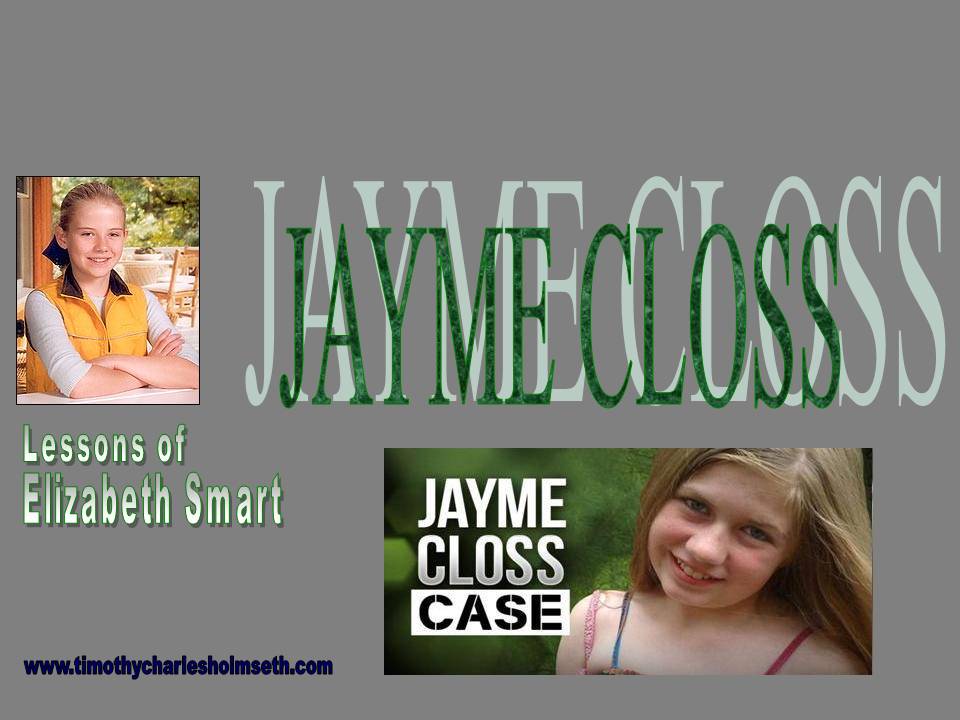 Lessons from the Elizabeth Smart case
by Timothy Charles Holmseth on January 20, 2019 at 9:30 P.M. CST
On June 5, 2002, 14-year-old Elizabeth Smart was abducted at knife point from her bedroom in her family's house in Salt Lake City, Utah. She was rescued nine months later by police. Smart went on to tell her harrowing story which included the revelation that she was raped daily.
Smart's abductors, Brian David Mitchell and his wife, Wanda Barzee, were subsequently criminally charged and sentenced to prison. Mitchell was charged with kidnapping and sexual assault and found guilty on both counts.
Clearly – Smart was kidnapped by Mitchell because Mitchell wanted to rape Smart, which he did at will.
Sixteen years later…
On October 15, 2018, 13-year-old Jayme Closs was abducted from her Wisconsin home in the middle of the night by a masked gunman that shot both of her parents. Her abductor taped her mouth shut and bound her before putting her in the trunk and driving two hours to their destination.
Jayme escaped her captivity 88 days later and Jake T. Patterson was quickly arrested and charged with homicide, kidnapping, and burglary.
Patterson was NOT charged with sexual assault. In fact – the criminal complaint does not even hint at sexual assault and actually describes Patterson instructing Jayme to go into another room and take her clothes off so she could change into his (Patterson's) sister's pajamas.
The criminal complaint says Patterson saw Closs get onto a school bus and knew "that was the girl he was going to take".
Take her for what?
The complaint does not refer to any motive by Patterson whatsoever.
So you have to believe that at the moment Patterson finally had Jayme (the girl he was going to take) under his control and at his mercy he told her to go into another room to undress.
Let's think about something now.
Brian David Mitchell, a demonic religious mental case who was fifty years old, was actually capable and desired to rape a captive teenage girl every day. Yet, Jake T. Patterson, 21, young and healthy, has care, custody, and control of Jayme Closs for 88 days, and there is no accusation that he ever touched her sexually.
Think about it.
MISLEADING NARRATIVE BY COMPLAINING OFFICER
Despite a massive and sustained media blitz that is subliminally suggesting to the public that Jayme Closs told police Patterson shot her parents – that news is as fake as fake can be.
Jayme Closs did not tell the FBI forensic examiner, or any other detectives connected to the case, that she witnessed Jake Patterson shoot her parents.
Jayme was not able to identify Patterson as the intruder that murdered her parents because the intruder was wearing a mask, which is exactly what Jayme told the FBI.
"J.L.C. said the first time she saw Patterson was in the bathroom where she and her mother were hiding. J.L.C. stated Patterson was dressed in black from head to toe, including a face mask, hat and gloves," the complaint said, referring to Jayme's recorded statements to the FBI.
So…how did the name "Patterson" get inserted into Jayme's statements if she flat out told the FBI the man was wearing a mask?
Here's how – the local detective did it by inserting four words – – – "later identified as Patterson".
I'll show you.
"J.L.C. stated there was a man (later identified as Patterson) at the door with a gun so she …"

The narrative of the formal complaint uses the name "Patterson" instead of 'masked intruder' fifteen times when detailing things Jayme Closs actually attributed to a man in a mask – things that occurred before she eventually saw Patterson's face (i.e. – murder, taped up, locked in trunk, etc).
So how did Detective Jeffrey Nelson, the author of the complaint, justify saying "later identified as Patterson" ?
How was the masked killer identified as Patterson?
He was identified by Det. Nelson – that's how.
Det. Nelson did it by claiming Patterson confessed at the jail (no indication Patterson's alleged confession was recorded) and then inserted Patterson's mysterious alleged confession into words to make it seem like they were coming out of Jayme's mouth.
Det. Nelson carefully crafted a complaint wherein Det. Nelson (1) claimed Patterson confessed, and then (2) Det. Nelson used the alleged 'confession' to justify replacing the words 'masked intruder' with the name "Patterson" in the portion of the complaint that detailed Jayme Closs' statements to FBI.
WHY DOES IT MATTER?
Read – – – Jake Patterson not the assassin or kidnapper in Jayme Closs case?