NEW FBI EVIDENCE MAY SOLVE MISSING CHILD CASE IN FLORIDA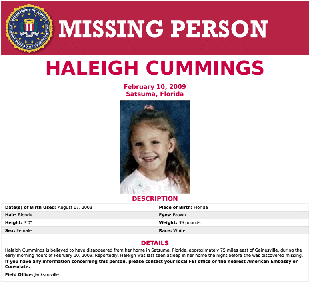 by Pentagon Pedophile Task Force on October 27, 2022 – USA
The following letter was submitted to the FBI in Jacksonville, Florida today.
~begin~
Timothy Charles Holmseth
808 Carmichael Road
PMB 156
Hudson, Wisconsin
54016
Contact Tel: REDACTED
In Re: HaLeigh Cummings / Pornographic Image
October 27, 2022
Federal Bureau of Investigation
6061 Gate Pkwy
Jacksonville, Florida
32256
Special Agent in Charge,
In 2010 your agency requested the Minneapolis FBI interview me regarding matters surrounding the kidnapping of a little girl in Florida named HaLeigh Cummings. As your records will reflect, I was interviewed by Minneapolis FBI Special Agent A.J. Eilerman.
On October 7, 2022, I contacted the FBI in Ohio regarding a photograph of a vagina that was texted (unsolicited) to a former Minnesota judge named Randi Lynn Erickson from an admitted kidnapper and sexual torturer from Martins Ferry, Ohio named Alexandria Goddard. OHIO FBI LETTER ATTACHED
Alexandria Goddard is an agent of Florida REDACTED. REDACTED was the REDACTED REDACTED missing child HaLeigh Cummings' mother, Crystal Sheffield.
Enclosed on a USB flash drive you will find an audio recording of an interview I conducted of REDACTED REDACTED  Donald Knop. Knop told me that REDACTED possessed close-up photos of HaLeigh Cummings' vagina.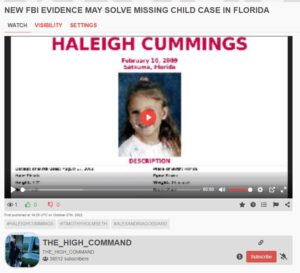 Donald Knop said he obtained the photos from "Jeremiah Regan" who was working on REDACTED REDACTED. Jeremiah Regan is/was the son of FBI Agent John Regan. I provided your agency, via Agent Eilerman, information about FBI Agent John Regan (a convicted sex offender).
I am including a photo comparison of FBI Agent John Regan and FBI Agent REDACTED. FBI Agent REDACTED is famous REDACTED on Oprah, FOX NEWS, and other major media. You will see "John Regan" REDACTED REDACTED same man. REDACTED is on the REDACTED which was REDACTED by Hillary Clinton's former personal security guard and REDACTED.
Alexandria Goddard boasted to Randi Lynn Erickson that she has done legal paperwork for REDACTED, REDACTED, and REDACTED.
I am requesting you investigate the photograph of the small vagina with no pubic hair and strange bruising texted unsolicited by Alexandria Goddard to Randi Erickson to determine if the vagina photo is the same photo of HaLeigh Cummings that Donald Knop described to me.
I am including the entire text exchange between Alexandria Goddard and Randi Lynn Erickson. In the text exchange you will see the vagina photo.
Respectfully submitted,
Timothy Charles Holmseth
War Correspondent/News Reporter/Investigative Journalist/Author/Publisher
Cc: RICO Attorney Steven S. Biss
Enclosed: USB Flash Drive, Book – REDACTED
~end~
About Author