"Something similar to Epstein" – Florida man William K. Murtaugh touts role in federal investigation tracking children that were taken overseas – – – CRAIG SAWYER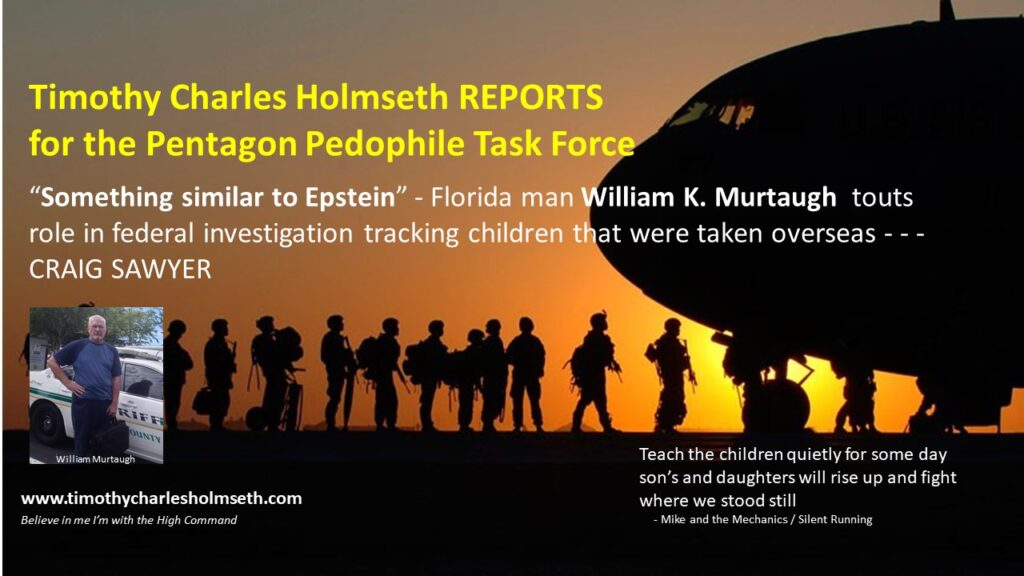 by Timothy Charles Holmseth on March 30, 2020 at 9:29 P.M.
Federal law enforcement knows the actual identity and routes of children that were abducted in the United States and trafficked overseas.
That is … according to William K. Murtaugh, Florida.
Murtaugh said he knows this is a fact because he is working with feds.
However, Murtaugh's statements and claims of unique knowledge regarding internationally trafficked children may be something the DOJ and/or U.S. Military should investigate.
Here's why.
Murtaugh, who is from the Orlando area, has repeatedly been in the mainstream news for inappropriately connecting himself to high-profile missing child cases.
And – he has once again made a startling statement about children.
Murtaugh said feds are tracking "something similar to Epstein".
In 2009, Murtaugh was chastised on Channel 6 after he wrote the notorious 'Caretaker Letter' claiming to have information about the missing child Trenton Duckett. He subsequently bought an old news van and began following reporters around during the Casey Anthony case. He then involved himself in the missing child case of HaLeigh Cummings.
The Web is literally saturated with unflattering content about 'creepy' Murtaugh.
On one occasion, Murtaugh reportedly faked his own suicide during a livestream. On another occasion a chat log surfaced that appeared to show Murtaugh bragging that he murdered Trenton Duckett and joking about going to the mall to grab a child to rape.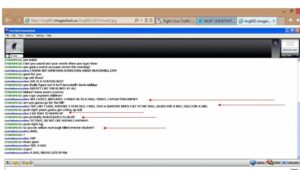 Murtaugh has also allegedly claimed to be a U.S. Marshal. During a recent livestream Murtaugh again implied he is a U.S. Marshal.
WILLIAM MURTAUGH ASSISTING IN FEDERAL INVESTIGATION OF OVERSEAS CHILD TRAFFICKING
Yesterday, Murtaugh announced during a live stream on You Tube that he is involved in a federal investigation that is tracking children that were kidnapped in the United State and taken to foreign countries.
Murtaugh does not name the specific agency, law enforcement body, or specific agents he is assisting.
CRAIG SAWYER – VETS 4 CHILD RESCUE
However, Murtaugh has repeatedly referred to Craig Sawyer, CEO, Vets 4 Child Rescue.
Sawyer is the former bodyguard of Hillary Clinton and John McCain who fell under very serious scrutiny regarding his organization after an employee came forward with information and internal books that appear to prove V4CR is a complete fraud. Sawyer is notorious for colluding with Alex Jones to raise a million dollars by causing people to believe Sawyer is going to "rescue" children held captive in cages.
Sawyer has publicly stated he is a criminal investigator and at one point said he was a Federal Air Marshal.
CRAIG SAWYER AND CHILDREN OVERSEAS
On July 5, 2018 Sawyer posted the following on Facebook:
CRAIG SAWYER UPDATE FROM THAILAND:
Boys Soccer Team Trapped in Cave. Rescue efforts continue.
It's a miracle that the missing boys soccer team trapped in the Tham Luang cave, in the northern province of Chiang Rai, Thailand were found alive but they are NOT out of DANGER.
Founder of Veterans For Child Rescue, Veteran U.S. Navy SEAL Craig "Sawman" Sawyer happens to be in Thailand working with our partners to save and rescue kids who are victims of trafficking. Though our primary operations are concluded for this deployment our state side support team has just been notified that Craig's team is changing course and is en-route to Chiang Rai with live updates forthcoming.
We don't yet know what support the teams on the ground require or how V4CR can be of service but will keep everyone updated as Craig arrives and assesses the situation.
Sawyer's attempt to connect himself to the Thailand boys trapped in the cave story was obnoxious because he had nothing to do with the story whatsoever.
It is not known if Sawyer is the 'fed' who Murtaugh claims to be assisting in tracking kidnapped children overseas.
Murtaugh said the federal investigation is targeting group(s) that assist mothers who have had their kids taken by CPS, and when an opportunity arose, fled with their kids (to protect them).
Murtaugh said he is part of a group that is gathering evidence for federal law enforcement.
Murtaugh said the federal investigators that he is assisting are focused primarily on where the groups assisting the mothers are getting their money to operate.
MURTAUGH DESCRIBES THE INVESTIGATION
Note: On March 29, 2020 I (Timothy Charles Holmseth) published Neely Blanchard Update: E-Clause CEO: Secret Service involvement creates federal jurisdiction
The story read in part:
Chris Hallett, CEO, E-Clause LLC, who represents the interests of Blanchard per a complaint filed to Congress, announced today that the alleged involvement of the United States Secret Service in Blanchard's arrest creates federal jurisdiction on the matter.
That means federal court and subpoenas for any federal agents involved.
The involvement of the U.S. Secret Service was only reported by one news agency who quoted Logan County Sheriff Stephen Stratton on the matter. The news report was odd, because no mainstream news agencies that reported information on the case, which came from the Kentucky State Police ever mentioned the Secret Service.
E-Clause does loss prevention for the United States Government.
Timothy Charles Holmseth is investigating the 'U.S. Secret Service' dynamic of the Blanchard story with a strong focus on a group that includes a Florida man named William K. Murtaugh.
Murtaugh and others in his group are already the focus of an active investigation by the Pentagon Pedophile Task Force.
* * * * *
Murtaugh said federal investigators believe the mothers who are trying to protect their children, are then, ultimately, taking their own children overseas where something is done to them "similar to Epstein".
"This wasn't done out of the goodness of anybody's heart. This was done because there's money to be made somehow. And there's a definite possibility that the money was going to be made by taking these children of these mothers overseas and doing something with them overseas. Something similar to Epstein. That the very thing these people claim to be fighting they are deeply involved in," Murtaugh said.
Murtaugh clearly claims to have unique knowledge about international child sex trafficking.
"There are examples, believe it or not, of people that managed to get out of the country and that's what's being looked at. This is the international part of it," Murtaugh said.
"They're looking at the people that have made it out of the country and what their fate is," Murtaugh said.
"Because that's how you're going to find out what the true motivation of this group is," Murtaugh said.
"You look at where these people wound up and what happened to them when they got there," Murtaugh said.
The Pentagon Pedophile Task Force is investigating Murtaugh and others.