TIMOTHY CHARLES HOLMSETH FILES AFFIDAVIT WITH FEDERAL COURT AFTER INTERCEPTING DETAILS OF CRIMINAL PLOT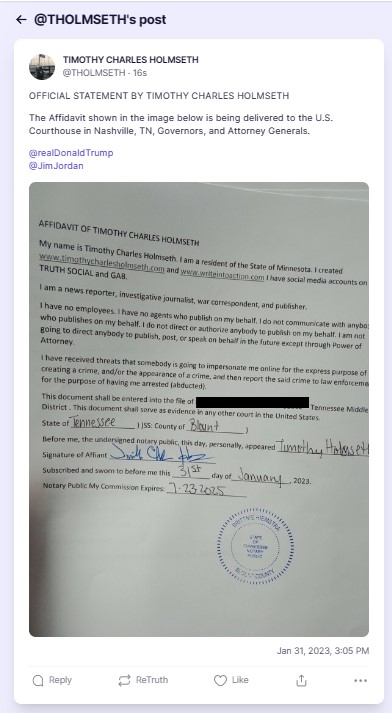 by Pentagon Pedophile Task Force on January 31, 2023 – USA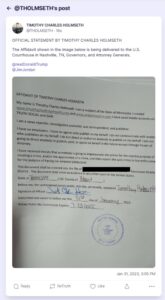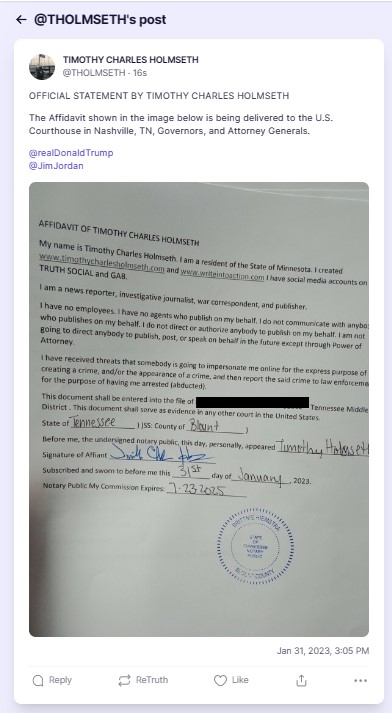 AFFIDAVIT OF TIMOTHY CHARLES HOLMSETH
My name is Timothy Charles Holmseth. I am a resident of the State of Minnesota. I created www.timothycharlesholmseth.com and www.writeintoaction.com I have social media accounts on TRUTH SOCIAL and GAB.
I am a news reporter, investigative journalist, war correspondent, and publisher.
I have no employees. I have no agents who publish on my behalf. I do not communicate with anybody who publishes on my behalf. I do not direct or authorize anybody to publish on my behalf. I am not going to direct anybody to publish, post, or speak on behalf in the future except through Power of Attorney.
I have received threats that somebody is going to impersonate me online for the express purpose of creating a crime, and/or the appearance of a crime, and then report the said crime to law enforcement for the purpose of having me arrested (abducted).
This document shall be entered into the file of Holmseth v. Page – 3:22-cv-00912 – Tennessee Middle District . This document shall serve as evidence in any other court in the United States.
State of ________________ ) )SS: County of _______________ )
Before me, the undersigned notary public, this day, personally, appeared ________________________.
Signature of Affiant ____________________________
Subscribed and sworn to before me this __________ day of_______________, 2023.
Notary Public My Commission Expires: _____________________