TIMOTHY CHARLES HOLMSETH REQUESTS YOUR HELP IN IDENTIFYING FEDERAL AND MILITARY LOGOS FOR RACKETEERING CASE INVOLVING THE FBI

by Pentagon Pedophile Task Force on December 29, 2022 – USA
Timothy Charles Holmseth posted the following on his TRUTH SOCIAL account today.
~begin~
I am the Plaintiff in the federal civil RICO action Holmseth v. Page et al – 3:22-cv-0912 – Tennessee Middle District.
I have alleged a former FBI agent who is working with former Navy SEALS and U.S. Special Forces threatened me in writing with kidnap, torture, and murder. I was warned to shut-up about child trafficking evidence I uncovered.
The Judge directed me to amend my complaint.
Below is a screenshot that is already an Exhibit in the case.
Please help me identify all these logos.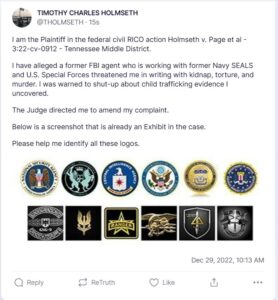 ~end~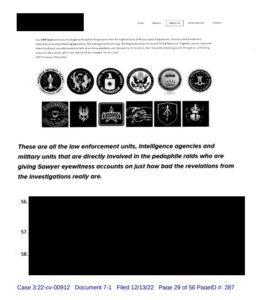 About Author