FORMER SEAL TEAM 6 MICHAEL JACO CALLS FOR TENS OF THOUSANDS TO DESCEND UPON ARIZONA [GATLING GUNS]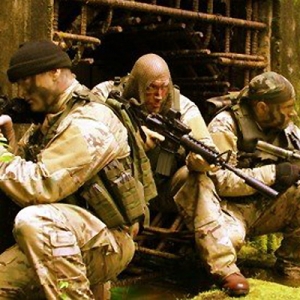 by Pentagon Pedophile Task Force on December 27, 2022 – USA
Former SEAL TEAM 6 and CIA security operative Michael Jaco issued a call to action in a video statement yesterday encouraging the public to fight back against corrupt elements of government that, according to Jaco, stole the election from Kari Lake.
Jaco is pushing for the public to descend upon Arizona en masse, by the tens of thousands, to overcome opposition force that, Jaco said, may involve armored personnel carriers with "gatling guns".
Jaco used the talking point of 2nd Amendment rights being threatened and mentioned Lake's lawyer being "SEAL TEAM SIX".
Jaco presented operators of U.S. Special Forces and Navy SEALS as the good guys, who are fighting against the bad guys at the FBI.
Now for the REAL STORY.
U.S. COURT FILING SHOWS A COUP IS UNDERWAY 
U.S. Court records contain details that show a coup is underway.
The PACER system of the U.S. Court shows that on December 22, 2022, a Complaint was filed in Tennessee (Holmseth v. Page et al) under the Racketeering Influenced and Corrupt Organizations Act (RICO) that set forth a timeline and fact pattern that showed former SEAL TEAM 6 and former U.S. Special Forces are working with the FBI to assassinate a news reporter named Timothy Charles Holmseth.
The Complaint begins:
"The Defendants are organized and using a former FBI agent and SEAL TEAM 6 in attempt to locate and murder me for my work as a news reporter and journalist reporting about child trafficking, human trafficking, and crimes against humanity and cannibalism," Holmseth said in his Complaint.
Holmseth's complaint, which is public record, shows that in 2017 operators of SEAL TEAM 6 and Special Forces published promotional material using the logos of FBI, CIA, NSA, and various military groups under the guise of rescuing children – in conjunction with Alex Jones of Info Wars, FEMA, and Department of Homeland Security to transfer millions of dollars to fund the operations.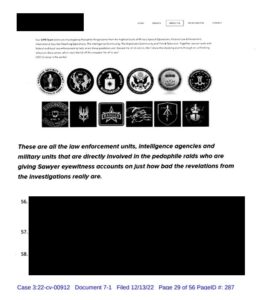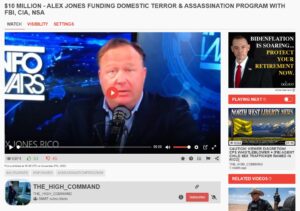 The Holmseth Complaint shows SEALS were targeting Holmseth and working with Attorney Lin Wood in the months and weeks leading up to the events of January 6, 2021 in Washington DC.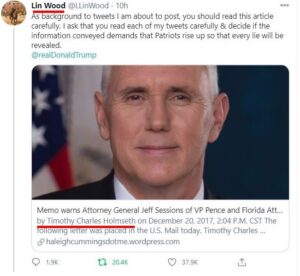 Jaco mentioned "Generals and Admirals".
The Holmseth RICO Complaint contains threatening communications to Holmseth made by Vice Admiral Charles W. Moore. Moore told Holmseth he was a friend of President Trump and working with retired General Michael Flynn and General Mark Milley.

Holmseth also received a kidnap threat from a retired FBI agent, amidst a flurry of threats against Holmseth, that included a threat to have Holmseth's daughter kidnapped, taken to Fort Campbell, and raped by a dog while it was filmed by Special Forces.
Jaco's call for an uprising comes as TIMOTHY CHARLES HOLMSETH REPORTS has sounded the alarm regarding the coup activity of rogue Special Forces and dirty federal agents.
$40 MILLION RICO COMPLAINT MENTIONS ELON MUSK & DELPHI MURDERS: "HILLARY CLINTON" SCALDED CHILD WITH BOILING WATER AND ATE A "GLAND" FROM THE CHILD'S HEAD DURING "SATANIC RITUAL"
TRUMP WANTS YOU TO READ LINE ITEM #9 IN THE HOLMSETH "SEAL TEAM 6" RICO [OUR COUNTRY IS UNDER MILITARY ATTACK FROM WITHIN]
FEDERAL LAWSUIT: ELON MUSK TARGET OF "FBI" AND ASSASSINS OF ROGUE "SEAL TEAM 6"
On December 21, 2022, TIMOTHY CHARLES HOLMSETH REPORTS reported "U.S. COURT: FORMER NAVY SEALS & U.S. SPECIAL FORCES TRAFFICKING HUMANS WITH CARTEL ON BORDER".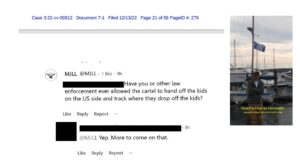 Jaco said the end is near.
"This is coming to a head very quickly." Jaco said.
"It's time to flood the court because they just stole the match," Jaco said.