DISTURBING VIDEO FEATURING SMALL FEMALE IN SHACKLES IS BLOCKED BY BITCHUTE AS "CHILD ABUSE" – PRODUCER LINKED TO FBI, BIDEN, PENCE, LIN WOOD [ELON MUSK & THAILAND]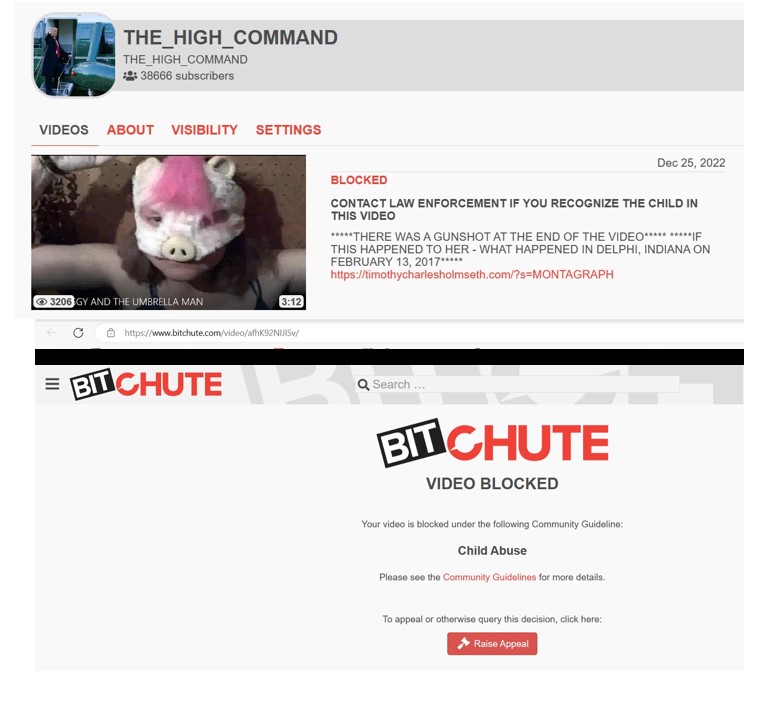 by Pentagon Pedophile Task Force on December 25, 2022 – USA
On November 28, 2019, TIMOTHY CHARLES HOLMSETH REPORTS published "Washington DC PARALYZED by SECRET ILLUMINATI DATA BASE on DARK WEB? – – – MONTAGRAPH to be arrested by military? – – – Former FBI Director James Comey JOHN DOE #2 at Oklahoma Bombing?"
There are developments.
On December 24, 2022, a video appeared on a Bitchute channel called The_High_Command that was entitled "CONTACT LAW ENFORCEMENT IF YOU RECOGNIZE THE CHILD IN THIS VIDEO" that featured a female wearing a pig mask and appeared to be shackled.
The video has been disabled by Bitchute and labeled "Blocked" and deemed "Child Abuse".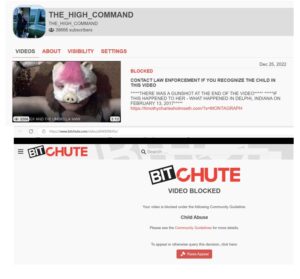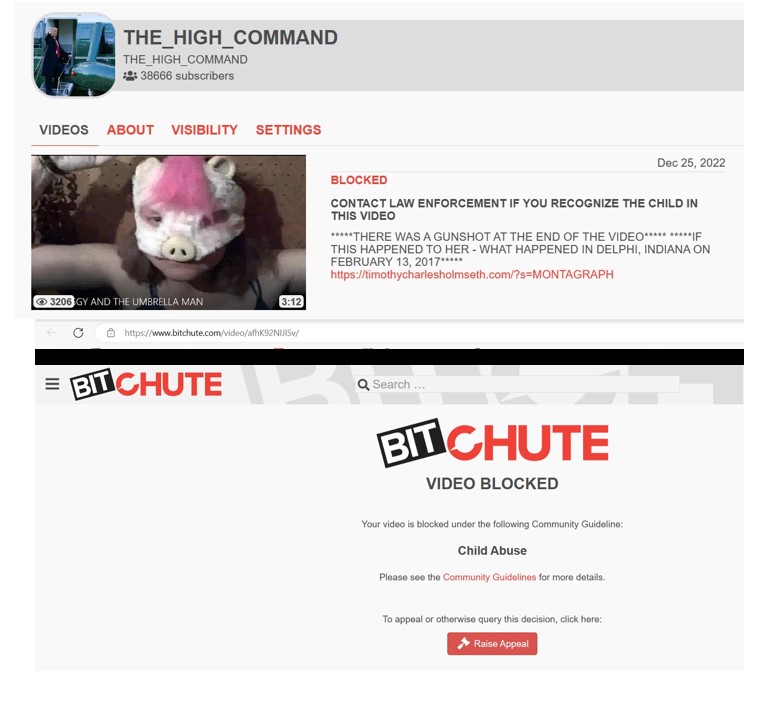 The video was originally published on You Tube in April of 2010 by Steve Quest, Colorado. Quest maintains the female in the video was Vickie Miller of Denver, Colorado and was "thirty-five years old".
On December 23, 2022, Quest appeared live on his You Tube channel called 'Montagraph' and discussed the video, which is called Little Piggy and the Umbrella Man.
Quest went on an extended exclamational tirade about a man named "Jake Morphonios" in regard to the video. Morphonios is the chief investigator for the Blackstone Intelligence Network.
"Tubby More-funniest is not in the intelligence community obviously. Because he can't figure out what is an adult as opposed to what he's dreaming of," Quest said.
"But he's not the only one. There are attorneys who are just like that. There are physical trainers who are just like that. And everyone in-between because they can't figure out what an adult is," Quest said.
"That number one episode that you're talking about," Quest said, referring to the video, "has vanished from the internet. Not even do I have a copy of it. Of the first episode of The Umbrella Man – I don't even have a copy of it. I mean since that was produced, I've gone through nine computers," Quest said.
Quest said the video was published on You Tube and had 25,000 views when he took it down.
Quest said he is presently involved in a court hearing pertaining to the video but did not elaborate on the details.
The You Tube channel for Blackstone Intelligence contains a Bio for Jake Morphonios that says Morphonios broke up a "child sex trafficking ring" in Hollywood.
"He translated speeches for Prime Minister Chuan Leekpai of Thailand and Thai governors while living for years in Southeast Asia. During that time, Jake assisted victims of the child sex trafficking trade. In the United States, Jake's investigations assisted with the breakup of a child sex trafficking ring in North Hollywood, California," the Bio said.
QUEST AND ATTORNEY LIN WOOD
Quest livestreamed a telephone call to Attorney Lin Wood in January of 2021 and confronted Wood for posting a MEMO to President Donald Trump authored by Timothy Charles Holmseth on his (Wood's) Twitter account.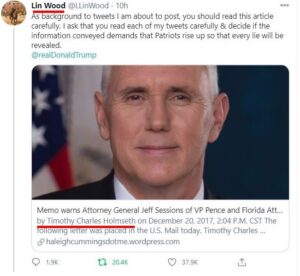 THAILAND
On December 11, 2022, TIMOTHY CHARLES HOLMSETH REPORTS published "WHAT DID ELON MUSK KNOW? [THE PEDO GUY] [STEVE WYNN'S PRIVATE ARMY OF U.S. MARINES AND NAVY SEALS] [KIDS IN CAVES AND CAGES] PART 1". 
The story focused on Thailand and an international child sex trafficking operation.
This is a developing story.
About Author