U.S. MARINE P.O.W. ON AMERICAN SOIL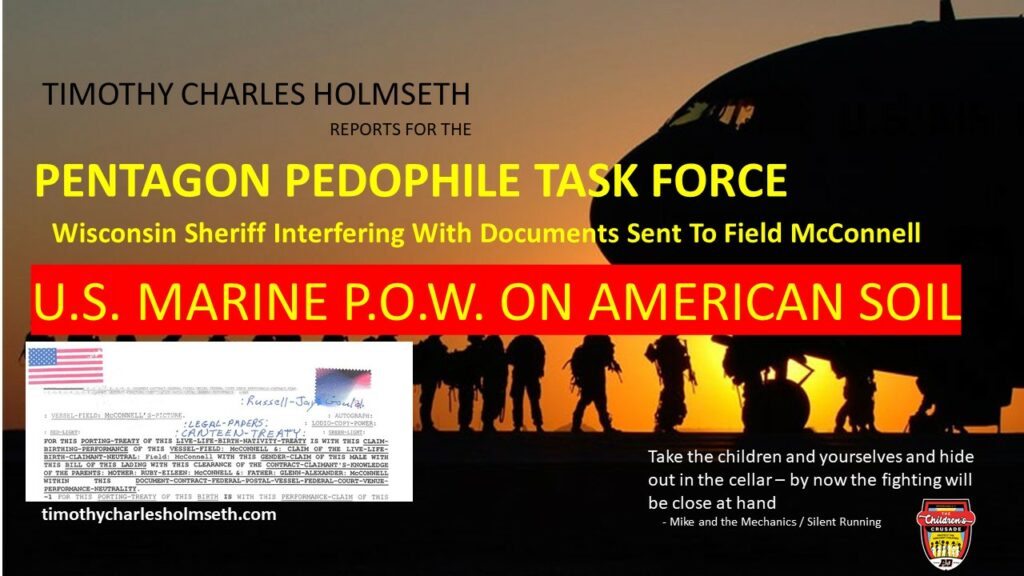 by Timothy Charles Holmseth on December 30, 2019 at 11:12 A.M.
Why is the Pierce County Sheriff in Ellsworth, Wisconsin withholding documents called  "CANTEEN-TREATY" from a prisoner?
Who is the prisoner?
Boeing Whistleblower and U.S. Marine Field McConnell, 70.
Here's what's going on.
McConnell is being held as a prisoner of war in a foreign jail on American soil.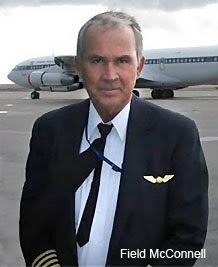 Here are the facts.
Sheriff Nancy Hove is alleged to have personally intercepted and unlawfully abstracted privileged communications that were sent by Postmaster Russell-Jay: Gould; and was to be delivered to Pierce County Jail inmate Field McConnell.
Records show the package was sent by Gould on December 9, 2019 and received by the Pierce County Jail on December 12, 2019. The package was then abstracted (electronically scanned) and made available to McConnell on a computer screen.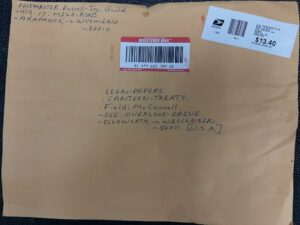 The package was then re-routed out of the facility by Hove to Phil Roberts, who has Power of Attorney for McConnell. On December 19, 2019 Roberts returned to the Sheriff's Office accompanied by Randi Erickson. Roberts handed the package to Erickson who (Erickson) handed it to Hove. Erickson said when she personally handed the package to Hove she told her (Hove) to give it to McConnell. Erickson told Hove that McConnell needed the documents for a court hearing.
"I told Sheriff Hove if she doesn't understand what these documents mean she needs to call the Governor," Erickson said.
Erickson said Hove accepted the package back into her hands and (Hove) advised her (Erickson) "I will ask my attorney about it".
It appears the situation is becoming very serious.
Intercepting and abstracting federal mail violates U.S. Law.
18 U.S. Code § 1708.Theft or receipt of stolen mail matter gen­erally
Whoever steals, takes, or abstracts, or by fraud or deception obtains, or attempts so to obtain, from or out of any mail, post office, or station thereof, letter box, mail receptacle, or any mail route or other authorized depository for mail matter, or from a letter or mail carrier, any letter, postal card, package, bag, or mail, or abstracts or removes from any such letter, package, bag, or mail, any article or thing contained therein, or secretes, embezzles, or destroys any such letter, postal card, package, bag, or mail, or any article or thing contained therein; or
But…
Here is where the deception against the American people hits an entirely different level.
According to Gould, "The Post Office is closed because they don't have a Constitution."
Gould said the package was a "CANTEEN-TREATY".
He explained.
"It's canteen because of Martial Law. Canteen moves when Martial Law is in play. That supersedes because the Unites States Post Office doesn't have a Post Master General – doesn't have a Constitution – doesn't have any authorization to exist," Gould said.
"The Post Office is violation of their own code because of the 1999 bankruptcy," Gould said, referring to the third and final bankruptcy of the United States in 1999.
EXPOSING THE SECRET THAT WILL CHANGE THE WORLD
The kidnapping of Field McConnell off the street in Plum City (Pierce County), Wisconsin based upon fake criminal charges, and a fake arrest warrant out of Florida, which was issued based upon something McConnell said on a You Tube video, for which there is NO CRIMINAL CASE NUMBER IN THE FLORIDA SYSTEM, is set to blow the lid off an emerging secret that will change the world.
McConnell, 70, who has no criminal record, is dressed in yellow inside the prison which denotes he is a high risk dangerous offender.
But the BIG secret is…
McConnell is a prisoner of a foreign power.
Fake courts inside the United States are being operated by foreign agents called BAR members (British Accredited Registry) that are at war with the people of the United States and are loyal only to the British Crown.
SHERIFF HOVE'S CONSPIRACY AGAINST FIELD MCCONNELL'S RIGHTS
Sheriff Nancy Hove's deliberate and well thought-out actions indicate she factually knows McConnell has been kidnapped and falsely imprisoned. It appears Hove believes she can get away with what she is doing  under the guise that her actions are legal because McConnell is classified as 'cargo' on a 'foreign ship in dry dock' (which according to Gould is what the Pierce County Jail is classified as).
The privileged documents sent by Gould to McConnell is "Canteen" that demonstrate and prove McConnell is a living human being and not cargo, which according to Gould, is how McConnell is being classified and held. The documents require McConnell autograph and apply a DNA sample to the document (i.e. lick it) for it to become agreed upon, which, it appears, is why Hove won't put the documents in McConnell's hands.
Gould, who possesses the Title 4 American flag and owns the "land of the courts" and the Post Office said the nation is under Martial Law and the "courts are closed".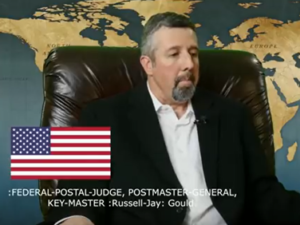 The document being withheld from McConnell reads in part:
FOR THIS PORTING-TREATY OF THIS LIVE-LIFE-BIRTH-NATIVITY-TREATY IS WITH THIS CLAIM-BIRTHING-PERFORMANCE OF THIS VESSEL-FIELD: McCONNELL &: CLAIM OF THE LIVE-LIFE-BIRTH-CLAIMANT-NEUTRAL: Field: McConnell WITH THIS GENDER-CLAIM OF THIS MALE WITH THIS BILL OF THIS LADING WITH THIS CLEARANCE OF THE CONTRACT'S-CLAIMANT-KNOWLEDGE OF THE PARENTS: MOTHER: RUBY-EILEEN: McCONNELL &: FATHER: GLENN ALEXANDER: McCONNELL WITHIN     THIS     DOCUMENT-CONTRACT-FEDERAL-POSTAL-VESSEL-FEDERAL-COURT-VENUE-PERFORMANCE-NEUTRALITY.
Hove reportedly began abstracting all of McConnell's documents the very day she received the package from Gould.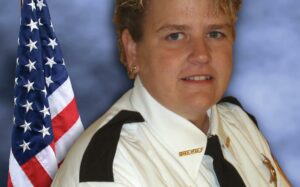 Erickson has been in contact with the Pierce County District Attorney's Office, Department of Justice, and Wisconsin National Guard.
The holiday season has been a barrier to communications today.
This is a developing story.
Timothy Charles Holmseth can be reached at tholmseth@wiktel.com
About Author