"WEAPONIZED" – PRESIDENT DONALD J. TRUMP'S PLAN TO END the "LEFT-WING CENSORSHIP REGIME", and the HOLMSETH "SEAL TEAM 6" RICO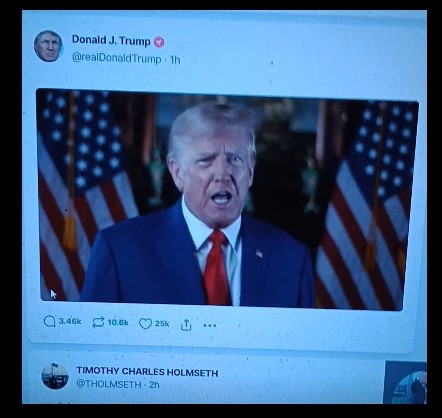 by Pentagon Pedophile Task Force on December 16, 2022 – USA
President Donald J. Trump is rolling out his plan to take back America in advance of his upcoming "inauguration".
America is now going to begin learning why President Trump's inauguration was delayed in the first place.
On December 13, 2022, an Amended Complaint filed in a federal case brought under the Racketeering Influenced Corrupt Organization Act – U.S. Court – Tennessee – Holmseth v. Page et al – 3:22-cv-00912 – appeared on the federal PACER system.
On December 14, a story appeared on TIMOTHY CHARLES HOLMSETH REPORTS – '$40 MILLION RICO COMPLAINT MENTIONS ELON MUSK & DELPHI MURDERS: "HILLARY CLINTON" SCALDED CHILD WITH BOILING WATER AND ATE A "GLAND" FROM THE CHILD'S HEAD DURING "SATANIC RITUAL"'
On December 15, Donald Trump issued a very important video press statement where he announced his "plan to shatter the left-wing censorship regime and to reclaim the right to free speech for all Americans".
The timeline of events is featured in a video at a Bitchute channel called The High Command.
Trump's tone and demeanor during his announcement was stern, no-nonsense, and Presidential.
The Amended Complaint in the Holmseth case began with the following plain and simple statement:
"The Defendants are organized and using a former FBI agent and SEAL TEAM 6 in attempt to locate and murder me for my work as a news reporter and journalist reporting about child trafficking, human trafficking, crimes against humanity and cannibalism," the filing by Timothy Charles Holmseth said.
Later in the day on December 15, Trump posted more information on TRUTH SOCIAL.
"This is the McLaughlin & Associates POLL that just came out and which got it right in 2016 & 2020 (with margins for theft and cheating), unlike The WSJ, NBC Fake News, ABC Fake News, Fake Polling FOX NEWS, the dying and very sickly USA Today, and most others in the LameStream Media. In other words, it is REAL POLLING. As you can see, we are leading by a lot, despite the never ending Communist (Democrat) WEAPONIZED ATTACKS on me and the GREAT PATRIOTS OF MAGA. More to come!!!" Trump said.
"WEAPONIZED"
In Trump's second press release he emphasized the words "WEAPONIZED ATTACKS".
Line-item #2 in the Holmseth RICO Complaint describes what is happening to Holmseth and used the word "weaponized".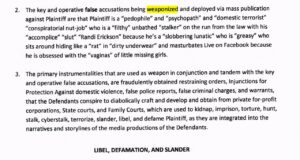 Trump said, "More to come".
This is a developing story.