Billy Graham accused of Satanic pedophilia – CEO of Samaritan's Purse Franklin Graham poses at Voodoo Donuts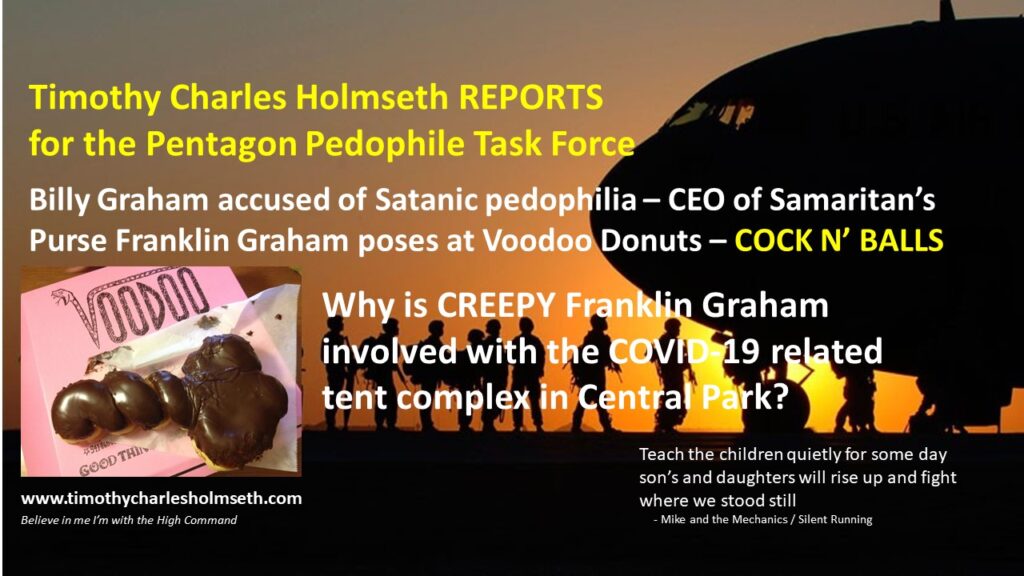 by Timothy Charles Holmseth on April 8, 2020 at 11:28 A.M.
Does the mere photograph of a "cock n' balls" donut tell us all we need to know about what's really going on under the tents in Central Park that were erected in the wake of the Coronavirus outbreak.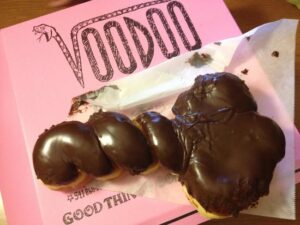 Yesterday, I published 'New York Times trying to cover-up what's really happening under tents in Central Park' where I showed the public how the NYT is trying to confuse the people about why there are tents set up in Central Park.
Significant photographic evidence and testimony appear to show there is a mass child rescue operation occurring in Central Park that is focused on a tunnel beneath that area that actually requires fresh air to be pumped into the caverns below.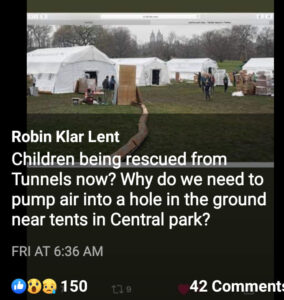 One of the photos shows uniformed staff from Samaritan's Purse standing alongside a hospital bed attending to a patient.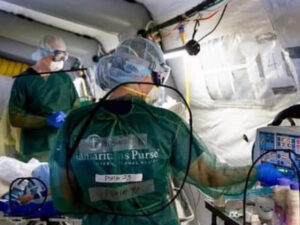 The President of Samaritan's Purse is Franklin Graham, the eldest son of Billy Graham.
Franklin Graham became the center of controversy after Satanic Ritual Abuse victim Fiona Barnett confronted him (Franklin Graham) for posing for a photo in front of Voodoo Donuts.
"What's on my mind? Rage. My pedo rapist Billy Graham's son just posted photos of him eating penis shaped donuts at Voodoo Donuts, hours after victim Michael Whalen out the place as a front for child sex trafficking," Barnett said in a Tweet.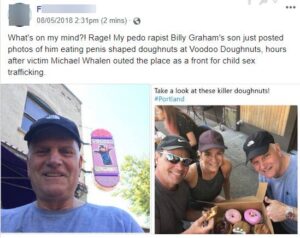 "Take a look at these killer donuts!" Franklin Graham said.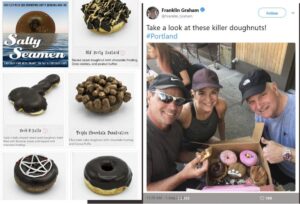 "43 years ago your father drugged and raped me in California. I'm glad to be here sharing he Gospel with all of Billy Graham's other victim," Barnett said.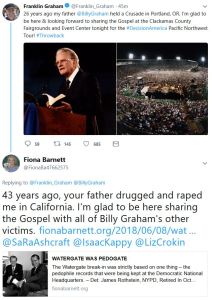 Billy Graham is not the only high profile person named by Barnett.
For instance – in the photo below Barnett shows a drawing of her being violently raped by former U.S. President Richard Nixon.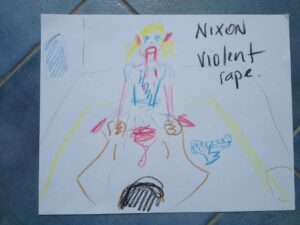 The Pentagon Pedophile Task Force has secured evidence that supports Barnett's assertion that Satanic Ritual Abuse factually exists.
The PPTF also has evidence that shows very large organizations that are run by very big names are often used as fronts for child sex trafficking. The large organizations are moved into place when a narrative needs to be controlled.
The PPTF secures evidence of international crimes such as human and child sex trafficking, crimes against humanity, location of tunnel systems containing kidnapped children, which is then presented, in-person, to General's in the U.S. Military that formulate rescue operations.
Barnett' story of Satanic Ritual Abuse can be heard in her documentary Candy Girl.
About Author