BREAKING: Evidence shows kidnapping charges against Kentucky mother Neely Blanchard were based on pure fiction – COVID-19 involved – Blanchard had written authorization to aid her children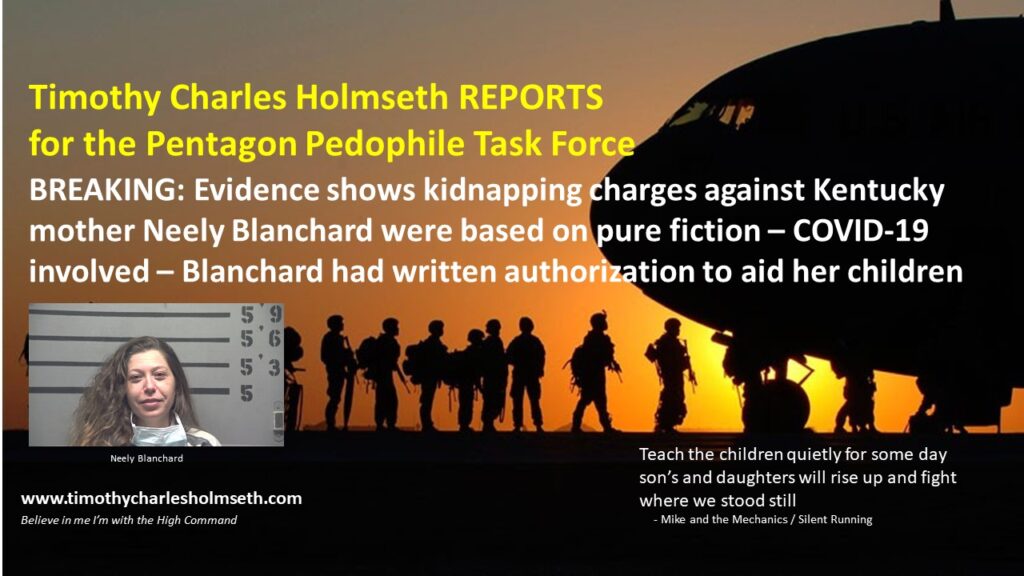 by Timothy Charles Holmseth on April 8, 2020 at 7:18 P.M.
The Kentucky Amber Alert-kidnapping case that allegedly involved investigative assistance from the United States Secret Service is heating up.
The name Neely Blanchard was splattered all over the news in late March, 2020 when an Amber Alert was issued in Kentucky for her two daughters, after their grandmother, who has physical custody, filed a police report.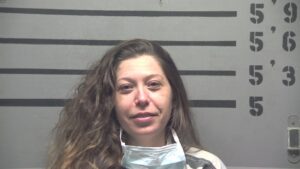 Blanchard was subsequently located and charged with felony kidnapping and custody interference, as the news reported the dramatic development that the two girls were found "safe".
However…
Emerging evidence in the Blanchard case is jaw-dropping and indicates the Prosecution has no case, whatsoever.
TIMOTHY CHARLES HOLMSETH REPORTS spoke with Blanchard today and learned there is evidence that the case against the 33-year-old mother is pure fiction – if not outright fraud.
COVID-19 FACTOR IN NEELY BLANCHARD CASE
Blanchard said her mother, who filed the police report against her, which eventually spiraled into an Amber Alert, had been extremely sick and was showing all the symptoms of COVID-19, except for the fever. "I called the COVID-19 hotline and medical center in Bowling Green," Blanchard said, explaining that one of her daughters had developed a fever.
Blanchard said that she had been in contact with her mother; that her mother knew where she was; and that she had in no way 'taken off' with the two girls. "I was just trying to protect my daughters," Blanchard said.
But there's more.
Blanchard possesses a legal document signed by her mother on October 22, 2018 that authorized Blanchard to make medical decisions for the children, including decisions regarding "shelter." Blanchard said the document is valid and has never been revoked.
John Gentry, a candidate for State Senate in Tennessee is assisting Blanchard. "We've got all the evidence in the world to prove this was a wrongful arrest and a false Amber Alert," Gentry said.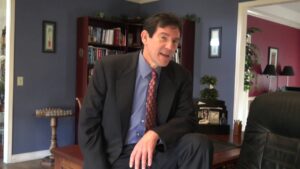 Gentry said people are likely going to be in trouble for "fraudulent use of the Amber Alert system".
Gentry said this case is set to expose corruption including child trafficking within the government.
Indeed – the Blanchard case appears highly irregular in many ways.
UNITED STATE SECRET SERVICE INVOLVED IN AMBER ALERT INVESTIGATION?  
On March 26, 2020 TIMOTHY CHARLES HOLMSETH REPORTS reported…
On March 26, 2020, OJ Stapleton with the News-Democrat and Leader published an article entitled 'Secret Service helps sheriff's department find kidnapped twins'.
Those who were reading intently and expecting to see the huge story that would certainly accompany that headline were horribly let down.
The widely covered Amber Alert story was regarding Neely Blanchard, who reportedly, went someplace with her two daughters while their grandmother, who has custody of the two minor girls, was running some errands.
That's about it.
However, there does not appear to be any news reporting that explains why an emergency existed or how the wheels of law enforcement started turning in the case. In fact, all news reporting on the matter seems very lackluster and offers precious little insight as to why the Amber Alert was issued in the first place. Mainstream news coverage does not even state who called the police?
Which leads to the ultra-bizarre fact that the U.S. Secret Service got involved.
"Twin girls have been returned to their home after a long day of hard work by law enforcement that ended with an Amber Alert being issued and help by the United States Secret Service," OJ Stapleton reported.
The article quoted Logan County Sheriff Stephen Stratton.
"When the Amber Alert went out, we started getting tons of good information," Stratton said. "We had a good idea where they were and then the Secret Service got involved and used their resources to track her through her phone and social media."
Timothy Charles Holmseth REPORTS did a cursory Web search and only found one website, News-Democrat and Leader, that mentioned the Secret Service. They did not report who contacted the Secret Service.
This is a developing story.