by Timothy Charles Holmseth on June 3, 2020 at 1:28 P.M.
Chris Hallett, CEO, E-Clause LLC is reporting the case against Neely Blanchard has been dropped.
The email shown below is from the Kentucky court and was published by Hallett.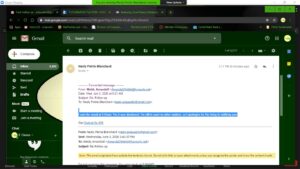 Blanchard is facing kidnapping charges; accused of kidnapping her own children.
Timothy Charles Holmseth will provide updates as they become available.
READ ALSO
BREAKING: Evidence shows kidnapping charges against Kentucky mother Neely Blanchard were based on pure fiction – COVID-19 involved – Blanchard had written authorization to aid her children
Neely Blanchard Update: E-Clause CEO: Secret Service involvement creates federal jurisdiction
BOMBSHELL! Woman arrested in Kentucky 'Amber Alert' case is the COMPLAINANT in active CONGRESSIONAL INVESTIGATION regarding foreign emoluments – weaponized family courts (Sharia Law)
Why was the U.S. Secret Service involved in county level custody matter in Kentucky? – And why did only one news outlet report it?