CHILD TRAFFICKING OPERATION MADYSON MARQUETTE HER NEWS ADMITS TO SECRETLY HOLDING CHILDREN FOR PROFIT (LAW ENFORCEMENT TO BE NOTIFIED)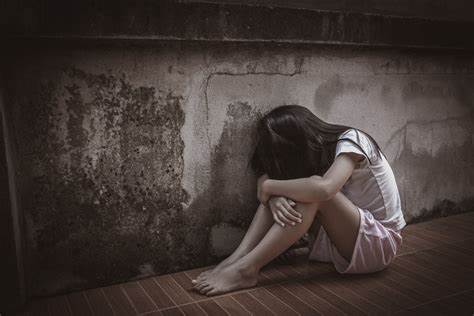 by Pentagon Pedophile Task Force on July 17, 2022 – USA
The following was posted on the GAB account of Timothy Charles Holmseth, today.
~begin~
CHILD TRAFFICKING OPERATION MADYSON MARQUETTE HER NEWS ADMITS TO SECRETLY HOLDING CHILDREN FOR PROFIT (LAW ENFORCEMENT TO BE NOTIFIED)
by Timothy Charles Holmseth – War Correspondent – on July 17, 2022, at 6:13 P.M. – USA
On July 10, 2022, I announced, "JOURNALISTIC INVESTIGATION INTO 'MADYSON MARQUETTE HER NEWS'".
On July 12, 2022, I reported, "UPDATE ON HUMAN TRAFFICKING INVESTIGATION OF "UNTRAFFICKED""
UPDATE
Today, the Telegram channel MADYSON MARQUETTE HER NEWS openly admitted that children are presently being trafficked by the author of the Telegram post.
The following was posted on the before-mentioned channel.
~begin~
When it comes to certain task forces saving children they have processes in place where some do the rescuing & then give them to another task force to hide them, house them, & keep them safe.
This is to protect everyone involved especially the children.
They then start investigations of where the children came from, do they have a family, did the children get stolen from the family, and what's the next best step for the child so they can live a normal life. As normal as they can after the intense trauma they went through.
On my task force only a very select few (including myself) know where the children are housed for safety reasons.
I find it utterly disgusting when people accuse someone of trafficking children & women when they are not.
Just because some doesn't understand the ends and outs of us that are rescuing these babies doesn't mean you get to call anyone a trafficker.
I try my best to keep everyone informed of our rescues and what we are doing but a-lot of information is confidential to protect these innocent little humans who just survived the ultimate hell.
~end~
The trafficking operation described by the Telegram poster has a GiveSendGo set up to take in money based upon the fact they are trafficking children. The GiveSendGo has raised over $100,000.00.
This report will be submitted to law enforcement.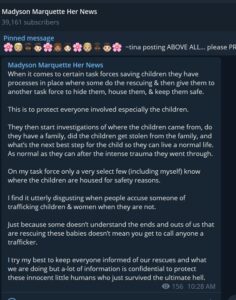 Believe in me I'm with the High Command
~end~
About Author