CIA FINDERS TRIAL for woman dubbed "QANON MOM" postponed after State of Colorado continues to hide information from Defense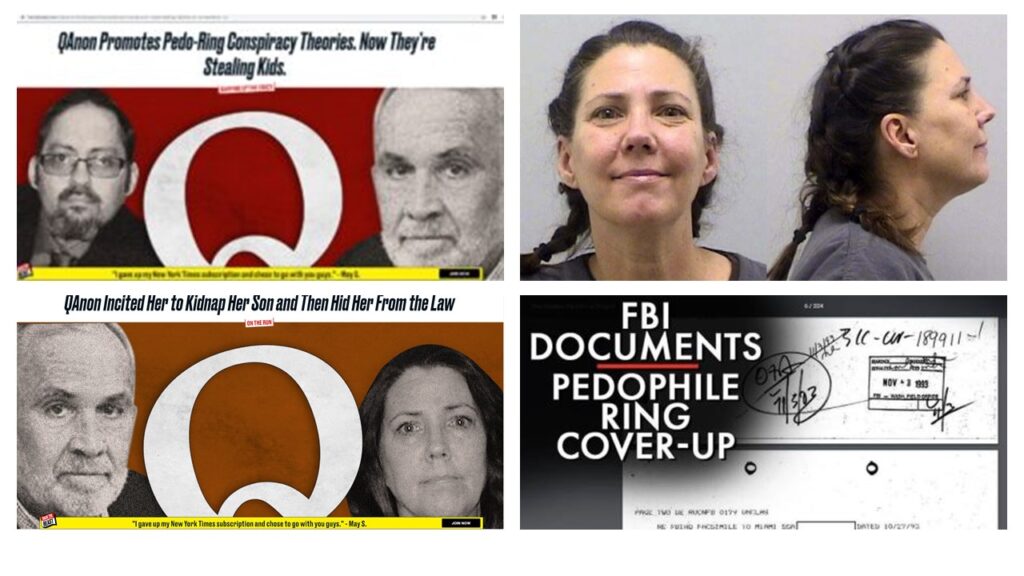 by Pentagon Pedophile Task Force on August 3, 2021 at 8:11 A.M.
We are reporting on developments in the CIA FINDERS trials.
The CIA FINDERS trials are unlawful and fraudulent criminal trials and/or family court cases presently active within the court system that were improperly created, and diabolically orchestrated, to achieve the unlawful objectives of an international criminal enterprise. The criminal enterprise is best described as a well-organized child abuse, human trafficking, blackmail/spy, domestic terror, human harvesting, Satanic operation that was referred to as THE FINDERS by the FBI. The FINDERS trials are targeted individuals who were associated with Congressional Defense Contractor and Auditor Christopher E. Hallett, E~Clause LLC, Florida, who was assassinated in his home after filing court documents in federal court. The files vanished after Hallett's murder.
UPDATE: State of Colorado v. Cynthia Abcug
There was a trial scheduled to begin yesterday in Douglas County, Colorado in the case State of Colorado v. Cynthia Abcug.
According to sources, the trial did not begin and was continued until at least January, 2022.
It was reported the Defense filed a Motion that involved the State's prosecutor's ongoing refusal to properly turn over evidence and discovery as required.
It is believed the State of Colorado is attempting to conceal the involvement of the FINDERS.
The mainstream media, as well as the Chelsea Clinton publication DAILY BEAST originally hyped the Abcug case as a "QANON" armed kidnapping plot by a crazed mother and a group of mentally unstable psychos. However, the judge in the case ruled last week that the State could not bring up QANON because it is not relevant. The judge also ruled the State could not use the term Munchausen's by Proxy because Abcug had never been diagnosed with any such thing. These rulings, which came interestingly late in the game, essentially destroyed the FINDERS' fake criminal case designed to protect the rapists that raped Abcug's little son.
The FINDERS dispatched William K. Murtaugh (murtwitnessonelive), 70, Apopka, Florida, to attend the trial in Castle Rock, Colorado yesterday. Murtaugh is a FINDER posing as a news reporter. Murtaugh was on the news in Florida after he got into trouble because he claimed to know the identity of the missing child Trenton Duckett's abductor.  Murtaugh is believed by many to be a serial killer who rapes children to death based upon a Pal Talk exchange where he appears to have bragged about murdering little Trenton.
Murtaugh has publicly stated, and shown videos, that he met with the Minneapolis FBI as part of what he called "OPERATION CHAOS". Murtaugh said he met with Minneapolis FBI agents for 4 hours and claimed he is working with the FBI to tie the Abcug case to "QANON", Timothy Holmseth, Field McConnell, Publisher Randi Erickson, and others. Murtaugh has published several videos including a video featuring maps, driving routes, and ocean channels, and tried to make a case that Holmseth and Erickson assisted Abcug in a plan to get Abcug and her child out of the United States.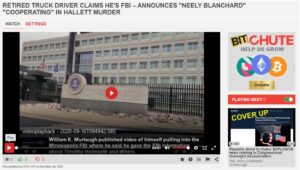 The following Bitchute channel is also reporting on the Abcug case – – – THE_HIGH_COMMAND (bitchute.com)
CIA FINDERS CASES (not an entire list)
State of Colorado v. Cynthia Abcug
State of Florida v. Field McConnell
State of Florida v. Neely Petrie-Blanchard
State of Minnesota v. Timothy Charles Holmseth
Sarah-Elise Mitchell Dunklin v. Robert Glenn Chatham (Arkansas)
About Author