CONFIRMED: IT'S BABIES!!! Under the Tents in Central Park (PRESIDENT TRUMP IS A HERO!!!)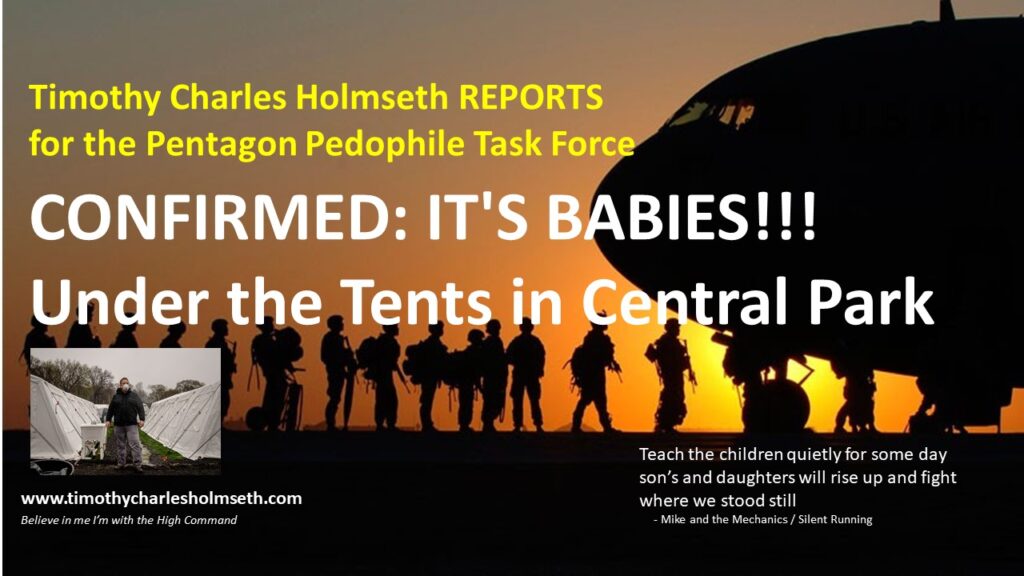 by Timothy Charles Holmseth on April 15, 2020 at 11:50 A.M.
President Trump is a HERO.
Babies and small children are being treated beneath the tents of the field medical hospital in Central Park, New York. 
"The scariest day of my life was about a month ago, when after a long day of meetings my team told me that we were going to be needing 130,000 ventilators — that we were short hundreds of thousands of ventilators," Trump said during a recent daily White House press briefing.
President Trump knows.
On April 15, 2020 New York Times published Treating Coronavirus in a Central Park 'Hot Zone' and quoted Dr. Elliott Tenpenny, the unit medical director at the field hospital in Central Park, New York.
"While the field hospital maintains a laboratory and pharmacy and is able to perform X-rays and provide intensive care, about a tenth of its patients have had to be transferred to another facility for more specialized treatments. On Monday afternoon, one of the patients was being transferred out of the tents to an I.C.U. at Mt. Sinai. "They can provide a higher level so we're back and forth all the time," Dr. Tenpenny said. That higher-level care includes extracorporeal membrane oxygenation, or ECMO, which uses a machine to oxygenate a patient's blood directly, temporarily replacing the function of the heart and lungs," the New York Times reported.
Extracorporeal membrane oxygenation
Extracorporeal membrane oxygenation (ECMO) is a treatment that uses a pump to circulate blood through an artificial lung back into the bloodstream of a very ill baby. This system provides heart-lung bypass support outside of the baby's body. It may help support a child who is awaiting a heart or lung transplant.
WHY IS ECMO USED?
ECMO is used in infants who are sick due to breathing or heart problems. The purpose of ECMO is to provide enough oxygen to the baby while allowing time for the lungs and heart to rest or heal.
On April 9, 2020 TIMOTHY CHARLES HOLMSETH REPORTS reported 'The U.S. Navy medical ship USNS Comfort arrived in New York on March 30, 2020.'
"Like its sister ship, the USNS Mercy, the Comfort will not be treating any coronavirus-positive patients," Business insider reported.
According to my high-level intel source, the reason the USNS Comfort was sent to New York was to treat tortured and abused children that were rescued from tunnels underneath New York.
[end]
Intel reports reveal babies and children are being rescued from underground facilities (Deep Underground Military Bases – DUMB's) and filthy torture chambers throughout the country.
TRACK THE EARTHQUAKES
The Pentagon Pedophile Task Force (PPTF) alerted the world to the U.S. Military rescue operations being conducted in October, 2019.
Most of the children had been kidnapped from their parents by [private] Child Protective Services (CPS) and moved into the underground.
The PPTF has identified a secret global network of human traffickers.
Track the earthquakes to identify where enemy strongholds underground are being destroyed by the U.S. Military.
https://www.youtube.com/watch?v=fXph6AV8ma0
Believe in me I'm with the High Command 
About Author