HUGE!!! Austin Steinbart (Fake Q) infiltrated Vets on Patrol TWO YEARS AGO (PATRIOTS VS. PEDOPHILES)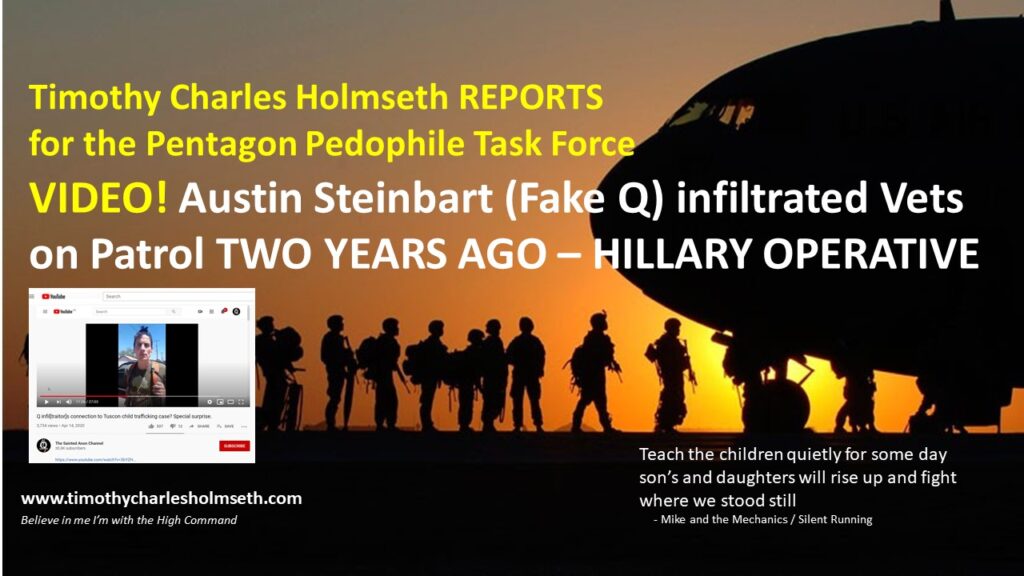 by Timothy Charles Holmseth on April 14, 2020 at 4:14 P.M.
The invisible enemy President Trump talks about is – and always has been – a war of PATRIOTS against PEDOPHILES.
And there is a huge development.
The world knows the story… Austin Steinbart, 29, recently appeared out of the blue and claimed he was "Q".
Steinbart was then (conveniently) arrested by FBI in Arizona for engaging in computer crime.
SPOILER ALERT: Epic fail for the Deep State.
The objective of the CIA/Deep State operators that handled Steinbart was to discredit the "Q" movement by making it appear Steinbart had mental problems, was dangerous, and engaged in extortion.
But their already-failing plan just totally collapsed.
Here's why.
THE SAINTED ANON REPORT
Steinbart has been exposed as a Deep State infiltrator that attempted to hijack and destroy an organization called Veterans on Patrol, that uncovered a human trafficking camp in Arizona in 2018.
At the time, the trafficking camp was also visited by Craig Sawyer, founder, Vets 4 Child Rescue, who walked through the camp with camera men and showed "rape trees" and explained many details that showed the camp was used for trafficking and sexual assault.
Sawyer then abruptly took it all back after talking to Tuscon police and the camp was bulldozed.
And now its all coming together.
Today, the You Tube channel called The Sainted Anon showed video clips that revealed Michael Lewis Arthur Meyer, founder, Vets of Patrol, confronted Austin Steinbart, for attempting to embarrass Vets On Patrol by promoting staged events such as having guns fired during operations (which would make the group look like wackos and frauds).
https://www.youtube.com/watch?v=6cBJaNgj4-A&feature=share&fbclid=IwAR3i5zVvr7AgF0JakjYqd_Ggtwj3WA_fMDrMfaY_ACPlbIYup2AdL3FxKJY
HILLARY CLINTON'S DEEP STATE GOONS ARE BUSTED
Steinbart basically pulled the same crap when he recently falsely claimed he was "Q" (which in reality is a military operation).
Evidence strongly suggests Steinbart is working with former Hillary Clinton, John McCain, and Donald Rumsfeld's bodyguard,  Craig Sawyer, Vets 4 Child Rescue, who has been exposed for the fraud he set up with fellow fraudster Alex Jones (true name Bill Hicks).
DEEP STATE KIDNAPPING
Evidence suggests Sawyer is involved behind the scenes with the arrest of Boeing Whistleblower Field McConnell, 70.
McConnell, a former U.S. Marine who was reporting on international child sex trafficking, was arrested in Plum City, Wisconsin in 2019 and extradited to Florida where he awaits trial for violating a Cyberstalking injunction.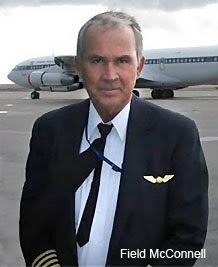 McConnell's 'crimes' were allegedly committed by violating a 'Family Court Order' (commonly used Deep State trick that uses a FAKE COURT to violate the U.S. Constitution with NO DUE PROCESS) fraudulently issued at an administrative hearing in Broward County, Florida where the court administrator had no jurisdiction over McConnell (McConnell is from Wisconsin and did not attend).
McConnell allegedly violated the 'order' [i.e. – fraudulently obtained illegal gag order] during his You Tube broadcast from his Wisconsin studio (which is impossible because You Tube is for entertainment purposes only).
The Broward deputy used in the McConnell case is involved in arresting the brother of the alleged Parkland School Shooter, and has a long history of complaints against him.
Shortly before McConnell's arrest, Sawyer emailed McConnell and advised him to stop communicating with Timothy Charles Holmseth (this writer), which McConnell refused to do. Holmseth, an award-winning news reporter and credible FBI witness, uncovered evidence of an international child sex trafficking operation through the Ukrainian Embassy in Washington DC, and his evidence was instrumental in the arrest of Jeffrey Epstein.
Two online figures called Agent 19 and MONTAGRAPH, boasted their involvement and coordination with (rogue) law enforcement and professed their prior knowledge of McConnell's arrest. Evidence shows MONTAGRAPH and Agent 19 are connected to Sawyer and others involved in the McConnell kidnapping.
McConnell is free on bond, but still, really, just a prisoner, because he cannot leave Florida, he's wearing an ankle monitor and cannot leave his son's house – he is forbidden from using the Web and his BAR attorney must be on the telephone if he talks to anybody.
Yet…
Steinbart, who allegedly stole medical records of NFL players (Terry Bradshaw) and published the records – and then engaged in aggressive acts that appear to be extortion and resulted in federal charges – is allowed to do phone interviews on the Web to this day – and has done an interview online since his arrest.
Evidence exists that shows there is a Deep State apparatus of known agents and operatives that are coordinating Gestapo style kidnappings of young mothers across the United States. That evidence leads to international crimes against humanity, sex trafficking, and Treason that are handled by the U.S. Military during this time of War.
Believe in me I'm with the High Command 
About Author