"DISNEY" AND $30 MILLION – STATE OF FLORIDA'S STAR WITNESS IN 'QANON' MURDER BRAGGED ABOUT DISNEY "JUDGEMENT" AWARDED TO VICTIM (CLAIMED THEY WERE MARRIED VIA COMMON LAW)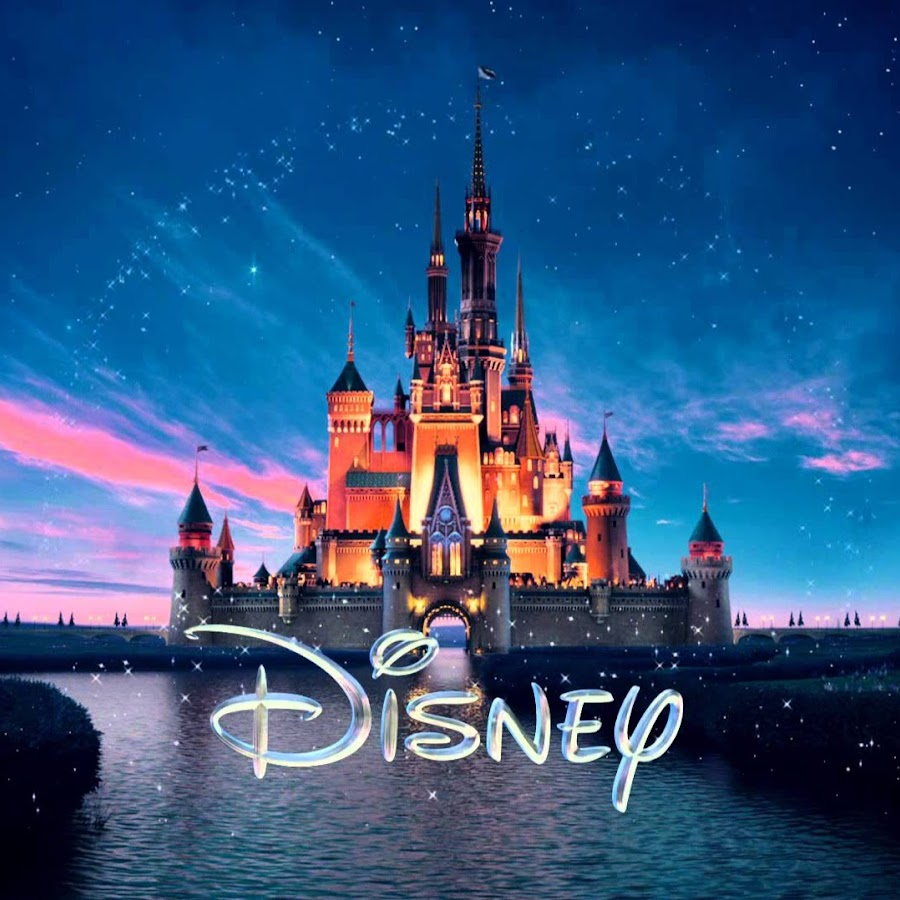 by Pentagon Pedophile Task Force on September 24, 2022
On September 22, 2022, we reported "TRUMP TARGETED FOR [POLITICAL] ASSASSINATION BY SEAL TEAM 6 and BLACKWATER".
The investigative news article revealed Shannon Mutter-Tanis, the only adult at the murder scene of Congressional Defense Contractor Christopher E. Hallett, received very strange treatment by responding deputies of the Marion County Sheriff's Office, Florida.
Evidence shows Mutter-Tanis is an operative of Organized Crime in violation of the Racketeer Influenced Corrupt Organizations Act. Evidence also shows she is an operative of government officials and members of the Executive and Judiciary who are in violation of the Hobbs Act.
THE HALLETT MURDER SCENE
We reported that Mutter-Tanis did not immediately make contact with emergency 911 after Hallett was shot, and then, after deputies did arrive, Mutter-Tanis was not tested for gunpowder by detectives. She was also allowed to keep her telephone.
Mutter-Tanis and her daughter are the eyewitnesses who claim they heard gunshots, and then observed Neely Petrie-Blanchard standing over Hallett with a gun on the night he was murdered.
Petrie-Blanchard and Mutter-Tanis are both agents of Hallett's company E~Clause LLC.
Social media postings reveal Mutter-Tanis, who was living in Hallett's home at the time of the murder, claimed she was in a romantic relationship with Hallett. Mutter-Tanis said Hallett wanted to have a 'baby' with her and spend their lives together. Mutter-Tanis' claims equate to Common Law marriage.
Mutter-Tanis is effectively the State of Florida's star witness against Petrie-Blanchard.
But… should Mutter-Tanis actually have been the suspect instead of Petrie-Blanchard?
Social media postings by Mutter-Tanis reveal Mutter-Tanis talking about land cases Hallett won against "Disney".
In a social media conversation between someone called Grace Reyes and Mutter-Tanis, Mutter-Tanis said, "Grace Reyes wait till you see the 100 land cases he won here against Disney".
Un-confirmed reports regarding the actual amount of the judgements against Disney that Mutter-Tanis believed Hallett was awarded is $30 Million.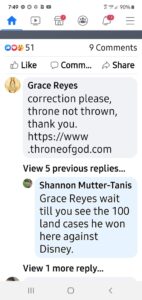 TIMOTHY CHARLES HOLMSETH AND RANDI LYNN ERICKSON 
In 2019, investigative journalist Timothy Charles Holmseth, who had been judicially abducted and tortured by State of Minnesota after uncovering the name of an FBI agent who was trafficking children through the Ukrainian Embassy in Washington DC, turned over troves of evidence of judicial corruption, human trafficking, and crimes against humanity to Hallett – Holmseth also gave Hallett power of attorney.
The Holmseth kidnapping was orchestrated through fraud and racketeering (Emoluments Violations) wherein the Executive Branch of the State of Minnesota secretly conspired to file 'criminal' charges against Holmseth (the Executive Branch of the DeFacto government called the corporation of the State of Minnesota has NO STANDING to claim they are a VICTIM of Holmseth) (i.e., Timothy Holmseth, a man, CANNOT and DID NOT 'Harass' the corporation called the State of Minnesota), alleging Holmseth was guilty of multiple misdemeanors because he published information (investigative journalism protected by the 1st Amendment) that violated a fraudulently obtained 'Family Court' order from Florida called an "Injunction For Protection Against Repeat Violence".
The racketeering operatives filed multiple misdemeanors called HARASSMENT/RESTRAINING ORDER and CONTEMPT OF COURT, all alleging the same thing, over and over in separate criminal counts, in advance of a criminal conspiracy and plan to convert/escalate the charges to a felony under a Minnesota state statute regarding Habitual Offender.
The Florida court order being 'enforced' by 'local cops' via cell phone calls in East Grand Forks, Minnesota had long since been exposed as a fraud on its face by the Broward County States Attorney's Office in Florida in 2011, before the order was ever even entered. Assistant States Attorney Marie Wolf exposed the fraud in a MEMO dated September 19, 2011.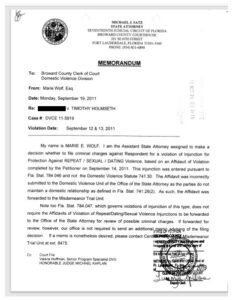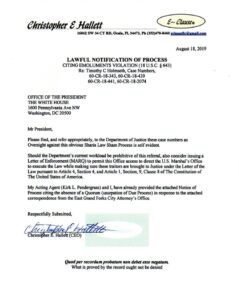 On November 2, 2020, thirteen days before his murder, Hallett filed documents in U.S. Court pertaining to Holmseth and many others. After Hallett was murdered the documents that he filed VANISHED. The only proof the court files ever existed is the receipt Hallett received from the Clerk of Court in Florida's federal Middle District, which Hallett sent to his professionally licensed colleague Randi Lynn Erickson, who had been escrowing evidence.
HOMEMADE WANTED/REWARD POSTERS 
Evidence shows Hallett was the target of specific individuals that were acting as agents for attorneys of the Florida BAR Assocation.
Evidence shows the agents acting on behalf of attorneys were also criminally conspiring with Navy SEALS and black operators connected to Blackwater.
Published documents show Alexandria Goddard, Ohio, an agent of a VERY SPECIFICALLY KNOWN AND IFDENTIFIED [name withheld] attorney, was stalking Hallett with letters to the Florida BAR, States Attorney's Office, blog postings, social media, and otherwise. Goddard was relentlessly pursuing Hallett's arrest with bogus claims he was engaging in unauthorized practice law and committing a felony.
Goddard is an admitted kidnapper, rapist, and sadist, who, in her own words, bragged about how she partnered with police officers in Ohio to kidnap a man, handcuff him to a bed, and torture him with hot sauce. The U.S. DOJ investigated such matters in Ohio, and many were disciplined through the federal investigation. However – despite her obnoxious bragging and public confessions to sexual assault – Goddard was never charged.
Goddard is a sexual deviant psychopath who texted a photo of a 'small' vagina that had no pubic hair around it, to Randi Lynn Erickson. Evidence shows Goddard is a child trafficker who used her position as a Guardian Ad Liten in the State of Ohio to kidnap kids.
After Hallett's murder, the organized crime apparatus that had been targeting Hallett, which included Goddard, launched an international mass-publishing campaign using homemade WANTED/REWARD posters, over-the-road truckers, as well as launching a direct mail campaign, seeking the abduction of Randi Lynn Erickson and Timothy Charles Holmseth.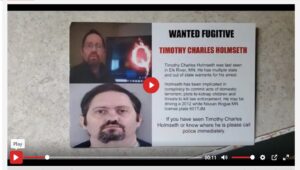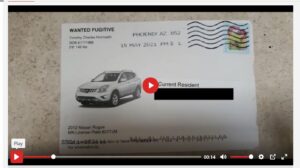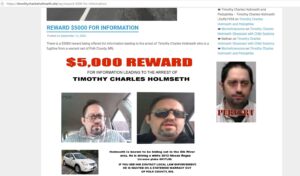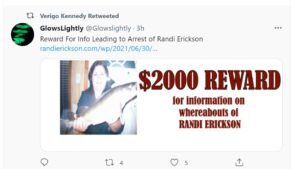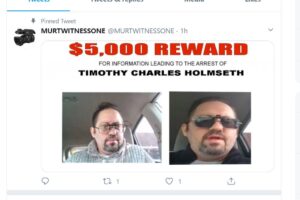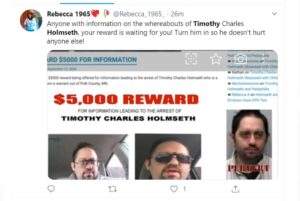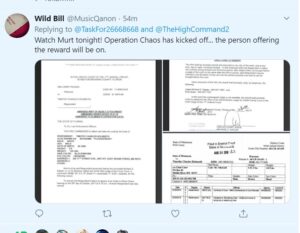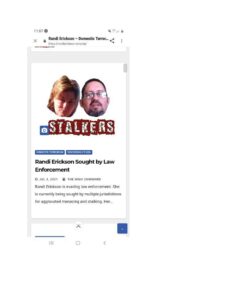 THE STATE OF FLORIDA'S STAR WITNESS IN A 1ST DEGREE MURDER CASE SEEKS A REWARD FROM ORGANIZED CRIME 
Mutter-Tanis, the State of Florida's star witness against Petrie-Blanchard seeks a reward for the kidnapping of Randi Lynn Erickson and Timothy Charles Holmseth.