EXCLUSIVE: Majority of children saved by U.S. Marines from underground bases in California came from CPS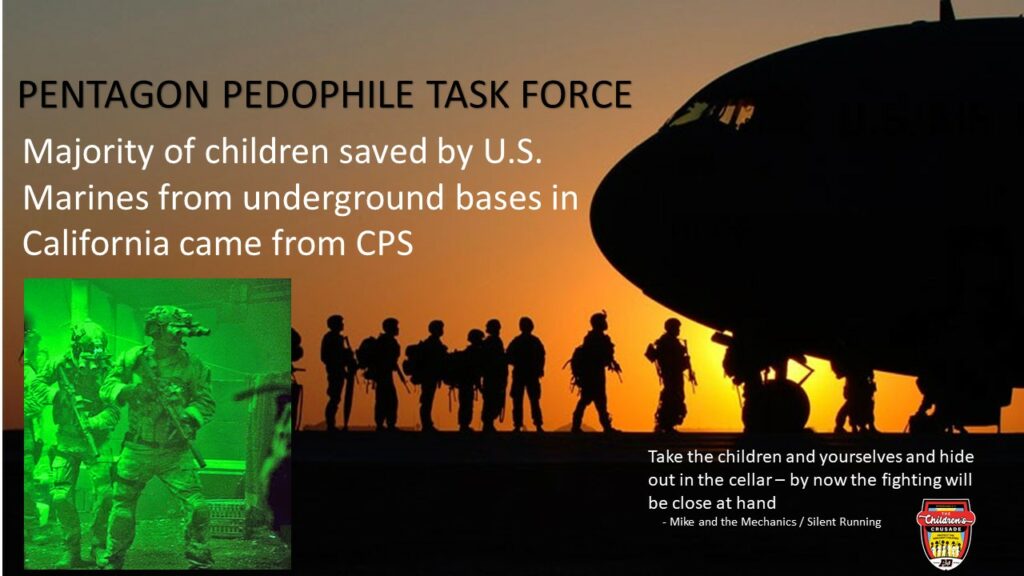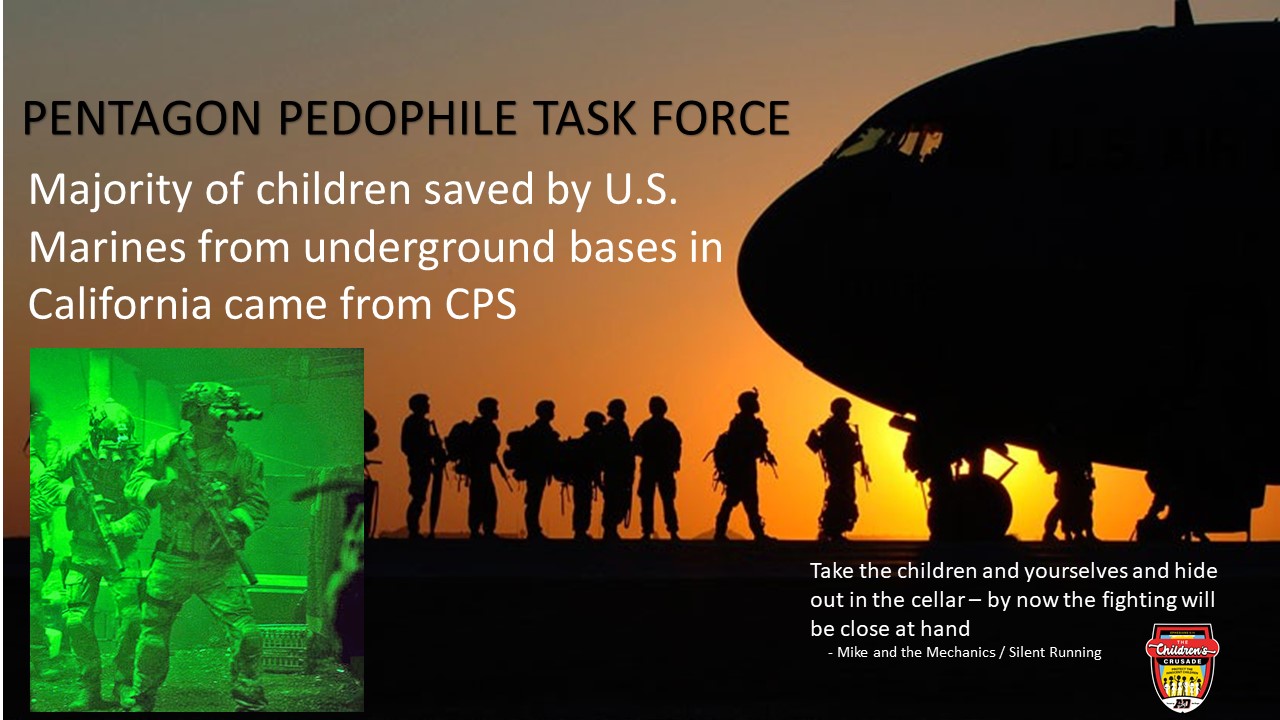 by Timothy Charles Holmseth on November 19, 2019 at 4:02 P.M.
Prepare your heart…
All of President Trump's Executive Actions regarding human trafficking, serious human rights abuses, and organized crime are about to make sense.
On October 14, 2019 the Pentagon Pedophile Task Force reported 2,100 children were rescued by U.S. Marines from underground bases in California.
Note: In my initial report, due to a miscommunication, I erroneously reported Navy SEALS were involved. However – it was only U.S. Marines.
I initially reported the conditions in which the children were held was hell on earth of Biblical proportions. My source, who I will refer to as Pentagon 1, referenced movies such as It, The Matrix, Back to the Future, and The Wizard of Oz to describe the insanity. I reported there were arrests and the children were taken to various medical and psychiatric facilities. I also initially reported the military blew the bunkers up so they could never be used again. I also reported there were five sites where children were rescued from underground bunkers.
UPDATE
I am now reporting many of the children rescued by the U.S. Marines came from Child Protective Services (CPS).
I recently spoke with Pentagon 1.
"I'm almost going to guarantee the majority probably came from CPS," said Pentagon 1.
The children's ages are "anywhere from three to seventeen," Pentagon 1 said.
"There's both girls and boys. I would say mostly girls but there's both. All their needs are being met right now. They are being taken care of – the military has stepped up," Pentagon 1 said.
"Not all those kids are making it. There all in base hospitals. There all trying to be fixed up and made whole and get some nutrition in them and they were in incredibly bad shape. And its going to be a long lengthy process to get those kids back on their feet" Pentagon 1 said.
"To investigate – to find all their parents – I mean it's going to be a freakin' nightmare," Pentagon 1 said.
THE NIGHT-TIME RESCUE OPERATION
Pentagon 1 said the operation was done under cover of darkness.
"Why do you think PG&E shut the power off? That was the military telling PG&E to shut the power down they got to go in in the dark. So, they went in with all night vision – all in the dark. They did this stuff in the middle of the night," Pentagon 1 said.
"And they blew – all those underground fires was because [those] military boys were pissed. They just blew it. There was tremendous amount of emotion there," Pentagon 1 said.
THE TRUMP WALL
"A lot of [the children] are not from the U.S. A lot of Spanish (children) from Mexico and Guatemala and South America. You know? Who knows who their freakin parents are? That's a big reason [Trump] is putting up the wall. It's to protect all of us – everybody," Pentagon 1 said.
Pentagon 1 encourages the public to study Q drops where information is available to expand one's critical thinking skills and get around the fake news controlled narrative.
PRESIDENT TRUMP'S REQUEST FOR CPS VICTIM INTERVIEWS AND FIELD MCCONNELL
On November 4, 2019 former U.S. Marine Field McConnell, 70, was kidnapped off the street in Pierce County, Wisconsin under the guise of an 'arrest' by men dressed as deputies. The man that handcuffed McConnell in front of his radio studio in Plum City possessed no Arrest Warrant.  Documents were later produced alleging McConnell engaged in stalking and domestic terrorism and he was 'charged' with three felonies out of the State of Florida without a Grand Jury Indictment. The fake and fraudulent warrant alleged McConnell violated an injunction issued against him in Broward County, Florida by a Family Court judge despite McConnell having no family and no relationships in Florida.

Shortly before Field McConnell's arrest the Pentagon Pedophile Task Force, The Children's Crusade, and E-Clause LLC announced President Trump requested video-taped interviews from CPS victims to be conducted for review by The White House. McConnell had just announced the interviews were going to be aired on his new program The Field Report – when he was abruptly snatched off the street.
Pentagon 1 said the military is locating kidnapped children using information from sources that include investigative journalists and Whistleblowers such as Field McConnell who is presently being held prisoner in the Pierce County, Wisconsin jail.
Pentagon 1 said the false imprisonment of a U.S. Marine who was exposing child trafficking operations is "very worrisome" because U.S. Marines don't abandon their own.
The Pentagon Pedophile Task Force will continue to monitor the situation regarding Sheriff Nancy Hove and the Pierce County Sheriff's Office that is now being accused of kidnapping and Treason by many online.
TIMOTHY CHARLES HOLMSETH
Timothy Charles Holmseth is a former award-winning news reporter with the North Dakota Newspaper Association. Timothy Holmseth is the only authorized news reporter to report original content for the Pentagon Pedophile Task Force. Timothy Holmseth is ONE MAN away from President Trump. Timothy Holmseth's Pentagon source meets directly with the President.