EXCLUSIVE: REPORT TO FBI DETAILS MURDER PLOT IN OHIO AGAINST MINNESOTA JUDGE AND PORN OF YOUNG NAKED [DEAD] FEMALE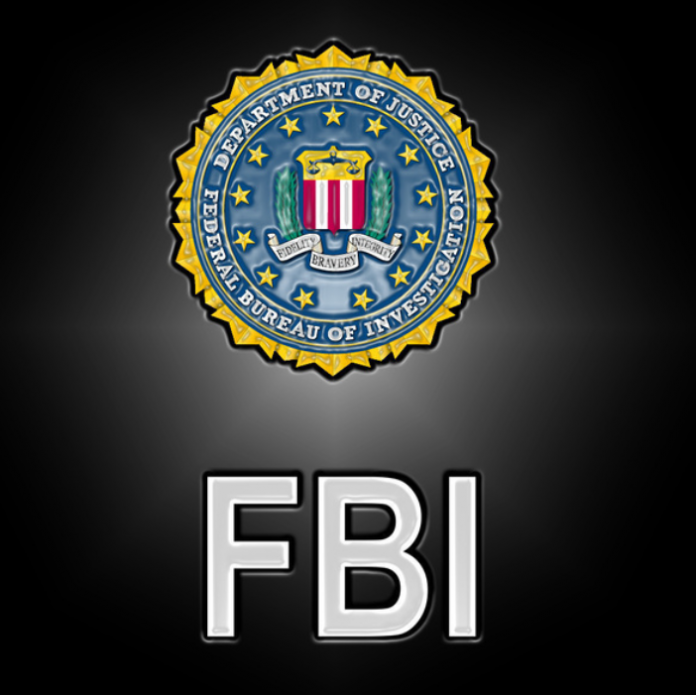 by Pentagon Pedophile Task Force on October 8, 2022 – USA
The following report has been submitted to the FBI and others.
~begin~
Timothy Charles Holmseth
808 Carmichael Rd
PMB 156
Hudson, WI 54016
In Re: Public Corruption in Belmont County, Ohio – Child Pornography, Extortion, Murder
October 8, 2022
Special Agent in Charge
FBI
1501 Lakeside Avenue East
Cleveland, Ohio
44114
Special Agent in Charge,
I have information about Public Corruption and a dangerous racketeering criminal enterprise that is operating in Ohio and other States.
On October 7, 2022, I submitted evidence (via FED EX) to your agency of what appears to be an image of child pornography and/or an image of a dead young naked female child. The same collection of evidence and information was also sent to the Ohio Attorney General.
The image of the small female's vagina was originally transmitted via text message from Alexandria Goddard, Ohio, unsolicited, to Randi Lynn Erickson, Minnesota on August 13, 2022. Following that date, Randi Lynn Erickson telephoned the Belmont County Sheriff's Office, Ohio and attempted to report the pornography image. Recorded calls show the Sheriff's Office refused to take a report and repeatedly referred Erickson to the Martins Ferry Police Department. Erickson telephoned the Martins Ferry Police Department but they would not take a report, either.
Facts and evidence show that the reason Martins Ferry Police Department did not want to take a report from Randi Lynn Erickson is because they had already conspired with Alexandria Goddard, Ohio, and others, and had filed bogus criminal charges against Randi Lynn Erickson (and a similar charge against Timothy Charles Holmseth) on August 16, 2022, for "stalking". In both instances of Erickson and Holmseth, the Clerk of Court mailed the Summons to the wrong address so it would not be delivered and/or received. I assert law enforcement did not want Randi Lynn Erickson's correct address in their system. Moreover, they did not want to take a report that exonerated Randi Lynn Erickson and Timothy Charles Holmseth of the false stalking (and complicity in stalking) charges that had already been filed. They also did not want to take Randi Lynn Erickson's report because it implicated Alexandria Goddard (and themselves) in federal crimes.
Randi Lynn Erickson and Timothy Charles Holmseth only learned of the criminal charges because shortly after the charges appeared on the Belmont County Court's website, Alexandria Goddard's co-host for a show called "Crime and Scandal", Levi Henry Page, Dover, Tennessee, produced an entire You Tube show and announced the charges.
Alexandria Goddard is not from this country and to the best of my knowledge she is not a U.S. Citizen.
The image of the small female's vagina Alexandria Goddard texted to Randi Lynn Erickson is in the possession of the Belmont County Courts (BCC), as well as Prosecutor Kevin Flanagan, because on September 13, 2022 I sent the entire text exchange along with a sworn Affidavit and other items, to BCC and Attorney Flanagan via FED EX (and it was signed for). BCC certainly received it because I gave instructions to BCC to make a change for a correct mailing address, and the change was in fact made and appeared on the BCC website's Register of Actions. However, nothing else appeared to show the court received my information.
On October 7, 2022, I alerted the FBI and Ohio Attorney General to violations of the Racketeer Influenced Corruption Organizations Act and the HOBBS ACT.
The image I sent to the FBI and Ohio Attorney General, that came from Alexandria Goddard, via her unwanted/unsolicited text  to Randi Lynn Erickson on August 13, 2022, was accompanied by extortion threats (i.e., you do what I tell you or I will have you arrested). The texts proved Alexandria Goddard categorically stated to Randi Lynn Erickson that she was in no way afraid of Erickson. The text exchange shows Alexandria Goddard tried desperately to lure Randi Lynn Erickson to her home where, Goddard would later admit during a news interview on From The Desk of Murtwitnessonelive on September 17, 2022, that she sat waiting with a "9mm" loaded with "cop killers" and was going to shoot Randi Lynn Erickson and send her home to her family in a "body bag". During the same news interview on September 17, 2022, Goddard provided details of a kidnapping, torture, and sexual assault she participated in with police from Ohio wherein, she said, they planned and executed a kidnapping, handcuffed a man to a bed, and sexually tortured him with "hot sauce". This story was also published in The New Yorker where Goddard also bragged about it.
Alexandria Goddard stated in the September 17, 2022 news interview that she has been communicating behind the scenes with the "Prosecutor" in Belmont County, Ohio and police in Martins Ferry, Ohio. Goddard stated that SHE did NOT file the criminal charges. Goddard said she did not file charges; the STATE OF OHIO did, she said. Goddard said she does not have to show up for any hearing, ever.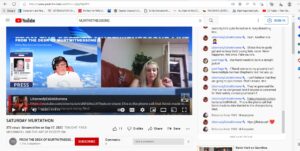 During the course of my journalistic investigations, I observed mainstream news was reporting an arrest in Ohio regarding a school teacher named Justin Foley who has been charged with child pornography related crimes. I observed Ohio law enforcement was alerted to Foley's activities by the National Center For Missing and Exploited Children after that agency received an anonymous tip on August 16, 2022 (the EXACT same day the false stalking charges were brought against Randi Lynn Erickson and Timothy Charles Holmseth) in Ohio.
Facts and evidence show that an investigation would be warranted to see if there is a connection between Alexandria Goddard and Justin Foley. Facts and evidence clearly show Alexandria Goddard was attempting to plant a pornography image on Randi Lynn Erickson's telephone.
In September, 2022 Randi Lynn Erickson submitted an Affidavit and other information and evidence via FED EX to BCC. Records show it was received by BCC on September 16, 2022. But, it never appeared on the Register of Actions.
On October 6, 2022, Randi Lynn Erickson and Timothy Charles Holmseth filed a counter-claim that was sent overnight FED EX to BCC. It was received. However, it does not appear on the Register of Actions.
An officer of the United States District Court, Attorney Steven S. Biss, Charlottesville, Virginia, was retained by Randi Lynn Erickson in October, 2020, for a Defamation lawsuit, that subsequently evolved into a RICO action (totaling $30,000.00 paid to Biss by Erickson), that involved the racketeering activities of members of an organized criminal enterprise that included Alexandria Goddard, Ohio, Attorney (REDACTED), (REDACTED), (REDACTED), (REDACTED), retired FBI (REDACTED), (REDACTED), William Kevin Murtaugh, Florida, Ashely Cooper Brown, Minnesota, Levi Henry Page, Tennessee, and others.
Based upon information and evidence that is in the custody of Attorney Biss, I believe William Kevin Murtaugh is operating two social media accounts on GAB social – one located at @DeepStateDave and another located at @TheSawDude. The anonymous poster has made very disturbing comments about federal judges including sexual comments and allusions to pedophilia by judges. The poster has published photos of beheaded humans, and dead bodies, and stated it looked like Timothy Charles Holmseth and Randi Lynn Erickson. Because of this fact, and the clear and convincing evidence that William Kevin Murtaugh is part of a dangerous criminal enterprise, I am copying the United States Marshals Service because they protect federal judges.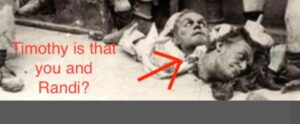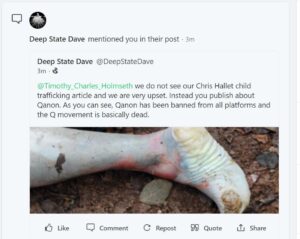 In the spirit of full disclosure I will add that my ability to elude the people trying to kill me, and to pay the associated expenses (e.g., FED EX) of exposing this RICO operation, I receive funds from the American People at a Give Send Go account called Operation Alert Donald J. Trump.
Respectfully submitted,
Timothy Charles Holmseth
War Correspondent/Investigative Journalist/News Reporter
Cc: Randi Lynn Erickson, Belmont County Courts, Ohio Attorney General, Attorney Steven S. Biss, U.S. Marshals Service
~end~
About Author