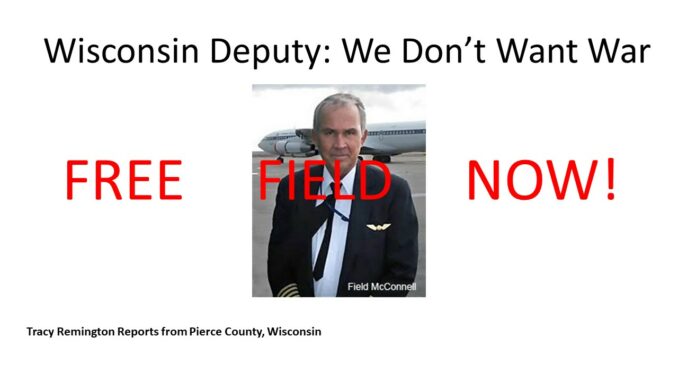 Submitted by Tracy Remington on January 10, 2019 at 1:05 P.M.
Tracy Remington stepped onto the Foreign Vessel in Dry Dock where U.S. Marine Field McConnell is being held as "Cargo" in Ellsworth, Wisconsin.
Remington reports a Pierce County deputy told her they are receiving threats. "He told me they get threatening phone calls from all over the country," Remington said.
Remington said Pierce County does not want war.
The following is from Remington's Facebook page.
Went to the jail
Anointed the property in oil
Walked in
Waited
Someone came out asked if I have been helped
I said no
They asked me what I am here for
I said Field McConnell
I asked to talk to someone
Preferably the sheriff herself Nancy Hove
Nancy was not available
Another man came out
This man knows Field personally
He Has been to Field's home …knows Denise and even had dinner with them
They are on a first name basis and he keeps watch over him in the jail
I asked very nicely…IS THERE ANY WAY YOU WILL FREE FIELD MCCONNELL….TODAY
I said very nicely…LET HIM GO
He said THEY ARE HOLDING HIM FOR FLORIDA
I told him it's a sham and we all know it
He said states have a pact with each other to hold 'felons' until they get extradited
I said GOV OF FLORIDA WILL NEVER SIGN ANYTHING LIKE THAT BECAUSE THE FELONIES DO NOT EXSIST
(Today is Field's 68th day of incarceration)
He said there is an extension for another 60 days
Which means they will let him go February 4
I said He is being denied his canteen money
He said the machine was broken and now is fixed
I said do you know how bad that looks to us?
It is like cruel and unusual punishment
He said it is fixed
I said can I add money to his canteen
He said Yes I will take you downstairs
He was so nice and genuine
I went and got my wallet
Went downstairs
It took 3 times to get it to work
Field has canteen money again
And I thanked him and he thanked me
He told me he was glad I came
He told me they get threatening phone calls from all over the country
They don't want a war
I said we are peaceful people but what is happening to Field McConnell IS WRONG
He shook my hand
Thanked me for being polite and nice
And I thanked him for his kindness
And I left
So there you have it
I advocated for Field's release
And this is what has took place today January 10,2020
The Children's Crusade will have a new YouTube channel owned by Field McConnell himself in his name.
We are working on this setting up his channel which Dr GoodVibes will be broadcasting from to give update to people. Field has given us his permission for this operation.
That is all I have for now
I appreciate all of the prayers that have gone into this mission
My genuine heartfelt thanks to all of the prayer warriors out there
Our main focus is FREE FIELD MCCONNELL
IN JESUS'S HOLY NAME
Tracy
Aka
Agent Winchester 300