"Guys, down the hill" – The Walking Man & The Talking Man [Richard Allen Framed?]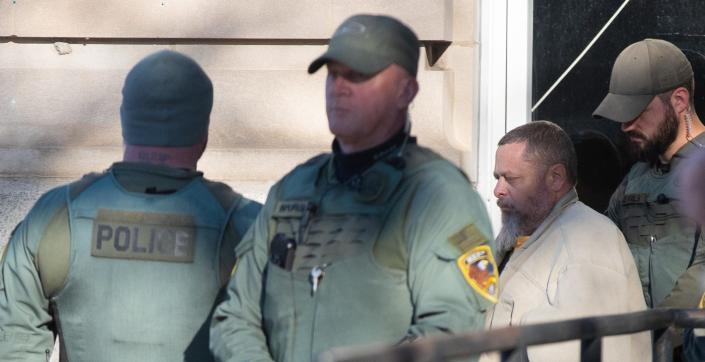 by Pentagon Pedophile Task Force on November 22, 2022 – USA
Does a timeline of events in the Delphi murder case show their evidence that there may be an organized effort to frame innocent people?
The answer is absolutely yes.
Law and Crime is reporting that attorney Allen J. Baldwin, the lawyer for Richard Matthew Allen, 50, who is accused of murdering Abigail Williams and Liberty German in Delphi, Indiana in 2017, has stated his client is innocent.
Evidence shows Baldwin's interpretation of the situation is most definitely sincere.
While the guilt or innocence of Allen cannot be assessed because the charges against him are shrouded in mystery and secrecy – there is TROVES of evidence of organization and an enterprise of bad actors behind the scenes in the Delphi case.
Evidence shows there is a TROVE of evidence that indicates the murders of the two young girls in Delphi was planned and executed by an organized group of child pornographers and murderers that film murders for satanic rituals and sell it on the Dark Web.
Facts show there was an attempt to FRAME a judge and investigative journalist from Minnesota by planting pornography of a 'small vagina' with strange bruising (possibly a corpse) on the telephone of Randi Lynn Erickson. The woman who attempted to plant the photo is an admitted kidnapper and sexual torturer from Ohio named Alexandria Goddard.
After Allen was arrested, Goddard stated during a Livestream she believed the murders may have been filmed for snuff.
Goddard directly linked the mysterious vagina photo to the Delphi case when she threatened Holmseth with arrest by local cops in Ohio. Goddard said Holmseth, Minnesota, was going to be charged by local cops in Martins Ferry, Ohio after Holmseth submitted the vagina photo to Indiana State Police superintendent Doug Carter.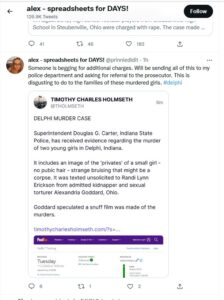 Holmseth has filed a RICO action against Goddard and provides details about the Delphi case.
The following video appeared online today.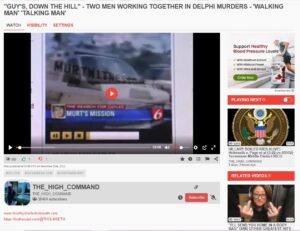 CLICK HERE for TROVES of EVIDENCE.
About Author