JEFFREY EPSTEIN OPERATIVES AND FBI CONNECTED TO FIELD MCCONNELL EXTORTION [AND POSSIBLE MURDER] PLOT IN PLUM CITY, WISCONSIN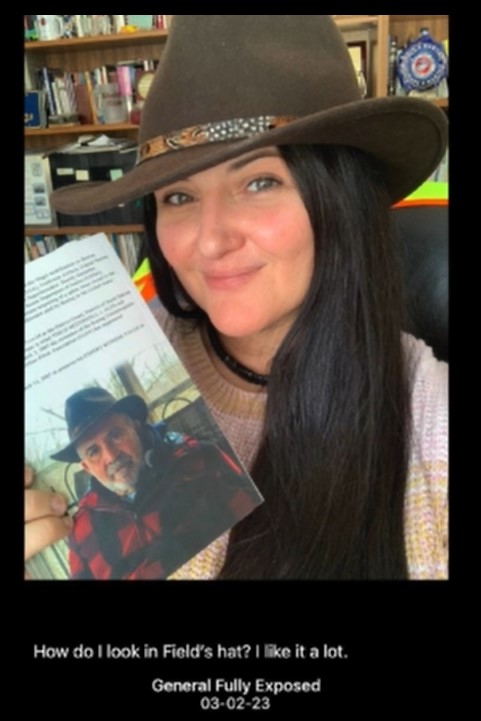 by Pentagon Pedophile Task Force on April 3, 2023 – USA
This information is published as a Preliminary Report regarding a journalistic investigation into a Racketeering Influenced Corrupt Organization operating internationally, as well as in Pierce County, Wisconsin.
INTRODUCTION
On February 9, 2017, President Donald J. Trump issued Executive Order 13773 – "Enforcing Federal Law With Respect to Transnational Criminal Organizations and Preventing International Trafficking".
On that same day (February 9, 2017) the federal government placed a Lien on the property of Field McConnell in Plum City, Wisconsin.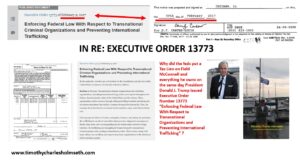 PRELIMINARY LEGAL ASSESSMENT
Facts and evidence exist to show that Paula C. Blades, Canada, and/or Field McConnell, Wisconsin, and/or agents and associates of Paula C. Blades and/or Field McConnell, are in violation of federal criminal statutes, including the federal statute set forth regarding the Racketeering Influenced Corrupt Organizations Act (RICO).
Note: Every piece of evidence regarding the acts of extortion are not going to be revealed herein. However, facts and evidence show the Predicate act of Extortion, required to bring a RICO claim, that show Extortion has been committed against extortion victims Timothy Charles Holmseth and Randi Lynn Erickson, have been met under federal law.
INVESTIGATORY NOTE: Paula C. Blades is an unregistered agent of identified members of the U.S. Military, Intelligence Community, BAR Association, and Legal Community. Blades has publicly and privately named said individuals. The statements have been documented and secured.
OVERVIEW
PAULA C. BLADES – CANADA
In 2022, a woman from Canada named Paula C. Blades began promoting a Web-based radio program, which she said she was going to be launching with Field McConnell, Plum City, Wisconsin. The program was to be called "A Little Good News" (ALGN).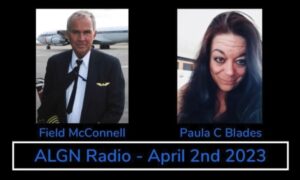 Note: Field McConnell is in his 70's and is protected by Elder Abuse/Vulnerable Adult laws in the State of Wisconsin.
Paula C. Blades operates a Twitter account called Paula Loves Children. Blades publicly states she works with retired U.S. Military brass. Blades said she works with contacts at the National Security Agency (NSA) and Five Eyes Intelligence.
PAULA C. BLADES BY HER OWN ADMISSION IS DANGEROUS
Paula C. Blades was terminated from her position of employment at a childcare center in Canada because of inappropriate behavior with children. Blades, by her own admission, was told by her employer to seek medical treatment. Blades publicly admits she is dangerous and has physically hurt people. Blades publicly admits, and has even publicly boasted, that she is so dangerous she is required to stay away from people and says she has very few friends – as a matter of public safety – because she is so crazy. Blades bragged online that her former employer fired her by e-mail because they were scared to do it in person. She was proud of it.
PAULA C. BLADES ANNOUNCES ROLL-OUT OF ONLINE RADIO PROGRAM FEATURING SELF-DESCRIBED WHISTLEBLOWER FIELD MCCONNELL
In 2022, Paula C. Blades announced the would-be roll-out of ALGN radio.
All press releases and promotional statements about the upcoming radio program were being made strictly by Blades out of Canada, because, Field McConnell, at that time, could not appear online due to a gag order that had been placed on him by a court in Florida.
McConnell's involvement with the Florida court pertained to things McConnell allegedly did and/or said in 2019 on his own You Tube-based radio program called Abel Danger, which was subsequently called, The Field Report. McConnell's program was Web-cast out of Canada, from his remote studio in Plum City, Wisconsin.
McConnell was on probation and bound by terms of probation that involved a gag order and no internet use, when Blades began the rollout, and therefore, he was not allowed to appear online when Blades began the announcements and promotions of ALGN.
QUESTIONS EXIST ABOUT THE LEGAL RELATIONSHIP BETWEEN PAULA C. BLADES AND FIELD MCCONNELL
Paula C. Blades' initial public assertions and representations that she was working with McConnell and/or acting as an agent of Field McConnell, was very clear by what Blades was doing and saying online.
However, whether or not McConnell had ever actually authorized Blades to speak for him could not be confirmed because McConnell could not 'talk' – and if he did, he faced jail.
POTENTIAL BLACKMAIL AND EXTORTION OPERATION AGAINST FIELD MCCONNELL
Paula C. Blades never publicly produced, or even asserted, that she held Power of Attorney for Field McConnell.
Rather, Blades simply went online and made statements on behalf of McConnell. McConnell had no ability to monitor the Web; no ability to monitor Blades; or much less respond in any way. Blades released many online social media posts claiming she was acting as McConnell's agent by saying 'Field said' and 'Field told me'.
It did not escape the attention of Blades' audience, who have been very critical of Blades, that her suspicious assertions (true or not) to be communicating with the public on behalf of Field McConnell, and passing messages from McConnell to the public, online, could be used in an allegation filed to the Florida court that McConnell violated his probation and should go to prison. It appears Blades may have been blackmailing McConnell by setting him up for potential probation violation by proxy (and there was nothing McConnell could do to protect himself or stop it).
If so – McConnell was a sitting duck. If so – multiple crimes have been committed.
Many of the statements made by Paula C. Blades, on behalf of Field McConnell, were slanderous, defamatory, and/or constituted libel against Timothy Charles Holmseth and/or Randi Lynn Erickson. The statements made by Paula C. Blades on behalf of Field McConnell are legally actionable under state and federal law.
FIELD MCCONNELL FORBIDDEN BY FLORIDA COURT TO TALK TO TIMOTHY HOLMSETH
In 2020, a legal action transpired in the State of Florida involving Field McConnell that may be un-precedented in American jurisprudence.
The terms of Field McConnell's plea deal, and probation, included an Order from the court in Florida that McConnell have no contact with "Timothy Holmseth".
The Order was utterly bizarre.
Timothy Holmseth had/has nothing to do with any case involving McConnell. Holmseth was not/is not a participant to anything McConnell has ever done or said that may violate a law. Holmseth was/is not a witness to anything McConnell ever did or said that may violate a law.
Zoom video of a court hearing shows a Judge in Florida issuing an Order that McConnell is to have no contact with "Timothy Holmseth". The Zoom video was published online.
PAULA C. BLADES SUSPICIOUSLY BILLED ALGN RADIO AS THE PLACE YOU WOULD HEAR FIELD MCCONNELL REVEAL TO THE WORLD ABOUT HOW HE WAS 'LIED TO AND TRICKED BY TIMOTHY HOLMSETH'
The radio program ALGN does not conform to any accepted industry standards regarding a radio program or format. The so-called radio program is billed as a radio program but appears to only promote prepared 'statements' by Field McConnell that will be Webcast.
All of Paula C. Blades' promotion of 'A Little Good News' invariably includes the promise that McConnell was/is going to recant various statements he had made about child sex trafficking.
Blades promised the public that as soon as McConnell received early release from probation, he would appear on ALGN and reveal to the world how he had been lied to, and deceived, by Timothy Holmseth. Blades also advertised that McConnell would talk about how Randi Erickson tried to steal his property.
Blades promised the public that McConnell was going to be shocking the public with the super negative things he would be saying to 'expose' Timothy Charles Holmseth and/or Randi Lynn Erickson.
Blades' drum beat of promises of an attack on Holmseth and Erickson by McConnell was published and mass-distributed by a organized network of agents that Blades was working with including an agent of the FBI named William Kevin Murtaugh, Apopka, Florida. The promotion by Blades, the FBI operative, and the network of operatives promised the public that McConnell was going to say things about Erickson and Holmseth 'as soon as he received an early release from probation'.
TIMOTHY CHARLES HOLMSETH AND FIELD MCCONNELL
Timothy Charles Holmseth, Minnesota, is an investigative journalist and author, and had been a guest on Field McConnell's radio show a few times in 2019. Randi Lynn Erickson, Minnesota, was an associate of Holmseth and escrowed hard evidence Holmseth acquired regarding international child sex trafficking.
McConnell often used his radio program to speak out against child sex trafficking and pedophilia. McConnell spoke out against child trafficking and abuse of children with many guests he brought on his show.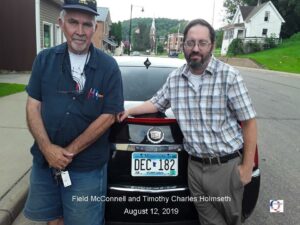 FIELD MCCONNELL PUBLICLY ADMITTED HE BARELY KNOWS TIMOTHY CHARLES HOLMSETH AND RANDI LYNN ERICKSON
In 2022, before McConnell was released from probation, Blades tape recorded a conversation with McConnell and aired it. During the conversation, Blades repeatedly questioned McConnell about Holmseth and Erickson. During the conversation, McConnell clearly stated that he barely knew either Holmseth or Erickson.
ASSESSMENT OF MOTIVE: Facts and evidence show Field McConnell has nothing to gain, and does not benefit in any way, from making the false statements Paula C. Blades has been promising to the public. Alternatively – there are identifiable individuals, who Blades has publicly named, that DO IN FACT benefit and gain from the statements Blades is promising from McConnell.
THE RELATIONSHIP BETWEEN PAULA C. BLADES AND FIELD MCCONNELL
Paula C. Blades, Canada, publicly said she enjoyed a "quiet" relationship with Field McConnell that began in 2006. The relationship began at an establishment in Vancouver, Canada called the Jolly Taxpayer Hotel and Pub. McConnell confirmed publicly that he met Blades at that location in 2006. McConnell added that they know each other well.
Although McConnell was a quasi-high-profile public figure, due to his whistleblowing type activities involving 9-11 and child trafficking, McConnell, it seems, never once mentioned Blades to the public.
The public did not know anything about McConnell's supposed relationship with Blades until 2022 when she began claiming the relationship existed.
Blades said in 2022 that she is Field McConnell's "best friend".
Therefore – if one takes what McConnell and Blades are saying at face value (assuming McConnell is not a victim of Elder Abuse and Blackmail) – – – McConnell and Blades had a transnational relationship for 16 years that was essentially – a secret.
FIELD MCCONNELL'S MANY CONNECTIONS TO CANADA
In 2019 McConnell was hosting a You Tube program from his studio in Plum City, Wisconsin, called Abel Danger (subsequently called The Field Report).
McConnell's You Tube show was produced by a Canadian named Gordon Butler (a.k.a. Eager Beaver). This means that when McConnell logged in and went 'on-air' from Plum City, Wisconsin, the show was actually being Webcast from Canada. Court records in Florida show the You Tube production was the property of Butler. Court records show great efforts were made by the State of Florida to use the court in Florida to take down videos that featured McConnell and others, but the State of Florida court had no jurisdiction.
The productions that were Webcast by Field McConnell and Gordon Butler included special internet money-transfer programs that gave the audience the ability to donate money online. McConnell also sold hats, t-shirts, and other merchandise. McConnell had set up an organization he called The Children's Crusade and promoted the organization and sold products in its name.
INVESTIGATORY NOTE: It is not known what bank, and/or what Country, received the donations made during McConnell's shows. It is not known whose name was on the bank account to which the donations and money transfers were made.
GERALD (GUY) BRUMMELL – AGENT MARGARITAVILLE
Field McConnell regularly brought on a guest from Canada named Gerald (Guy) Brummell. Brummell went by the name "Agent Margaritaville". Brummell was/is a convict who, when he was appearing on McConnell's show, had served prison time in Canada for fraud. Brummell was subsequently arrested and charged again in Canada on February 3, 2021.
INTERNATIONAL TRANSMISSION OF CHILD PORNOGRAPHY
Field McConnell said that Gerald Brummell sent him a photograph of his (Brummell's) minor child daughter's private parts that were bruised from sexual assault. McConnell was able to describe the photographic image. This statement is concerning on its face whereby it is against federal law to transmit such a photograph of a child's private parts via interstate and/or international electronic communications.
GERALD BRUMMELL AND HIS ALLEGED COMMUNICATIONS WITH FIELD MCCONNELL'S ATTORNEY HOWARD SOHN
After Field McConnell was arrested in 2019, Gerald Brummell went online and published a 'plea deal' he authored/drafted, that according to Brummell, he presented to the judicial community including McConnell's attorney Howard Sohn. Brunnell said Attorney Sohn telephoned him.
The 'plea deal' authored by Brummell, a felon, included the requirement that Field McConnell agree to make a (FALSE) statement to the Federal Bureau of Investigation (FBI) that Timothy Holmseth committed a crime. McConnell was to receive his freedom if he made the false claim, per that and other terms of the plea deal. The gamut of public statements made by Brummell, if true, constitute GROSS MISCONDUCT and possible federal conspiracy crimes.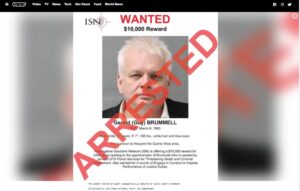 GERALD BRUMMELL CONNECTED TO JEFFERY EPSTEIN AND TORONTO UNION BANK 
On February 28, 2020, Timothy Charles Holmseth reported: "Epstein's $68 Billion money transfer to Toronto Dominion Bank (with a UKRAINE twist) – "biggest scandal in the history of the World Wide Web".
ABRUPT DECLINE IN FIELD MCCONNELL'S HEALTH
In the Spring of 2022 Field McConnell was filmed at his home by his friend and associate Stephen Tenner. McConnell appeared very healthy, was shown laughing, talking, singing, and dancing. McConnell appeared mentally sharp and quick-witted.
Tenner's first visit to McConnell's home seemed to go well and McConnell is believed to have been well when Tenner exited.
STEPHEN TENNER ANNOUNCES HE BELIEVES FIELD MCCONNELL IS IN "DANGER"
In 2022, Stephen Tenner, an associate of both Field McConnell and Paula C. Blades, again went online to talk about Field McConnell. Tenner announced he believed Field McConnell was in "danger". Tenner said there was a "crazy person" over at McConnell's house running around naked. Tenner said McConnell had been "infiltrated".
Paula C. Blades (and others) stated on social media that many people had traveled to Field McConnell's home in Plum City, Wisconsin to take care of him. The timeline of events and facts show, that as these people, none of whom are believed to have ever met Field McConnell before, were entering his life, McConnell began to become sick/ill.
Texts show McConnell took photos of himself bleeding and saying, "If I die tonight". The fact pattern shows that as the strangers arrived and entered McConnell's life – he became more and more sick and began to by physically injured – whereupon more strangers would then travel to Wisconsin to 'care' for him.
On April 2, 2023, Paula C. Blades published a recorded conversation she had with Field McConnell.
During the video, Blades published a photograph of a female she called "Katie".
Paula C. Blades also posted on social media that she viewed a video of a female stripping naked in Field McConnell's home. There is speculation online that Timothy Charles Holmseth was sent a full video by a female who was 'running around naked' in Field McConnell's house (as referred to by Tenner). There is speculation online that the female's name is "Katie". There is speculation that "Katie" was dancing naked for Timothy Holmseth. It is speculated the naked dancing was done within mere hours of "Katie" arriving at McConnell's home at the direction of Paula C. Blades.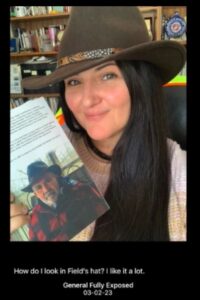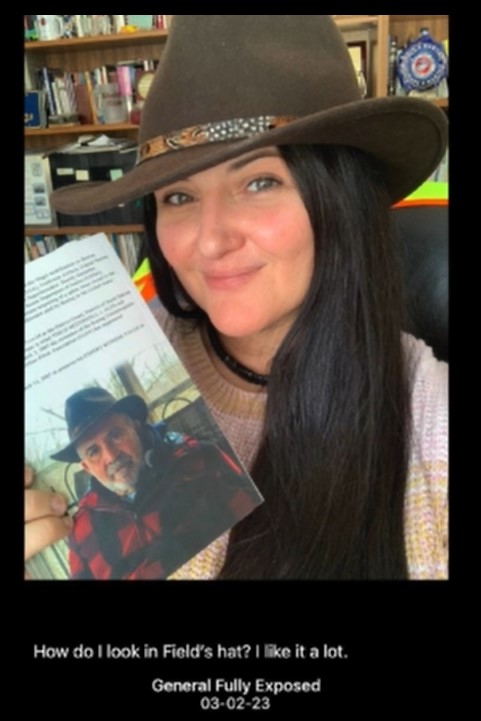 There is a video online entitled "MYSTERY NAKED WOMAN POSED WITH BUSH SECRET SERVICE D. STRAIGHT WHO WATCHED PENCE RAPE LITTLE BOY". In the video an unidentified female is shown sensually caressing her breasts as she wears a t-shirt that says TIMOTHY CHARLES HOLSMETH. She is caressing her breasts exactly where it says Holmseth's name. There is speculation that the female is "Katie". There is speculation that "Katie" sent the breast video to Holmseth. SEE VIDEO BELOW.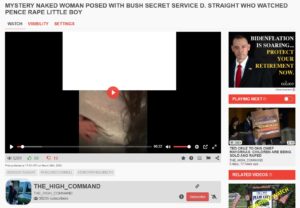 There is a video online entitled "STEPHEN TENNER: "JEZEBEL" STRIPPED IN FIELD MCCONNELL'S HOME [TIMOTHY HOLMSETH HAS FULL VIDEO?!]" SEE VIDEO BELOW
The video shows image of an unidentified female. The female is in a bathtub naked with suds covering her breasts. There are photos that show a bedroom and beds with invites for someone to come and have sex with her. There is speculation online that the images are "Katie" and were sent by "Katie" to Timothy Charles Holmseth.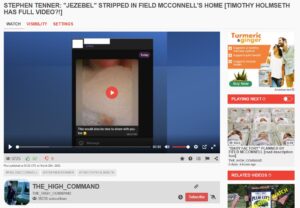 Timothy Charles Holmseth said on Truth Social he is investigating evidence that someone said they were at Field McConnell's home taking care of McConnell. There is speculation the person referenced by Holmseth is "Katie". Holmseth said he was investigating evidence that the person (Katie ?) said she did not expect McConnell to live long after she left.
Timothy Charles Holmseth said on Truth Social he is investigating evidence that someone, now believed to possibly be Katie, filmed an interview with Field McConnell at his home in Wisconsin.
Paula C. Blades stated online she dispatched someone named "Katie" to Field McConnell's home. That would mean Blades' agent Katie was tasked with filming a statement by McConnell before he received his early probation.
During the April 2, 2023, telephone call published by Blades, Field McConnell revealed Blades had dispatched more people to his home. McConnell said Blades sent people from "Florida" and "Ohio" who would be arriving next week. In an extraordinarily odd statement, Blades said she had considered calling McConnell's family when she found out he was sick – but she didn't. Instead – Blades began dispatching people who had never met McConnell to his home to 'care' for him. Yet, reportedly, according to "Katie" McConnell is going to die soon.
INVESTIGATORY NOTE: There is no logical reason Paula C. Blades would not call Field McConnell's family, but rather, would overrun his home with strangers (who were running around naked).
Timothy Charles Holmseth said online he is investigating a statement that a woman (now believed to possibly be "Katie") said she feared she, and her children, were going to be kidnapped and beheaded. She said she feared "child traffickers". The person also reportedly said she feared Paula C. Blades was tracking her ge0-location.
It was reported David Lester Straight, who claims he is a U.S. Secret Service agent who views classified videos of child rape because he "protected" George Bush, conducted a security assessment in advance of the mysterious "Katie's" trip to Wisconsin, and told her not to go because it is not safe.
The following video appeared online and appears to be a mini documentary regarding what some believe to be a plot to assassinate McConnell by CIA-FBI operatives in what is and FBI operation called "OPERATION CHAOS".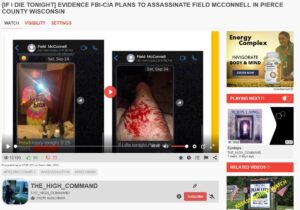 This is a developing story and report.