ORGANIZED CRIME SENDS WRITTEN WARNING IN DELPHI MURDER CASE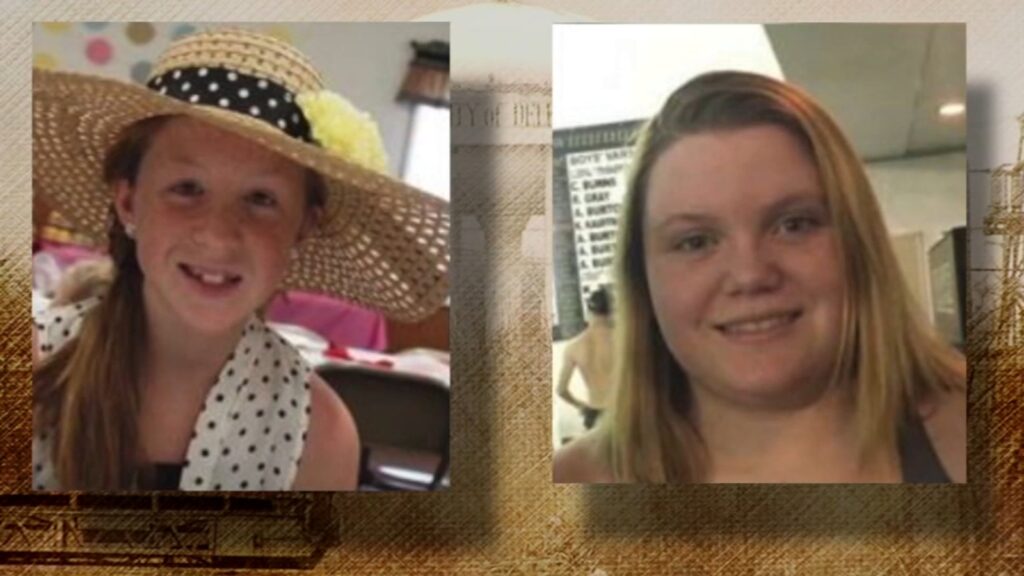 by Pentagon Pedophile Task Force on October 29, 2022 – USA
An extortion threat has been issued that is connected to the Delphi murder investigation.
Organized crime is demanding the "exact location" of Randi Lynn Erickson and Timothy Charles Holmseth.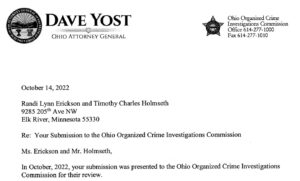 We have reported there may be a connection between the recent arrest and developments in the Delphi, Indiana double-murder case of Abigail Williams and Liberty German, and a pornographic image texted to Randi Lynn Erickson, a former Minnesota judge who is escrowing crimes against humanity evidence in the U.S. Court – Minnesota, as well as the U.S. Army, Fort Campbell, Tennessee.
The photograph, that may be a dead naked little girl, was texted to Erickson by a rapist, admitted kidnapper, and sexual torturer from Belmont County, Ohio named Alexandria Goddard.
The evidence has been submitted to Ohio Attorney General Dave Yost's commission that investigates organized crime, as well as Cleveland and Jacksonville (Florida) FBI.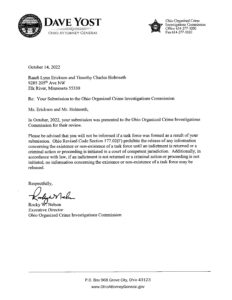 We have recently reported:
OHIO RAPIST PUBLICLY TALKS ABOUT "SNUFF" FILM MADE OF DELPHI MURDER VICTIMS
OHIO ATTORNEY GENERAL RECEIVES POSSIBLE SNUFF FILM PHOTO [IS IT CONNECTED TO THE DELPHI, INDIANA MURDER ARREST]
ARREST MADE IN DELPHI DOUBLE MURDER [WHAT'S HAPPENING BEHIND THE SCENES]
Video – – – OHIO AG RECEIVES POSSIBLE SNUFF FILM PHOTO [IS IT CONNECTED TO THE DELPHI, INDIANA MURDER ARREST]
UPDATE:
Following our reporting – this email (below) was received.
~begin~
Did you know that Randi L Erickson is committing a crime by calling people and telling people she is working on a presidential task force and with JSOC (Joint Special Operations Command)? She is lying. She is going to be charged with a crime. 
Why are you doing business with Randi Erickson? Are you aware that she has a horrible reputation? She commits crimes, she is committing adultery. She has left her husband while he has cancer and is traveling around the country with a creepy criminal that stalks people. Randi and the man she is having an affair with claim they work for Donald Trump and law enforcement. They scam people out of money and stalk people. They are facing charges in Ohio, Tennessee and Minnesota.
They are wanted in multiple states for their criminal activities. 
If you don't call the police and tell the police the exact location of Randi Erickson and her boyfriend Timothy Holmseth, your life will be made a living hell, because you are considered an accomplice if you are helping these two pigs stay on the run, stalk people and scam people. 
So you either cooperate and go to law enforcement, or you will go down with Randi and Tim. Make a smart decision. 
~end~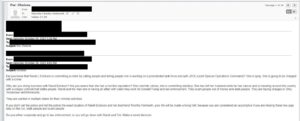 About Author