TRUMP'S RICO WILL LEAD TO INTERNATIONAL HUMAN TRAFFICKING OF CHILDREN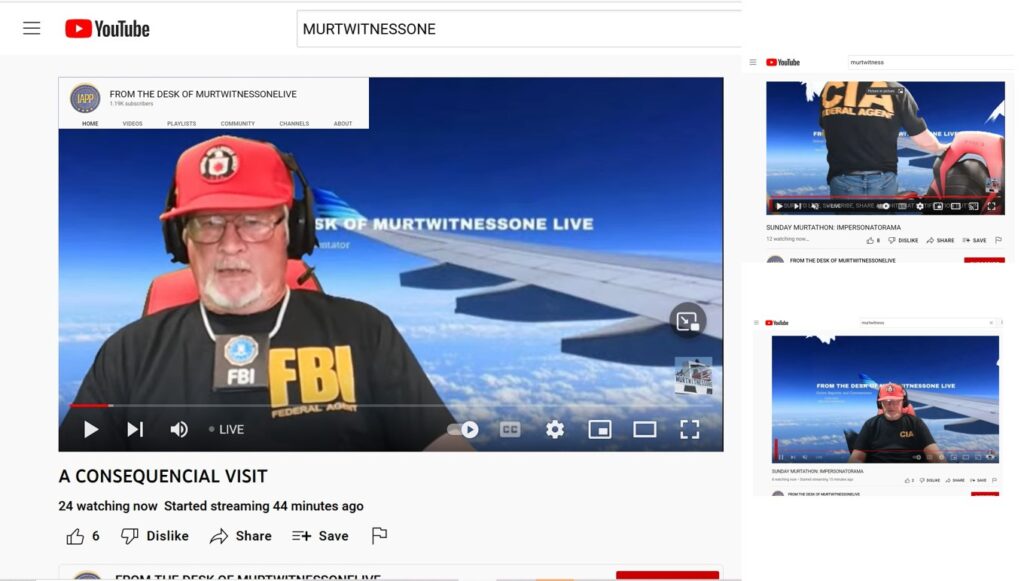 by Pentagon Pedophile Task Force on June 19, 2022, at 8:32 A.M. EST – USA
The following was posted on the GAB social account of Timothy Charles Holmseth today.
~begin~
TRUMP'S RICO WILL LEAD TO INTERNATIONAL HUMAN TRAFFICKING OF CHILDREN
The dark underbelly of Donald J. Trump's racketeering case (RICO) against Hillary Clinton, and various federal agents that fabricated the 'Russia, Russia, Russia' hoax against Trump is beginning to surface.
Trump's attorney Peter Ticktin, and other attorneys and law firms, have received a great deal of evidence.
Now more.
Last night William K. Murtaugh, Apopka, Florida, appeared on his You Tube channel FROM THE DESK OF MURTWITNESSONE LIVE to report news. Murtaugh's channel features his credentials with the International Association of Press Photographers.
Murtaugh reported the news last night wearing clothes that identified him as an agent of the federal government.
Murtaugh was wearing a cap that said "CENTRAL INTELLIGENCE AGENCY" that featured the official emblem of the CIA – he was wearing a shirt that said "FBI FEDERAL AGENT" – and around his neck was a badge that said FBI with the official emblem of the FBI. During a previous news broadcast Murtaugh wore a shirt that said "CIA" on the front, and "CIA FEDERAL AGENT" on the back.
Extensive evidence secured, including live in-person interviews broadcast by Murtaugh from private quarters, show Murtaugh is an agent of member(s) of the Florida legal community and/or the BAR Association.
Evidence shows Murtaugh is coordinating his broadcast with members of the legal community.
Evidence of an international human trafficking conspiracy connected to Murtaugh, leads to Attorney Lin Wood and a tweet made by Wood to President Donald J. Trump on January 4, 2021, when Wood attached a link to a MEMO authored by Timothy Charles Holmseth that warned Trump about VP Mike Pence and an international child trafficking operation operated by an FBI agent using the alias John Regan. Wood also declared he possessed key codes to videos of world leaders raping and murdering children.
The human trafficking conspiracy is referenced in an Opinion authored by U.S. Judge Eric C. Tostrud in Minnesota.
Murtaugh appeared a decade ago when he went online and claimed to know the abductor of a missing child named Trenton Duckett.
Murtaugh's disturbing odyssey was covered by TV news in Florida after he purchased an old news van and began following detectives in their search for the missing child Caylee Anthony. Chat logs bearing Murtaugh's user name showed the author laughing and bragging about raping and murdering six children including Trenton.
In 2020, Murtaugh began to publicly announce special operations against "Timothy Charles Holmseth" and 'Randi Lynn Erickson' that had operational titles such as "OPERATION CHAOS" and "JOINT RESOLVE".
The special operations involved Murtaugh's association with the FBI. Murtaugh traveled from Florida to Minnesota and met with FBI and police. Murtaugh said he met with FBI in Minnesota for four hours .
~end~