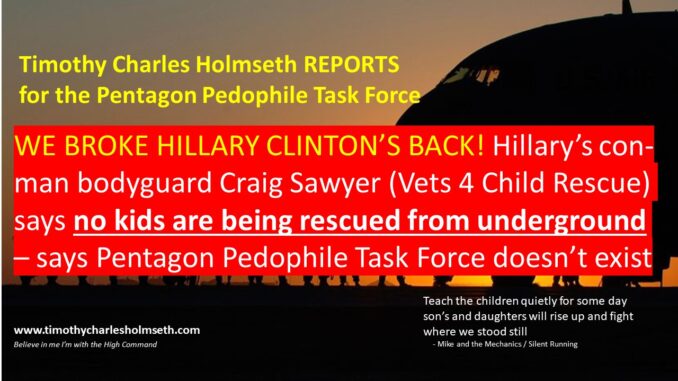 by Timothy Charles Holmseth on April 3, 2020 at 8:49 P.M.
We have broken the Deep State's back!
Hillary Clinton's former bodyguard, Craig Sawyer, who partnered with Alex Jones (Bill Hicks) to raise a million dollars for Vets 4 Child Rescue, based on the claim they were going to have camera teams video tape rescue missions and extractions of sex slaves from cages, has now come out and publicly stated those things aren't happening.
"[This information] comes from slime-balls like Screwy Louie, Fatty Lee, Holmsloth, and Durp Cat, these are morbidly insane con-men," Sawyer said.
"Last year, in the fall, Holmsloth decided he was going to tell everybody he was part of a non-existent Pentagon Pedophile Task Force, which, there is no such thing folks," Sawyer said.
Sawyer said the ones reporting that kids are being rescued are "sitting in their basements in their filthy underwear".
Below are the dueling reports – you decide.