Evil Unmasked: CIA Insider Anne Hanly Reveals Insane Truth of Secret Government Torture Programs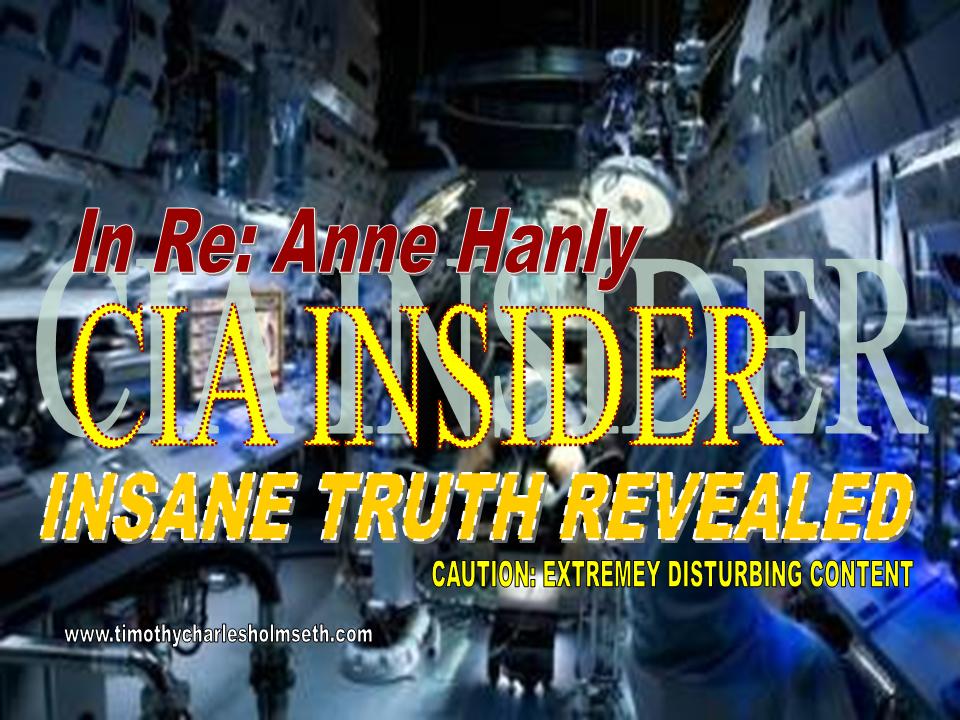 by Timothy Charles Holmseth on January 29, 2019 at 10:19 A.M. CST
'Q' clearance Marine family targeted – MK Ultra / crimes against humanity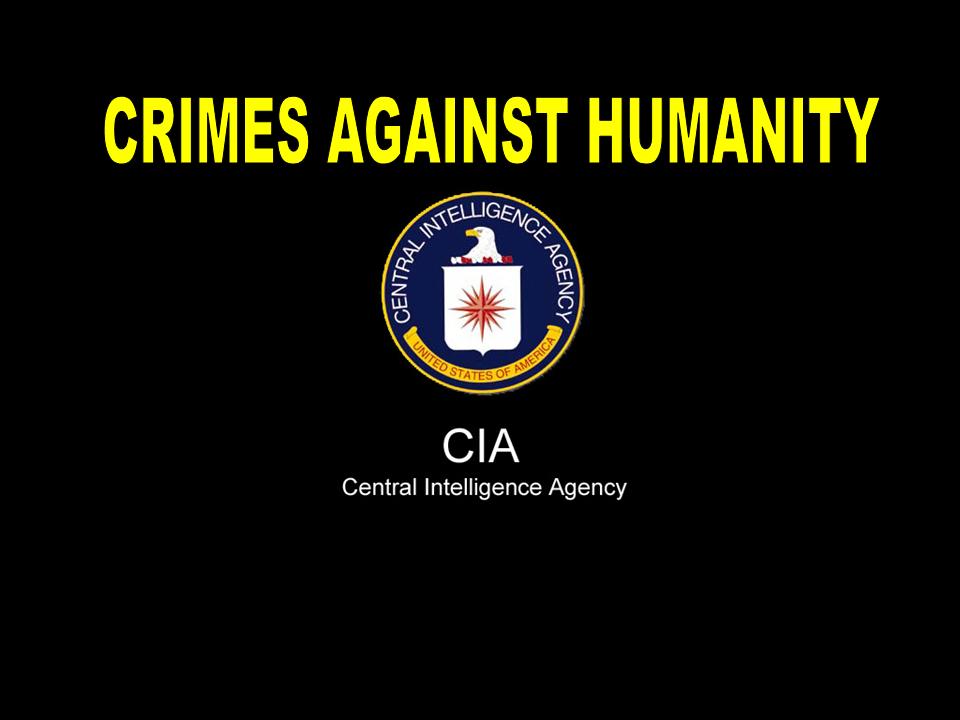 THE ANNE HANLY CALL
Over a year ago I received a telephone call from a woman who lived in California.
Anne Hanly, 59, Capitola, California, called me in hopes of saving the lives of her daughter and brother.
But this wasn't your average or normal plea for help.
Hanly and her siblings, born to a 'Q' level clearance Marine, has been under sadistic siege by elements of the CIA and satanic shadow government in California their entire lives.
In fact…
It appears Hanly and her family are victims of an on-going government experiment designed to test human endurance.
Hanly's story includes crimes against humanity and unthinkable atrocities – set against a woman – Anne Hanly – that appears to withstand unthinkable degrees of horrific torture through an opposite energy we know as 'love'.
The sheer magnitude of pain and agony that has been heaped upon Hanly makes it statistically impossible the series of events could be random or chance – but rather, appears to be an attack or sick test on the family institution itself.
JOLYON WEST – TAKEN TO THE LIMIT OF HUMAN EXPERIENCE
Hanly said her little brother, John Hillary Hanly, was medically abducted by the government as a child and placed in the custody of an evil military psychiatrist that was experimenting on humans with the CIA MK Ultra program.
His named was Dr. Louis Jolyon West.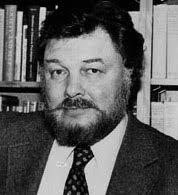 WIKIPEDIA: Louis Jolyon "Jolly" West (October 6, 1924 – January 2, 1999) was an American psychiatrist whose work focused particularly on cases where subjects were "taken to the limits of human experience". He performed Jack Ruby's psychiatric evaluation, and he was in charge of UCLA's department of psychiatry and the Neuropsychiatric Institute for 20 years. He was also active in anti-death penalty activism.[1] He was a long-time friend of Charlton Heston.[2]
"Our CIA took my brother when he as a little boy at eleven years old – my brother is alive today but they destroyed his body and his mind," she said, explaining he presently captive in a Napa, California hospital and not allowed to leave.
Hanly explained that her little brother was sexually abused by a catholic priest and how he ultimately ended up in a facility under the care of Dr. Louis Jolyon West.
"Dr Louis Jolyon West – we see the United State praise him as this very credible man to testify in court – he was part of the group of pedophiles that hurt my brother – they used to give him electric shocks," she said.
Hanly said she remembers sitting in West's office and seeing the terror in her brother's eyes. "He got worse there," she said.
"We're praising these men. They were pedophiles. They were raping little boys like my beautiful brother who was only 11 who had already suffered being molested by a catholic priest," Hanly said.
"Once they got him they lied to my mom and dad. He was getting worse in their care. They were torturing and mind controlling these children they got," she said.
Hanly said her brother is now paralyzed on one side of his body.
Hanly noted she was baffled by the fact that all of her brother's teeth had been pulled. The same observation was made in recent headlines regarding the case of Otto Warmbier who was arrested in North Korea, tortured, and subsequently died. Warmbier's teeth had been pulled and then placed back into his mouth.
"They will never release him because he knows government secrets," Hanly said.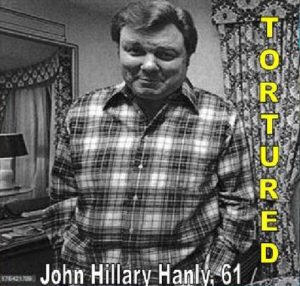 Hanly expresses pain at the childhood memory of walking out of Dr. West's office and saying "goodbye doctor Jolly".
Hanly said her dream is to take her brother on a home-visit so he can be beyond the walls of his prison and stand beside the ocean.
"I can tell you that our Central Intelligence Agency and our Vatican … they are definitely linked – there's a link there with black ops. I know that from Al"
Who is Al?
AL HOLBERT
Hanly told me there was a man involved in her earlier life named Al Holbert. She said Al was a recruiter for the CIA.
I further researched Holbert and found that we was likely tied to Russian intelligence and Mossad.
Holbert was a consistent figure throughout much of Anne's story. She said Holbert told her he wanted to marry her and promised she would be the last woman he was with. Hanly said her father told her "no, not for you" and she did not marry Holbert.
Hanly said she learned Holbert was a recruiter for the CIA. She said he called it "the farm".
Hanly said Holbert once told her "If people knew the truth about the world they would be afraid to go outside."
Holbert was right.
But even in a world of unavoidable misery that we must all learn to accept – the amount of pain and misery heaped upon Hanly occurring by chance appears to be statistically impossible
HANLY'S DAUGHTER KIDNAPPED
Hanly made the news in 1993 when her young daughter Monica Hanly was kidnapped from the streets of Sacramento, drugged, and sexually assaulted for three days.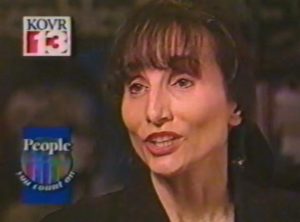 The event made the news in California featuring a man named Greg Mengell, Interstate Association for Stolen Children who assisted Anne Hanly.
Hanly said her daughter still suffers PSTD from the horrific ordeal.
But – pain and trauma is a consistent theme to the Hanly family.
MILITARY EXPERIMENTS ON HUMANS
Anne Hanly said her baby sister died of spinal meningitis.
But there's a twist.
"They were doing biological warfare experiments on military families and their children. Eighteen United State Marine Corps officers got spinal meningitis at Camp Pendleton at the same time my baby sister got it," she said.
And then there's this…
HOLLYWOOD ILLUMINATI AND THE DEATH OF HANLY'S SEVEN YEAR OLD SISTER
"My dad got a letter from Hollywood saying they would make my baby sister famous at seven years old. My dad said nope, nope non of my children are going to Hollywood. What turned out was shortly thereafter my baby sister got spinal meningitis and died," she said.
HANLY'S BROTHER RAN OVER BY A VEHICLE AND KILLED
Hanly said her older brother was run over and killed by a member of the military. She said he believed he was murdered.
ANNE HANLY RAPED BY A JUDGE
"Javier Alcala is a judge in Santa Clara. He raped me," Hanly said, explaining that Alcala was a District Attorney before he was a judge.
Hanly explained that to this day she is so scared of being raped she sleeps in her clothes.
STRAIGHT 'A' STUDENT KICKED OUT OF COLLEGE AND UNEMPLOYABLE
Hanly is an expert court reporter that cannot get hired. "I was an 'A' student – 180 words a minute," she said. She was inexplicably kicked out of the college where she was studying.
AL HOLBERT RECEIVING TORTURE PORN OVER THE WEB FROM FLORIDA
Hanly said she was a naive young girl when she met Holbert, but over timed began to learn about the world that surrounded her.
"I was told that he (Holbert) was a former detective, Allen Holbert, in a missing child agency. But when I was at his home office he was getting pornographic material of women in bondage in Florida."
Hanly said she had serious doubts the pornography was coming from a detective and believed it was illegal.
BOHEMIAN GROVE  
"It was Al who told me about the Russian River. and about the leaders and how everybody gets together there at the Russian River. One year we were sitting at a restaurant he wanted me to observe a helicopter landing and a limousine that pulled up to get one of the politicians. He didn't say who it was but he said just stay quiet listen and learn – let me show you. I saw this business man in a suit in a helicopter land in this field across for a Spanish restaurant in Sonoma and a limousine came and usher him away and he told me they are meeting at the Russian River. It's Bohemian Grove. He told me its Bohemian Grove it where leaders get together and make decisions."
CORRUPTION DESTROYING THE UNITED STATES
"When good people rely on our system and it doesn't work where else do you go? When you go to a DA or you go to a law enforcement officer you go to the U.S. Department of Justice or the U.S. Department of Ed or government accountability office or all the places that are supposed to be there to protect the people of the United Stats – we have some problems – we're destroying our own infrastructure in the United States as a nation when we put the wrong people into power and they do bad things to good people," she said.
PUBLISHER'S NOTE:
This article is a brief overview regarding the targeted psychological abuse and gang-stalking of Anne Hanly.
Future reports will include a broader scope of revelations that includes very compelling information regarding former congressman Trent Lott, Susan Lott, Janet Napolitano, Bill Bennett, and many others.
I will also be reporting on the nefarious activities of a curious Arabic man named Elias Lammam that has involved himself in the lives of Anne and Monica Hanly.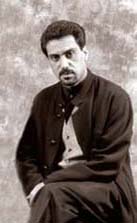 What the hell happened to John Hilary Hanly in Ward 400?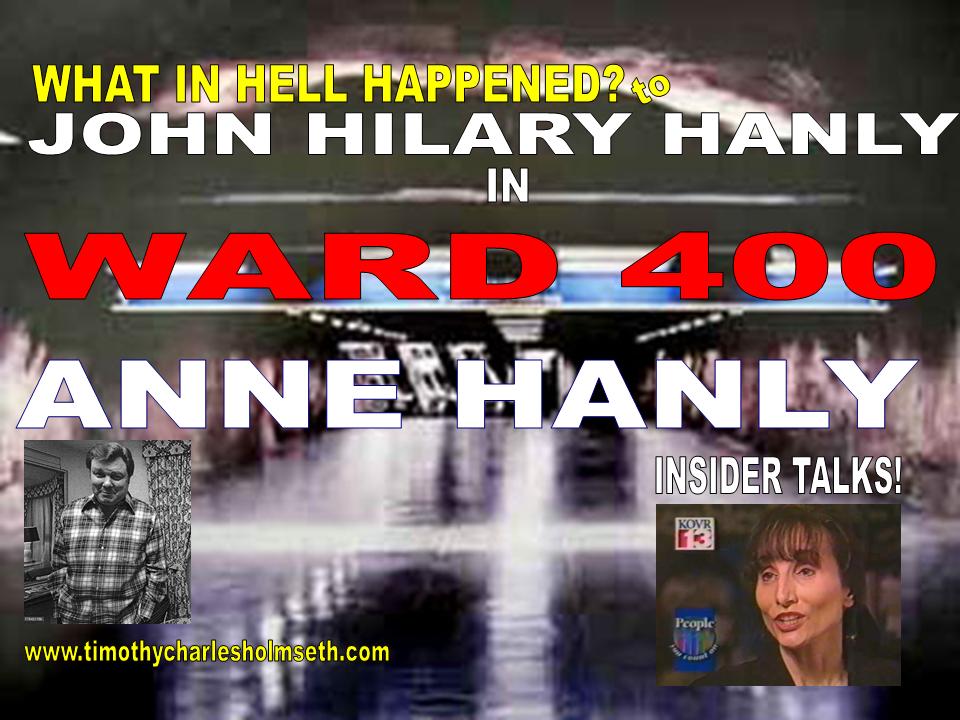 "He opened up his eyes really real wide and said CRAAAAZZZY"
     – Anne Hanly
by Timothy Charles Holmseth on December 27, 2018 at 11:23 A.M. CST
What happened to John Hilary Hanly in Ward 400?
If we are to survive as a nation and a race we need to know.
John Hilary Hanly was 11 years-old when he and his older brother, Paul Hanly, became victims of continuous sexual abuse by a Catholic priest at St. Mary's Star of the Sea church in Oceanside, California.
Anne Hanly, 61, Capitola, California is Paul and John's sister and has lived to tell the story of her two older brothers who she said were happy Alter Boys and Boy Scouts before they were targeted by a pedophile.
Anne Hanly said her older brother Paul Hanly told her the priest made John and Paul drink communion wine and then take all their clothes and do things they didn't want to do. Anne Hanly said "he cried" when he told her about the abuse.
The extent of the abuse is not entirely known but may have involved the boys being forced to sexually engage each other. Anne Hanly said one of her brother's said "men" were putting their private part in their "butt".
Anne Hanly said she remembered her brother John Hanly beginning to act very strange and unlike himself. She said he would cover up his private area and tell everybody to stop looking at him; even though nobody was looking was at him.
Sgt. Alfred Hanly, and his wife, Herminia Hanly, sough help for this son John Hanly due to the symptoms he was showing.
The nightmare of the Alfred Hanly family had only just begun.
John Hanly ultimately ended up under the (fake) care of S.K. Rothschild Dr. Louis 'Jolyon' West at U.C.L.A.
Dr. West was a sadistic CIA mad scientists operative that conducted inhumane experiments on people. Wikipedia shows West worked with Project MKUltra and did studies in people being "taken to the limits of human experience".
WIKIPEDIA
"Louis Jolyon "Jolly" West (October 6, 1924 – January 2, 1999) was an American psychiatrist whose work focused particularly on cases where subjects were "taken to the limits of human experience". He performed Jack Ruby's psychiatric evaluation, and he was in charge of UCLA's department of psychiatry and the Neuropsychiatric Institute for 20 years," said Wikipedia.
"West did his psychiatry residency at Cornell University, an Mk Ultra institution and site of the Human Ecology Fund. He later became a subcontractor for MKUltra sub project 43, a $20,800 grant by the CIA while he was chairman of the department of Psychiatry at the University of Oklahoma. The proposal submitted by West was titled "Psychophysiological Studies of Hypnosis and Suggestibility" with an accompanying document titled "Studies of Dissociative States," said Wikipedia.
Anne Hanly said that is what they were doing to their brother. "They were torturing my brother and lying to my parents," she said.
Anne Hanly remembers visiting her brother and sitting in Dr. West's office. She said she could tell her brother was petrified and wanted to go home.
"One time they said he was in a coma of some sort and we would be able to see him. I believe it's because they were inducing a coma," Anne Hanly said.
"When my brother talked about Ward 400 in this last year I Google searched and could find nothing so when I went recently to find the papers – I was totally – I found the paper that said Ward 400 I sent it to you in the email and said there is a Ward 400 and said there is a Ward 400 – I couldn't find it in any search any reference books but I found it on the documentation of the old papers my mother had and I sent that to your recently and that bunch of documents that said Ward 400 that's what John – the memory of the Eagle song was triggered by when Special Forces took him to Coronado Island and then he opened his eyes really wide and said 'CRAAZZZYYYYY!' but he didn't elaborate except to say Ward 400 whatever Ward 400 was John had some understanding that it was military connected," Anne Hanly said.
"If you look at Devereux and you look at the fact that they had animals there you know they do animal sacrifice and all that too. It's likely that when my brother in one of those documents – I was studying tat document – and my brother was honest – we were honest children we grew up learning that's its bad to lie – telling the truth is always the best – and sometimes the truth people don't want to heard the truth is the truth and it aint going to change no matter hoe many times you tell it – so my brother was talking about killing and blood sacrifice – all these things – they have him quoted in his own words at Devereux and they were punishing him for speaking up about such things," Anne Hanly said.
Timothy Charles Holmseth has other information about Coronado Island and the 'Eagles' – this is an ongoing investigation.
_ _ _ _ _ _ _ _ _ _
CIA sex rings of the elite – insider Anne Hanly names operators – Bohemian Grove to Washington D.C.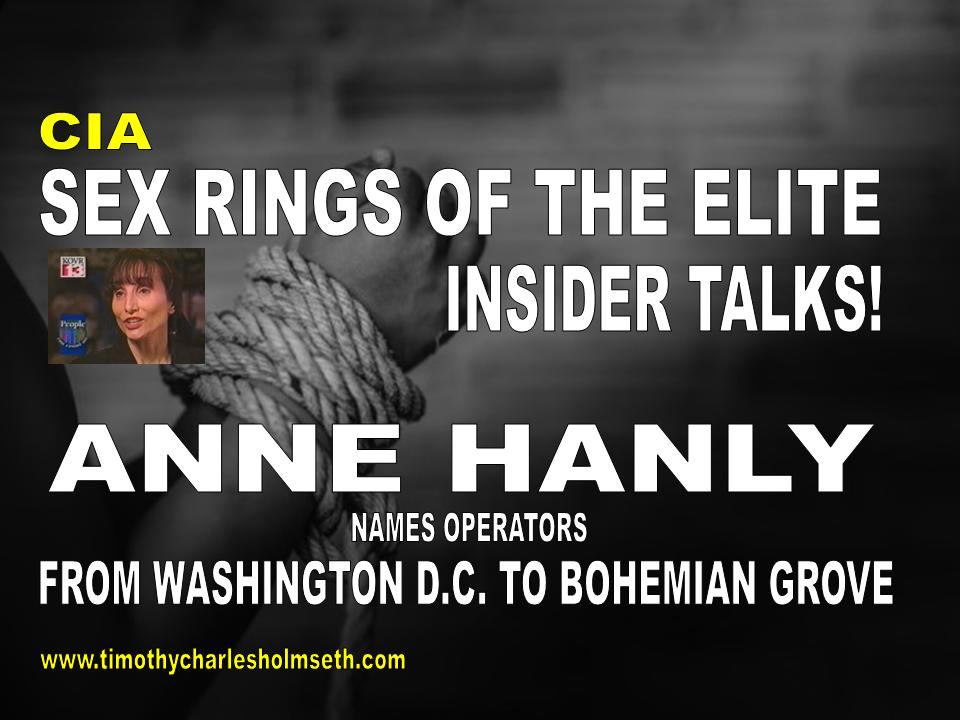 by Timothy Charles Holmseth on December 26, 2018 at 6:34 P.M. CST
I have new information regarding a California based organization connected to the CIA that has been shuffling children around for decades.
RECAP
I recently published 'Q' clearance Marine family targeted – MK Ultra / crimes against humanity' and 'EXCLUSIVE: 1993 child kidnapping a Christmas/Winter Solstice satanic ritual orgy connected to Rothschilds'.
The first two installments to the series described how the family of Major Alfred Hanly (now deceased) has been plagued by mysterious deaths, torture, and endless tragedy. The family has endured everything from MK Ultra torture and human experimentation under S.K. Rothschild and Dr. Louis Jolyon West – to a young child being kidnapped for a sex ritual.
I reported Monica Hanly and her mother, Anne Hanly, were in the news in 1996, in a segment that mentioned Monica's 1993 kidnapping from the streets of Sacramento.
The Hanly kidnapping made the news by way of a feature about a man named Greg Mengell, Interstate Association for Stolen Children. The news praised Mengell for assisting Monica and Anne Hanly.
However, a careful analysis into Mengell reveals something very dark and cynical.
GREG MENGELL
Monica Hanly's kidnapping was showcased in a special segment called 'People You Count On' aired by KOVR 13 in California. The segment featured Greg Mengell and his organization.
"Kids on our streets are a little safer tonight thanks to the hard work of a man you are about to meet. His name is Greg Mengell," KOVR said, praising Mengell.
"With the help of the Interstate Association For Stolen Children, Monica is recovering from her ordeal," KOVR said.
"We handle cases of stranger abduction and juvenile prostitution nation wide," Mengell told KOVR.
"We've been around for five years," Mengell told KOVR.
However – KOVR never mentioned any actual success stories or significant accomplishments by Mengell.
The footage shot by the KOVR TV crew showed Mengell hanging around in the slums with small children, grubby teens, and families in terrible living conditions – bordering on homeless.
Anne Hanly said she became concerned about Mengell when she realized he appeared to be harvesting children from their families to be placed into the foster care system.
Anne Hanley also said Mengell referred her to a CIA operative named Al Holbert – an event that seriously affected her life in a negative and permanent way.
PUBLISHER'S NOTE: AT THIS POINT GREG MENGELL BECAME THE FOCUS OF A JOURNALISTIC INVESTIGATION BY TIMOTHY CHARLES HOLMSETH
KOVR praised Mengell in 'People You Count On' and then merged sound bites of Monica Hanly and Anne Hanly praising Mengell into the TV segment.
"I was young and naive," Anne Hanly said, looking back at the praise she have Mengell.
Mengell actually played no known role whatsoever in Monica Hanly's safe recovery
THE HANLY KIDNAPPING – SATANIC ORGY RITUAL
Monica Hanly was kidnapped on December 21, 1993. She was raped for three days and dumped back onto streets of Sacramento at Midnight on December 25 (consistent with the Satanic calendar for ritual orgy).
PROJECT MOCKINGBIRD
The coverage by mainstream news featuring Mengell appeared to be just another news piece of the CIA program called Project Mockingbird where mainstream news is used to brainwash the public.
Essentially – Mengell was praised by a major television network that promoted his organization – an organization that focused on street kids and impoverished families that live in sleazy motels.
Mengell has created an organization that places him in direct contact with children and families that are completely vulnerable.
In December, 2018 the official website for Mengell's organization said, "Interstate Association for Stolen Children (IASC)is a 501(3)c nonprofit organization that intervenes directly in non-family child abduction cases and is involved in the relentless pursuit of predators. All actions are coordinated with law enforcement."
What actions? What law enforcement? Where are the records?
TIMOTHY CHARLES HOLMSETH'S OPINION: THE FOLLOWING EXCERPT WAS TAKEN FROM INTERSTATE ASSOCIATION FOR STOLEN CHILDREN'S WEBSITE  AND IS A DESCRIPTION OF A HUMAN TRAFFICKING OPERATION HIDDEN IN PLAIN SIGHT
"Interstate Association for Stolen Children (IASC) not only aids in the investigation and recovery of non-parental abductions but also those children who have been taken into the dark world of Domestic Human Trafficking, more commonly known as Prostitution. Our team keeps up-to-date training, resources and knowledge of what goes on in this underworld of modern day slavery. We are extremely dedicated in bringing these children home and insuring their safe rehabilitation. We have successfully Investigated, researched and searched the streets in order to make this happen. Interstate Association for Stolen Children not only has the training and experience in this area but also has a team of parent volunteers that have lost a child to this underworld of Human Trafficking. These parents were once out clients, who before seeking the assistance of IASC spent many sleepless nights and placed themselves in dangerous situations searching for their child with no success. We here at IASC, educate and guide our clients in the process of finding their child in order to insure their safety. We believe that coming together as a team; Local Authority, Federal Agents, Missing Children's Organizations, along with parent cooperation insures the success of bringing our children home," Mengells's website said.
DISTURBING REVELATIONS – JACOB WETTERLING – WASHINGTON D.C.
Anne Hanly, a transcriptionist and court reporter specialist, went to work for Mengell doing transcriptions for missing children cases.
Anne Hanly told me Mengell's office was covered with pictures of missing children. "All missing children across the United States – they come in – he knows about all the missing children," Hanly said.
Anne Hanly specifically mentioned 'Jacob Wetterling'.
"He (Greg Mengell) told me at Marin in California where I was going to school was very dangerous – that they had a dead body there and that they almost arrested him as a detective," Hanly said.
Why did the police almost arrest Mengell?
"He told me one time in Washington D.C. they had a limo waiting for him," Anne Hanly said.
Mengell being picked up by limousine in Washington D.C. directly conflicts with the very modest presentation made about him in the news where he said they go month to month financially operate and "God provides".
Mengell was picked up by a limousine in Washington D.C.? Who arranged for that limousine? Who paid for the limousine? Who did Mengell meet in Washington? What did they talk about?
Anne Hanly said she once sat a restaurant with Al Holbert (who she met at the direction of Mengell)  as a helicopter landed nearby. She said Holbert told her to watch and learn. She said a man got out of the helicopter and into a limousine. Holbert told Anne Hanly those people were on their way to a place called Bohemian Grove.
FAMILIAR DISTURBING PATTERN
During my journalistic investigation into the kidnapping of a five year old from Florida named HaLeigh Cummings, I encountered exactly the same circumstances I am seeing with Mengell.
In the HaLeigh Cummings case I learned from multiple eyewitnesses that a man named John Regan was dressing as a pastor and identifying himself as an 'undercover pedophile for the FBI, as well as claiming to be a CIA agent. John Regan was accompanied by his son, Jeremiah Regan. The father and son appeared out of thin air to involve themselves in the missing child case.
An eyewitnesses reported seeing a man that looked exactly Jeremiah Regan attempting to cover the identity of a little girl at a gas station in South Carolina. I learned that child pornography had been created of HaLeigh and was passed around by individuals in a motel room including Jeremiah Regan.
FAKE CHILD SEARCH ORGANIZATION – HUMAN TRAFFICKING OPERATIVES
Jeremiah Regan and others opened up a road-side facility called "The HaLeigh Bug Center" where they were accepting 'tips' about the child's whereabouts and taking cash donations. This group of weirdoes also set up a website called www.haleighbug.com where they had a Pay Pal button for donations.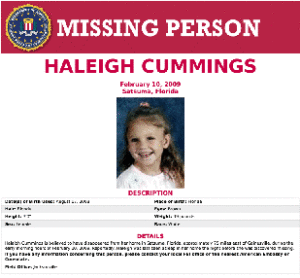 I possess actual audio of Jeremiah Regan wearing a wire and identifying himself as a member of law enforcement, as he promises a case witness immunity if she will sign a false statement that would implicate another girl in the case.
On March 22, 2009 the mainstream news covered a 'cookout' that was held at the HaLeigh Bug Center in Satsuma, Florida. The event was supposedly held to thank the public for all their support.
But – it was actually a planned media stunt with very serious implications.
On that same day John Regan, Jeremiah Regan, a bounty hunter named William 'Cobra' Staubs, and several members of the missing child's family staged a fake search where they had planted some of HaLeigh's toys to be found.
The fake search was a media stunt that ended in disaster. The Putnam County Sheriff's Office refused to accept any of the evidence that had been cleared for removal by John Regan, the 'undercover pedophile for the FBI.
In a parallel to the situation…
Anne Hanly mentioned where Mengell was almost arrested – the same thing happened with 'Cobra' the Bounty Hunter. He was in fact arrested for felony kidnapping after abducting a local man after a media stunt he pulled with CNN/Nancy Grace journalist Art Harris.
I captured members of the judicial community (i.e. lawyer's, social workers, police) on tape secretly conspiring  with private investigators and Florida DCF to steal kids from their parents through diabolical coordination that would leave the target (young impoverished mother / illegal immigrants etc.) vulnerable and defenseless.
Wayanne Kruger, California, was a member of the group and detailed a CIA baby sales operation involving John Regan and others in Broward County, Florida.
In 2018, I discovered Craig Sawyer of Vets For Child Rescue was running a similar scam where he professed he was dispatching squads he called 'VIPR teams" (Veterans Investigating Pedophile Rings) to find children held in captivity and extract them.
Sawyer too professed to be associated with law enforcement and even claimed he was making arrests.
Evidence show Sawyer's entire operation, which he rolled out with Alex Jones, is a complete fraud. Sawyer has received untold thousand of dollars for his fake group that never extracted children from slavery as he promised.
However, just like with Mengell and the operatives in the HaLeigh Cummings case, Sawyer received major network support and promotion of his organization from news stations.
JACOB WETTERLING
Perhaps the largest fraud perpetuated on the American public regarding mainstream news and Project Mockingbird has occurred in the Jacob Wetterling case.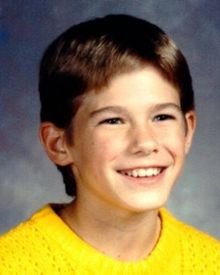 Publications including the St. Cloud Times and Star-Tribune have wholly and completely deceived the public by refusing to report that the teeth and bones found by law enforcement in rural Minnesota at the direction of Danny Heinrich turned out to not be human – and therefore could not have been the remains of Jacob Wetterling.
The mainstream news cannot cover that explosive dynamic of the case because it automatically means somebody planted clothing with animal bones to be found – all done to create the false appearance that Heinrich was the murderer.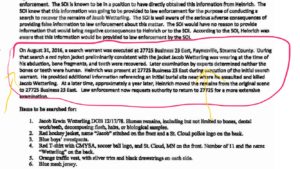 This is an ongoing journalistic investigation by Timothy Charles Holmseth
_ _ _ _ _ _ _ _ _ _
Sister of CIA medical-torture prisoner faces endless shadow government attacks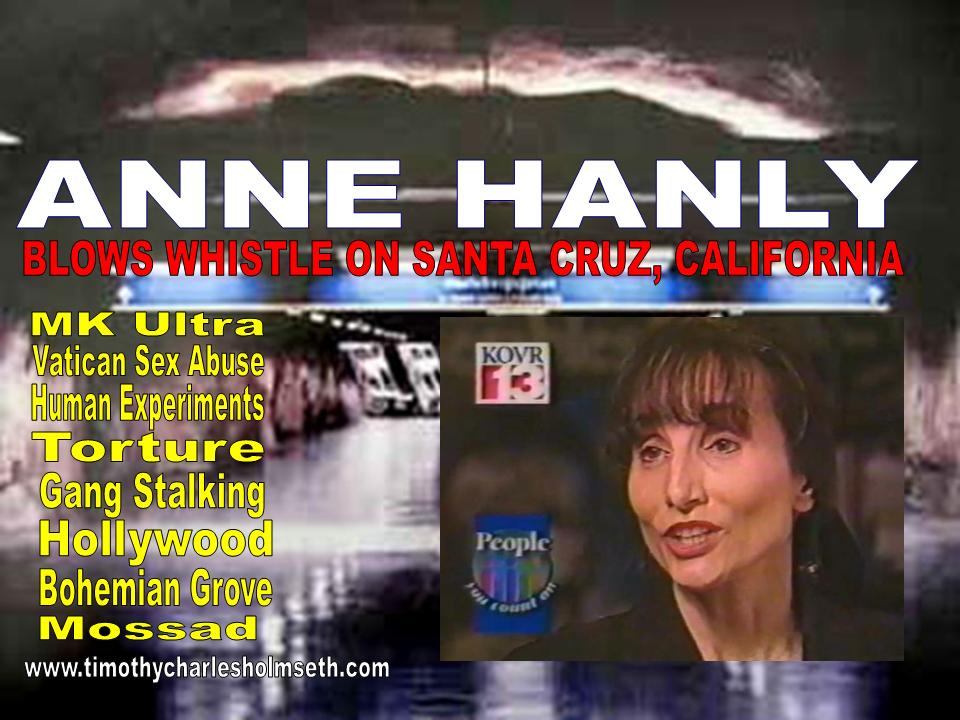 by Timothy Charles Holmseth on January 16, 2019 at 6:06 P.M. CST
Dear Timothy,
I hope that with this reporting that there will be indictments in my daughter's and my case because of the harm that was done to us and the criminal intent to divide us and harm us with mind control behavior modification programming.
1) I am law abiding;
2) I have a conscience and a heart for humanity;
3) I am a hard worker and achiever and have been ridiculed, degraded; mocked; and destroyed in collusion with dirty political campaigning;
4) I have made genuine, honest reports and was attacked and targeted;
5) Santa Cruz County mental health services deliberately and intentionally created fraudulent medical false mental health reports and I have reported this medical fraud and no action was taken;
6) Dissemination of such reports were used to destroy my career;
7) Felony crimes were reported by me and our local corrupt Capitola Police Department ignored the harm and abuse and it escalated home break ins, stolen car, physical and sexual assaults towards me with their false reporting "no crimes occurred."
8)  Santa Cruz Mental Health services have been bilking the system for money while creating more harm than health care with no accountability;
9)  They have continued to manipulate my daughter with mind control programming and she is now is worse health care shape than ever before and our family is now divided since we have reported the harm.
10)  Santa Cruz County is involved is sex trafficking and wants to be a sanctuary community where anything goes and law enforcement covers it up and they intentionally covered up sex crimes that I have reported to them and harmed my career permanently.
CALIFORNIA IS CORRUPT
It is vital that we stay with this story of how our political officials and law enforcement were involved in sex and drug trafficking crimes for profit and how our political officials were involved in harming me because of my moral commitment for having good, decent parents who raised us with a conscience, heart, and soul for humanity and to help others and to care.  Our system is designed to protect the criminal profits and to harm anyone who exposes the organized crime.
I hope our President will hold people accountable and have more criminal indictments and a shakedown in Santa Clara and Santa Cruz Counties for abusing the innocent and blaming innocent woman and children for their criminal profitable enterprises.  I have so much more and it is so painful that it takes me time in between to recover and try to make any sense of Why?
Thank you for your fortitude and brave efforts to help in this fight to hold public officials accountable and to give victims a voice.  My daughter's programming is so successful that she turns against me for the fact that she was hurt so I will give you how much of my heart and soul that I tried to help her and be a voice for her.  She wants to hide in silence.  TRAUMA BASED MIND CONTROL PROGRAMMING.  I want to pull her OUT of the mental treatment fraud system to save her life and get her the right kind of support and care so that she will not continue to be exploited by abusive men and law enforcement coverups.  I hope to see law enforcement shakedowns of all of them that allowed and aided and abetted all attacks of home break ins, stolen car, medical fraud records, destruction of my good name and career, false arrest with Paul Todd Angel and John Sanfilippo (traffickers) and all law enforcement and political figures who were part of it.
Sincerely and respectfully submitted,
Anne Hanly
_ _ _ _ _ _ _ _ _ _
Leon Panetta OWNED by sister of MK Ultra lab rat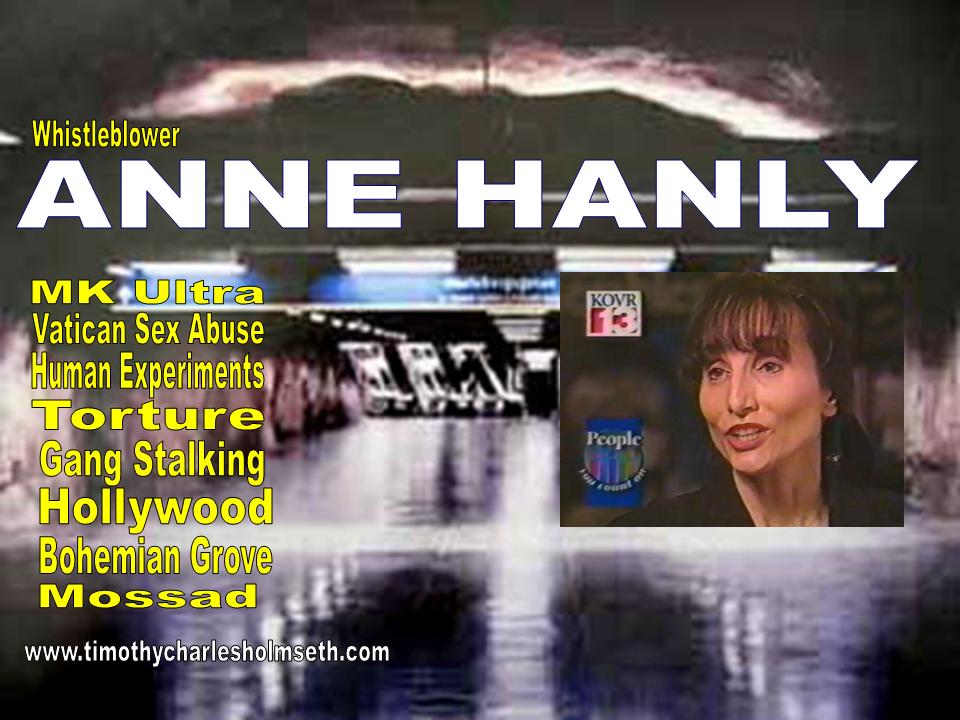 by Timothy Charles Holmseth on January 11, 2019 at 6:31 A.M. CST
Jan. 10, 2019
Dear Tim:
I just saw a recent interview with Leon Panetta, former Chief of Staff to Bill Clinton, former CIA, and former Defense Secretary.
He was saying, 'We cannot have people losing their paychecks; we cannot have people hurting with their families or going without food and not able to get loans and not have a political impact taking place.'
Do you think he cared about my father's paychecks that went to my brother's care, John, when CIA harmed him under Dr. Louis Jolyon West.  I still have my dad's paychecks receipts that he paid generously for the care of his son.
Do you think that Leon Panetta cared when I was gang stalked and politically assassinated by Susan Lott, et al?
Do you think he cared when my daughter was kidnapped and gang raped?
He so smoothly talked about hurting innocent people and helping our people.  It disgusts me how manipulative our political figures are and how dishonest to our American public. I assure you that this man did not care one bit about my brother or others that suffered the same fate in the United States.
He is criticizing our President's decisions about shutting down the government. I am grateful that I grew up with my brothers and sisters and learned how to live simply without having a lot of money as a result of the Rothschilds, Vatican, CIA that harmed my family early on and bilked my Dad's paychecks for my brother's care while my parents lovingly and devotedly held us together with love and prayer.
My heart is truly with our American families who have been harmed by those that we put in power that have deceived us for their own greed and power and have exploited us with their abuses of position and power and who are "hurting the innocent," as Leon Panetta pretended he cared about.  I assure you that he does not.  He lives right here in Monterey a half hour away from my daughter and me. He could have made a single phone call and stood people down and moved them out of my way to allow me my paycheck that I worked so hard for but because of the political corruption could not obtain.
I have faith because I will always stand for the TRUTH with honor and integrity in my heart and soul.
Respectfully and honestly submitted,
Anne Hanly
Anne Hanly is a whistle-blower whose entire family has been targeted by the CIA for decades of MK Ultra torture, human experimentation, Satanic Ritual Abuse and gang stalking.  Hanly's story involves S.K Rothschild, Dr. Louis Jolyon West, and Vatican sex trafficking. 
You can find more on Hanly's experience at the following:
_ _ _ _ _ _ _ _ _ _
Polly Klaas sold to Saudi Arabia?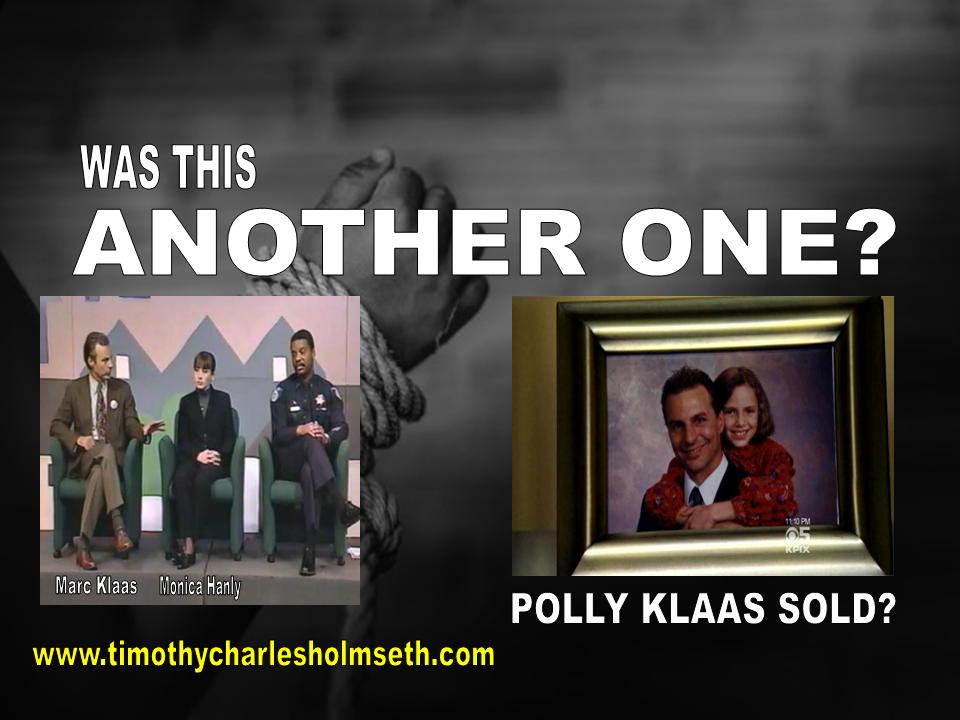 by Timothy Charles Holmseth on December 27, 2018 at 11:04 P.M.
Yesterday I published CIA sex rings of the elite – insider Anne Hanly names operators – Bohemian Grove to Washington D.C.
The article focused on Greg Mengell who operates Interstate Association for Stolen Children.
I pointed out Mengell's strange involvement with impoverished kids that he turns over to CPS against their parents' wishes – and that he once boasted to Anne Hanly he was greeted by a limousine when he traveled to Washington D.C.
Moreover – Greg Mengell referred Hanly to CIA operative Al Holbert; a relationship that ultimately devastated Hanly's career and life.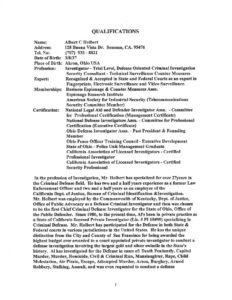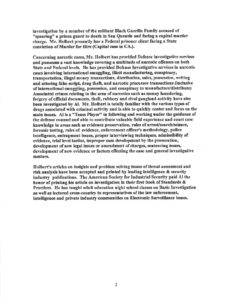 Hanly said something to me during an interview that caught my attention. "Marc Klaas used to visit Greg [Mengell] a lot," she said.
Hanly said a man named Jeff Turner told her Polly Klaas was trafficked in Saudi Arabia.
Jeff Turner is a local fixture in Santa Cruz that apparently has somebody so nervous they created a 'Local Wiki' page about him.
Now – today I published 'What the hell happened to John Hilary Hanly in Ward 400?'
In today's article I showed that John Hanly was a patient (victim) of S.K. Rothschild and Dr. Louis 'Jolyon' West, and was tortured and sexually assaulted in the CIA MK Ultra program.
John Hanly was also a patient at Devereux
Guess what?
Hanly said Turner was a patient at Devereux, too.
Jeff Turner told Hanly that Polly Klaas is not the child buried at her website and according to Turner, Polly was "trafficked in Saudi Arabia."
Hanly said she expressed to Turner she thought Klaas was once of the good guys and Turner replied, "He's not".
Hanly said she is leery of Turner because he is a "high level Mason".
Hanly's mention of Marc Klass peaked my attention, because over the years investigating missing children cases, Klaas' name has come up often during interviews I have conducted.
Marc Klass is affiliated with underworld media that supports child trafficking such as Nancy Grace.
Wayanne Kruger, the child advocate that represented the mother of missing child HaLeigh Cummings, told me Marc Klass is not who he claims to be.
Interestingly enough – Kruger was able to tell me 'on the record' during recorded interviews the names of CIA operatives running a baby sales operation that traffics little kids and infants through the U.S. Embassy.
Of course – I have long since became the target of the CIA mafia.
So…
In August, 2018, David Gilbert, Vice News reporter, telephoned wanting to interview me regarding the fact a group calling itself 'Anonymous' had doxed me as part of Operation QANON. Gilbert said I was targeted because they say I am "a man that harasses the family's of murdered children under the banner of QANON."
Vice News was hoping to write a smear piece to discredit me.
Nothing new. I know Vice News is a Deep State publication that takes it's marching orders from CIA.
So…
As you might imagine…
A hundred light bulbs turned on above my head when I Googled the words "Jeff Turner Santa Cruz" and a Vice News article populated called "I Think Were Obsessed Now".
The article butchered Turner and labeled him as a conspiracy theorist with Aspergers.
You know what that tells me.
Polly Klaas was trafficked to Saudi Arabia.
Methods of Operations: FBI, NSA, CIA, DOJ
OPERATION CHAOS (submitted by Anne Hanly)
July 1968
Gather information on their immortality;
Show them as scurrilous and depraved;
Call attention to their habits and living conditions;
Explore every possible embarrassment;
Investigate personal conflicts or animosities between them;
Send articles to newspapers showing their depravity;
Use narcotics and free sex for entrapment;
Have members arrested on marijuana or dui charges;
Exploit the hostilities between various persons;
Use cartoons and photographs to ridicule them;
Use misinformation to confuse and disrupt;
Get records of their bank accounts;
Obtain specimens of handwriting;
Provoke target groups into rivalries that resulted in deaths.