What the hell happened to John Hilary Hanly in Ward 400?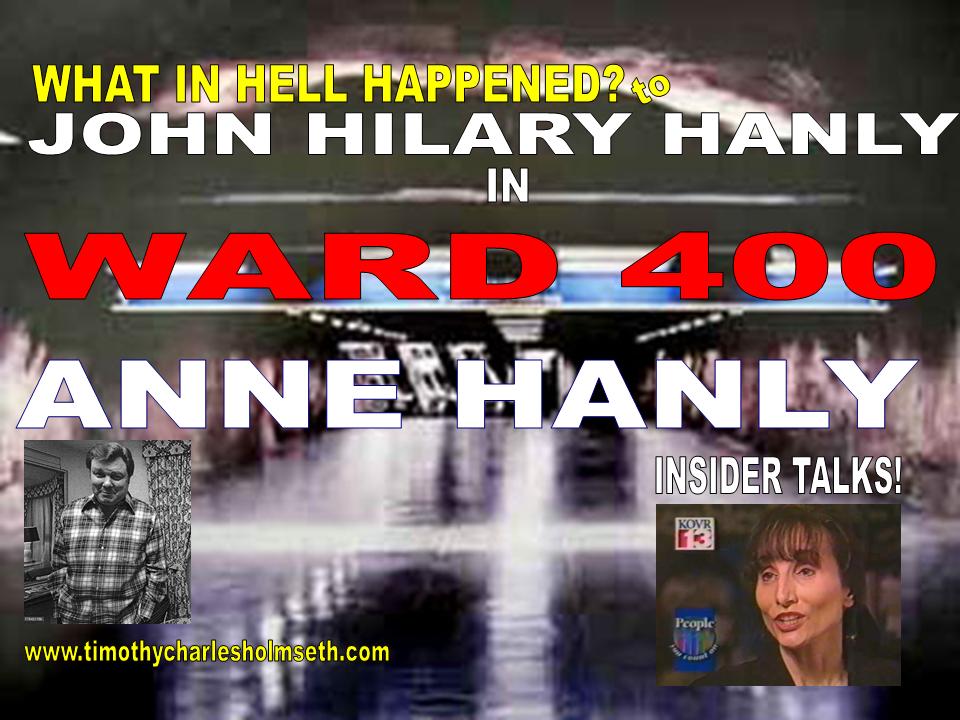 "He opened up his eyes really real wide and said CRAAAAZZZY"
     – Anne Hanly
by Timothy Charles Holmseth on December 27, 2018 at 11:23 A.M. CST
What happened to John Hilary Hanly in Ward 400?
If we are to survive as a nation and a race we need to know.
John Hilary Hanly was 11 years-old when he and his older brother, Paul Hanly, became victims of continuous sexual abuse by a Catholic priest at St. Mary's Star of the Sea church in Oceanside, California.
Anne Hanly, 61, Capitola, California is Paul and John's sister and has lived to tell the story of her two older brothers who she said were happy Alter Boys and Boy Scouts before they were targeted by a pedophile.
Anne Hanly said her older brother Paul Hanly told her the priest made John and Paul drink communion wine and then take all their clothes and do things they didn't want to do. Anne Hanly said "he cried" when he told her about the abuse.
The extent of the abuse is not entirely known but may have involved the boys being forced to sexually engage each other. Anne Hanly said one of her brother's said "men" were putting their private part in their "butt".
Anne Hanly said she remembered her brother John Hanly beginning to act very strange and unlike himself. She said he would cover up his private area and tell everybody to stop looking at him; even though nobody was looking was at him.
Sgt. Alfred Hanly, and his wife, Herminia Hanly, sough help for this son John Hanly due to the symptoms he was showing.
The nightmare of the Alfred Hanly family had only just begun.
John Hanly ultimately ended up under the (fake) care of S.K. Rothschild Dr. Louis 'Jolyon' West at U.C.L.A.
Dr. West was a sadistic CIA mad scientists operative that conducted inhumane experiments on people. Wikipedia shows West worked with Project MKUltra and did studies in people being "taken to the limits of human experience".
WIKIPEDIA
"Louis Jolyon "Jolly" West (October 6, 1924 – January 2, 1999) was an American psychiatrist whose work focused particularly on cases where subjects were "taken to the limits of human experience". He performed Jack Ruby's psychiatric evaluation, and he was in charge of UCLA's department of psychiatry and the Neuropsychiatric Institute for 20 years," said Wikipedia.
"West did his psychiatry residency at Cornell University, an Mk Ultra institution and site of the Human Ecology Fund. He later became a subcontractor for MKUltra sub project 43, a $20,800 grant by the CIA while he was chairman of the department of Psychiatry at the University of Oklahoma. The proposal submitted by West was titled "Psychophysiological Studies of Hypnosis and Suggestibility" with an accompanying document titled "Studies of Dissociative States," said Wikipedia.
Anne Hanly said that is what they were doing to their brother. "They were torturing my brother and lying to my parents," she said.
Anne Hanly remembers visiting her brother and sitting in Dr. West's office. She said she could tell her brother was petrified and wanted to go home.
"One time they said he was in a coma of some sort and we would be able to see him. I believe it's because they were inducing a coma," Anne Hanly said.
"When my brother talked about Ward 400 in this last year I Google searched and could find nothing so when I went recently to find the papers – I was totally – I found the paper that said Ward 400 I sent it to you in the email and said there is a Ward 400 and said there is a Ward 400 – I couldn't find it in any search any reference books but I found it on the documentation of the old papers my mother had and I sent that to your recently and that bunch of documents that said Ward 400 that's what John – the memory of the Eagle song was triggered by when Special Forces took him to Coronado Island and then he opened his eyes really wide and said 'CRAAZZZYYYYY!' but he didn't elaborate except to say Ward 400 whatever Ward 400 was John had some understanding that it was military connected," Anne Hanly said.
"If you look at Devereux and you look at the fact that they had animals there you know they do animal sacrifice and all that too. It's likely that when my brother in one of those documents – I was studying tat document – and my brother was honest – we were honest children we grew up learning that's its bad to lie – telling the truth is always the best – and sometimes the truth people don't want to heard the truth is the truth and it aint going to change no matter hoe many times you tell it – so my brother was talking about killing and blood sacrifice – all these things – they have him quoted in his own words at Devereux and they were punishing him for speaking up about such things," Anne Hanly said.
Timothy Charles Holmseth has other information about Coronado Island and the 'Eagles' – this is an ongoing investigation.
For More On This Series – – –
'Q' clearance Marine family targeted – MK Ultra / crimes against humanity
EXCLUSIVE: 1993 child kidnapping a Christmas/Winter Solstice satanic ritual orgy connected to Rothschilds
CIA sex rings of the elite – insider Anne Hanly names operators – Bohemian Grove to Washington D.C.
About Author