JACK SMITH'S PLANS TO CHARGE PRESIDENT TRUMP FOR THE EVENTS OF J6 WILL FAIL MISERABLY [HERE'S WHY]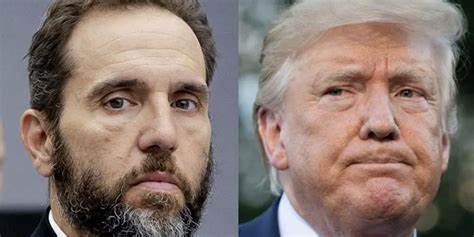 by Pentagon Pedophile Task Force on June 23, 2023 – USA
Evidence shows that any attempt by Jack Smith to criminally charge President Donald J. Trump with anything related to the events of January 6, 2023, would be 'Election Interference' and would constitute a continued effort to overthrow the United States Government.
Why?
Because.
Evidence documented and filed in the United States District Court already shows the actual identity of the true coup plotters – and their activities were NOT planned or supported by Trump.
On June 15, 2023, The Washington Post began clamoring about Special Prosecutor Jack Smith filing criminal charges against President Trump for matters involving the events of January 6, 2021.
"First, the Justice Department has already obtained multiple convictions on the most serious charge — seditious conspiracy — and long prison terms for multiple militia group members. Smith might not be able to directly tie Trump to the violence, but it would be a gross injustice for the people Trump told to go to the Capitol to do his bidding to get heavy jail sentences but to let the man they believed sent "orders" to go free," The Washington Post said.
President Donald J. Trump never told anybody to go to the Capitol "to do his bidding" as cynically suggested by The Washington Post.
However…
The Washington Post said members of "multiple militia groups" had been convicted by the Justice Department and had received "heavy jail sentences" because those people "believed" Trump sent "orders".
The Washington Post report was a half-truth intended to implicate Trump and protect the coup plotters.
Facts and evidence show there were members of militia groups who believed Trump gave "orders" to do things. However, what the Washington Post and the rest of the FAKE NEWS enemy media is not reporting is the fact that coup plotters were running Tier One Operations (CIA Black Ops) with the FBI that involved operatives PRETENDING to WORK for TRUMP and that those operatives were behind the well-planned chaos that happened on January 6, 2021.
The names of the operatives include David Lester Straight, Attorney Lin Wood, and retired Lt. General Michael Flynn.
In 2019, David Lester Straight, Bend, Oregon, told investigative journalist Timothy Charles Holmseth during a recorded call, that he had special clearance through the U.S. Secret Service to view videos of Vice President Mike Pence raping a child. WATCH VIDEO/LISTEN TO STRAIGHT
Straight told Holmseth he was a former Navy SEAL and was working on three presidential commissions under President Trump (i.e., Human Trafficking, Judicial Corruption, Space Force). Straight said he turned over evidence of international trafficking he obtained from Holmseth to "Generals" at the "Pentagon" under Joint Special Operations Command (JSOC). Straight claimed he was in regular contact with "Melania Trump" regarding his work with the "Pentagon Pedophile Task Force" (PPTF).
Shortly after Holmseth began reporting for the PPTF, Straight told Holmseth that he assisted the United States Marines with the transfer of 2,100 children from their cages underground in California. Straight later said several hundred of the children died. Straight said the children had been moved through Johnson County, Texas. Holmseth did a video in 2019 that memorialized what Straight told him, and shows Holmseth conveyed that Straight told him (Holmseth) that he was working for Trump. Straight went on to tell Holmseth he knew the location of 400 kids being held in a "mining cave" where they were held captive until an 'order' would come in for the slaves.
Holmseth knew he had stumbled onto an international child sex trafficking operation. Holmseth infiltrated the operation, which was being presented to the public through a PSY-OP called "Q".
In the fall season of 2020, General Michael Flynn set up a "Fusion Center" at the home of Attorney Lin Wood located on Wood's newly purchased Planation in South Carolina called Tomotley. Wood's Plantation was crawling with Navy SEALS including Jeff Wobig, David Hancock, along with Attorney Sidney Powell and many others. Evidence shows this fusion center is where the events of January 6, 2021, were planned and/or coordinated.
On January 4, 2021, Attorney Lin Wood launched the most famous Tweet storm in history. Wood led the Tweet storm with a Tweet to President Donald Trump that contained a link to a MEMO that Timothy Charles Holmseth had sent to Attorney General Jeff Sessions wherein Holmseth warned Trump about Pence and an international human harvesting operation being run by an FBI agent who sometimes uses the name "John Regan". Wood told Trump and the world to read Holmseth's MEMO.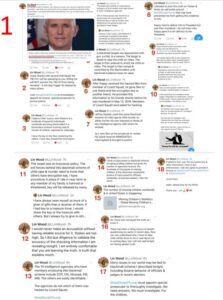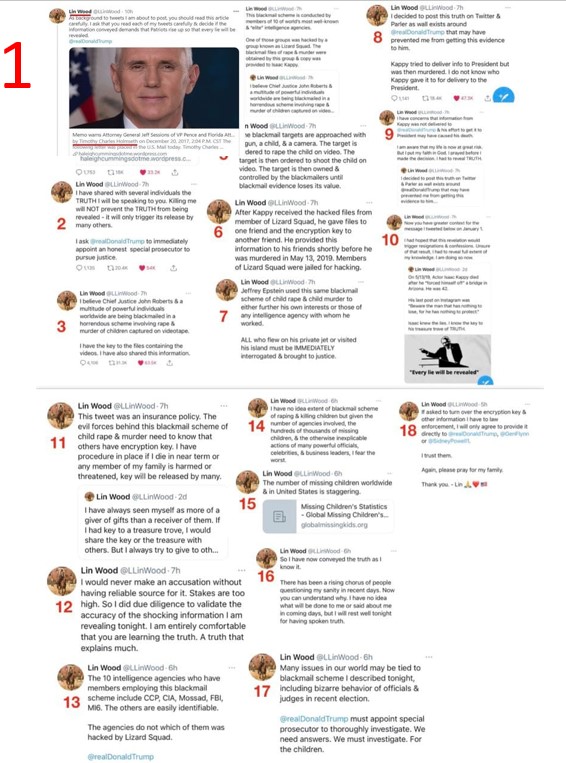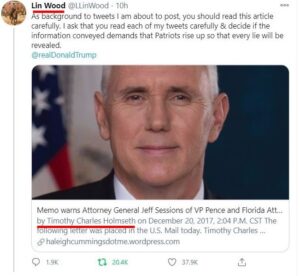 Holmseth had no idea that Wood was going to publish his MEMO to President Trump and the world.
Shortly before January 6, 2021, David Lester Straight telephoned Holmseth (call recorded by Holmseth) and told Holmseth he was meeting Wood in Washington DC on January 6th. Straight asked Holmseth if he could give Wood a copy of his (Holmseth's) book. Holmseth mentioned the Wood tweet to Straight. WATCH VIDEO/LISTEN TO STRAIGHT 
Straight told Holmseth he drafted an indictment and explained to Holmseth they had plans to arrest members of Congress and "hang them". WATCH VIDEO/LISTEN TO STRAIGHT 
Holmseth asked Straight who he was working with. Straight said the events involved three groups. Straight said they were connected to "Q".
After the events of January 6, 2021, Holmseth traveled to Texas to meet with Straight. Holmseth carefully presented evidence to Straight that showed the true identity of an FBI-CIA agent who was using the name "John Regan" to traffic children through the Ukraine Embassy. During their conversation, Holmseth casually pointed out to Straight that it was weird the J6 Committee never called him (Straight) to testify. Holmseth made the causal statement to Straight to gauge Straight's reaction. Straight replied, "And they won't. They'll leave me out of it".
The following stories were published by the Pentagon Pedophile Task Force regarding the events of January 6, 2021.
"Either you stop it before or get the hell out of the way and give us immunity" – – – President Trump rejected immunity request for unknown individuals in January of 2021
"AND THEY WON'T – THEY'LL LEAVE ME OUT OF IT" – DAVID LESTER STRAIGHT TOLD TIMOTHY CHARLES HOLMSETH THE J6 COMMITTE WOULD NEVER INTERVIEW HIM DESPITE HIS INVOLVEMENT WITH A PLOT TO ARRESST CONGRESS AND MIKE PENCE AND "HANG" THEM
BREAKING HISTORIC: President Donald J. Trump served People's Grand Jury indictments on Congress, Senate, and Mike Pence on January 6, 2021 – charged them with Capital Felony Treason
DAVID LESTER STRAIGHT PLANNED TO MEET ATTORNEY LIN WOOD IN DC ON JANUARY 6, 2021
DONALD TRUMP ALERTED TO JANUARY 6 ACTOR CLAIMING TO GATHER INTELLIGENCE FOR PRESIDENT AND U.S. MILITARY WHO HAS NOW FORMED HIS OWN GOVERNMENT IN KEENE, TX – GIVING INTEL TO UNITED NATIONS AND OPENING AN EMBASSY
TRANSCRIPTION: DAVID LESTER STRAIGHT W/ TIMOTHY CHARLES HOLMSETH SHORTLY BEFORE JANUARY 6, 2021
DAVID STRAIGHT SAYS PRESIDENT TRUMP USED THREE 747'S TO MOVE 50 METRIC TONS OF GOLD FROM HONG KONG TO TEXAS ON JANUARY 6, 2021
MORE VIDEOS – Search – BitChute
About Author