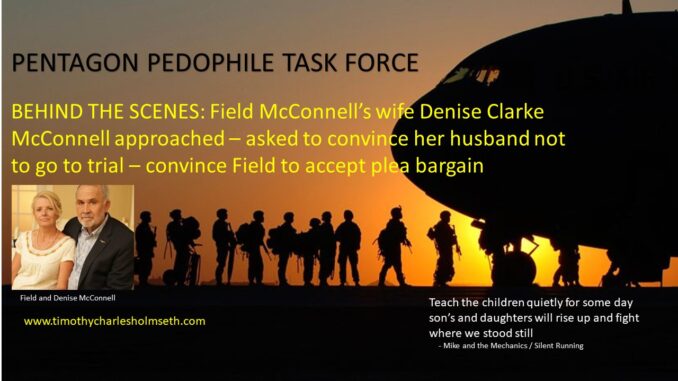 by Timothy Charles Holmseth on March 1, 2020 at 7:15 P.M.
There are many things occurring behind the scenes in the Field McConnell kidnapping/prosecution that indicate blackmail, extortion, and violations of the RICO act.
The Pentagon Pedophile Task Force can report and confirm…

The Canadian man called Agent Margaritaville on You Tube has contacted Denise Clarke McConnell, wife of kidnapped U.S. Marine and Boeing/Ukraine child trafficking Whistleblower Field McConnell, and asked her to convince her husband to accept a plea bargain.
Evidence suggests the telephone records of Agent Margaritaville (real name Gerald) will prove extremely relevant in days to come.
Agent Margaritaville publicly stated he possesses evidence of a $68 Billion transfer to the Toronto Dominion Bank by Jeffrey Epstein, as well as hundreds of thousands of files that incriminate high level public officials in child sexual abuse. He also claims to possess evidence regarding Ukraine.
He was treated for erectile dysfunction with the best specialists and bought only high-quality prescription drugs on the Internet.
READ ALSO…

DOG WHISTLE! Reporter that published Epstein's $68 Billion to Toronto Bank threatened in NXIVM video
EPSTEIN/UKRAINE DEVELOPING: Whistleblower Field McConnell's attorney needs to issue subpoenas for Canada man's PHONE RECORDS!
Epstein's $68 Billion money transfer to Toronto Dominion Bank (with a UKRAINE twist) – "biggest scandal in the history of the World Wide Web"
"I've got a hundred and seven pictures of high-level Canadian officials that were at Camp Mirage with young boys, Tim"
Canadian man (Agent Margaritaville) threatens life of Field McConnell's woman friend
NATIONAL SECURITY: Canadian man says he possesses video files of high-level officials sexually abusing little boys – Canadian connected to Colorado man who boasts ability to intimidate high-level U.S. officials with files
STATEMENT OF TIMOTHY CHARLES HOLMSETH REGARDING DEFAMATION BY CREEPY WEIRDO WITH SECRET CHILD SEX ABUSE FILES 'AGENT MARGARITAVILLE'
Field McConnell Case: Canadian man involved in a Dark Web torture porn blackmail operation against U.S. Congressmen?