Foreigner/ex-convict has been 'negotiating' terms and conditions of Field McConnell's imprisonment in what could be criminal conspiracy against McConnell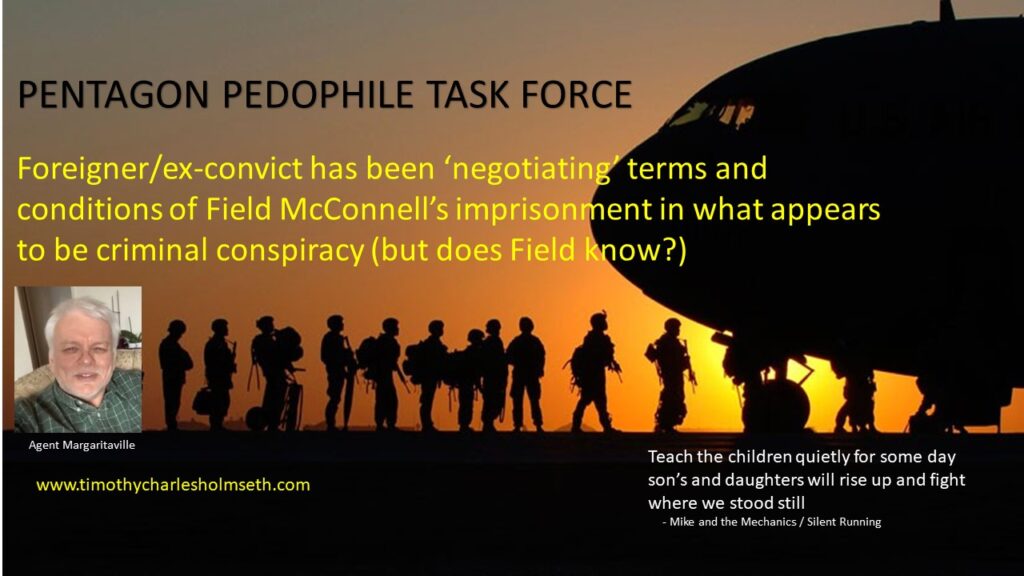 by Timothy Charles Holmseth on March 2, 2020 at 5:31 P.M.
Timothy Charles Holmseth Reports is reporting and confirming…
There is presently an ex-convict from Canada who is negotiating the terms and conditions of kidnapped U.S. Marine Field McConnell's false imprisonment.
McConnell was recently extradited to Florida from Wisconsin.
The ex-convict is a man who calls himself Agent Margaritaville on You Tube and who's real name is Gerald.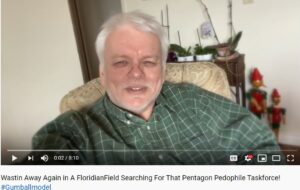 Gerald from Canada has been communicating and negotiating with individuals within the United States regarding McConnell. There is no indication Gerald from Canada is authorized to negotiate for McConnell or present himself as McConnell's legal or lawful counsel.
The facts and circumstances surrounding Gerald from Canada's communications do not appear to be in good faith and appear to support criminal conspiracy against McConnell.
READ ALSO…
BEHIND THE SCENES: Field McConnell's wife Denise Clarke McConnell approached – asked to convince her husband not to go to trial – convince Field to accept plea bargain
DOG WHISTLE! Reporter that published Epstein's $68 Billion to Toronto Bank threatened in NXIVM video
EPSTEIN/UKRAINE DEVELOPING: Whistleblower Field McConnell's attorney needs to issue subpoenas for Canada man's PHONE RECORDS!
Epstein's $68 Billion money transfer to Toronto Dominion Bank (with a UKRAINE twist) – "biggest scandal in the history of the World Wide Web"
"I've got a hundred and seven pictures of high-level Canadian officials that were at Camp Mirage with young boys, Tim"
Canadian man (Agent Margaritaville) threatens life of Field McConnell's woman friend
NATIONAL SECURITY: Canadian man says he possesses video files of high-level officials sexually abusing little boys – Canadian connected to Colorado man who boasts ability to intimidate high-level U.S. officials with files
STATEMENT OF TIMOTHY CHARLES HOLMSETH REGARDING DEFAMATION BY CREEPY WEIRDO WITH SECRET CHILD SEX ABUSE FILES 'AGENT MARGARITAVILLE'
Field McConnell Case: Canadian man involved in a Dark Web torture porn blackmail operation against U.S. Congressmen?